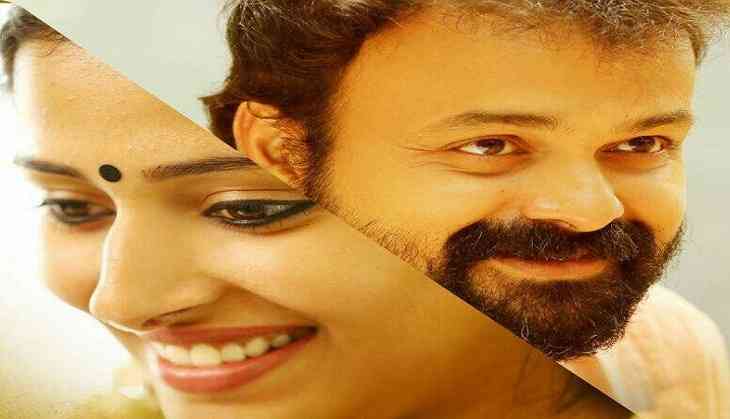 Anu Sithara and Kunchacko Boban in Ramante Edenthottam (film poster )
Malayalam film director Ranjith Sankar's upcoming release Ramante Edenthottam is scheduled to hit the screens tomorrow.
Directed and produced by Ranjith Sankar by Ranjith Sankar under his home banner Dreams N Beyond, the film stars Kunchacko Boban and Anu Sithara in lead roles. The film also stars Aju Varghese, Joju George, Muthumani Somasundaran and Ramesh Pisharady.
While the film is just hours away for its theatrical release, Catch had a chat with Ranjith Shankar.
1) Your previous two films Su.. Su... Sudhi Vathmeekam and Pretham starred Jayasurya in the main lead and both films were successful. What made you choose Kunchacko Boban in Ramante Edanthottam?
Frankly speaking, after writing the script only I had this feeling that the titular role of Raman will be tailor-made for Kunchacko Boban. Jayasurya is my dear friend. He knows that if I have cast any hero other than him, then the role was not written for him.
2) Other than Take Off, Kunchacko Boban is currently going through a rough patch in his acting career. Do you think Ramante Edanthottam will bring the much needed hit for him?
Well, I can't predict the outcome of my films. All I can say is as Raman, Kunchacko Boban does full justice to his role. We can hope for a film's success till Thursday night. From Friday morning, it's the audience who are deciding the fate of our film. Only they can make a film hit or flop. We have made a good film and I hope people won't be disappointed with it.
3) Tell us about Anu Sithara aka Malini in the film?
After completion of the script, I was looking for an innocent and fresh face for the role of Malini. Anu Sithara has done good job as Malini and along with Kunchacko Boban's performance, her acting is also the USP of the film. Her role can bring so much freshness to the film.
4) Your film is releasing tomorrow. And there is Baahubali 2, which is creating records in Kerala with every passing day. Do you think your film can survive the Baahubali heat?
First of all, I'm happy with Baahubali 2's roaring success. It's amazing that a dubbed version of a film is doing unbelievable business in Kerala. It's good for our industry as well. And coming back my film, Like i said earlier at the end it's audience decision whether they can make my film success or not. Ramante Edanthottam is a film made with equal dose of romance and family emotions. So if my film is well received among the family audience, then I don't need to be worried about my film's success.
5) Your previous film Pretham was a comedy thriller. Can we expect comedy in Ramante Edanthottam as well?
You can't expect the comedy of Pretham or Punyalan Agarbattis in Ramante Edanthaottam. Yes, there are a few humorous portions. Apart from that, Ramante Edanthottam is just a clean family entertainer.
6) When are you planning the overseas release of Ramante Edanthottam?
Very soon, most probably by May 18 the film will hit UAE screens.
7) Don't you think an early overseas release will make way for the pirated prints of the films?
There is no option to stop piracy. Even the pirated DVDs of Hindi, Telugu and Tamil films are releasing in UAE markets and sold for 5 Dhs within days after the theatrical release. Still those films turn out to be box office success. If a film is good, irrespective of its pirated release, audience will watch it and make it a success.
8) If you look at the current box office trend of Malayalam cinema, don't you think our makers are more interested in making crores rather than making good films?
If a film collects more money it means it's liked by majority of the people cross the Kerala. Quantity or quality, at the end, it's the box office performance matters the most. More money at the box office means it's the most watched film by the audience.
9) There were reports that your Su.. Su... Sudhi Vathmeekam was made on the real life incident of a person with stammering problem. Any truth in that?
Yes! The story of Su.. Su... Sudhi Vathmeekam was based on the real life story of my friend. I have worked with him for ten years. I have seen the pain that he had to go through because of his stammering problem and yet how he managed to overcome all the difficulties in his life. That's why I made a film on his life. I wanted to tell the audience and boost up the confidence of people with a similar issue.
10) You upcoming projects after Ramante Edanthottam ?
Not yet decided. So far, three scripts are ready. Which one I shall start first will be decided after the release of Ramante Edanthottam.
SEO - Ranjith Sankar's Ramante Edanthottam is scheduling to hit the screens tomorrow.