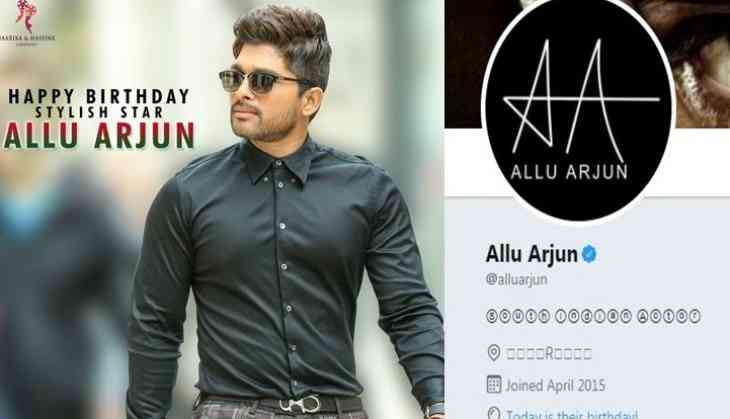 Pic: Allu Arjun Birthday poster, Allu Arjun's Twitter bio
Telugu superstar Allu Arjun celebrated his 35th birthday On Sunday. To make the occasion even bigger, the makers of his upcoming film Naa Peru Surya Naa Illu India have released a dialogue teaser from the film on Sunday.
The 40-second-long teaser offers a fierce impact with the Telugu superstar sending a strong warning against the discrimination on North India and South India. The teaser starts off with an action sequence in a night club where Allu Arjun is seen punching a guy who discriminates him as 'South Indian guy'. Allu Arjun's dialogue in the teaser "There is no South India, North India, East or West, There is only one India, United India" is sure to be a visual treat for all the Indian moviegoers.
However, despite getting tremendous response to the action packed-dialogue teaser, Allu Arjun trolled heavily on micro-blogging site Twitter.
Unfortunately for Allu Arjun and his beloved fans, the superstar's Twitter bio features his identity as 'South Indian Actor' instead of 'Indian Actor'.
"First change your bio and teach your fans," said a troll on Twitter.