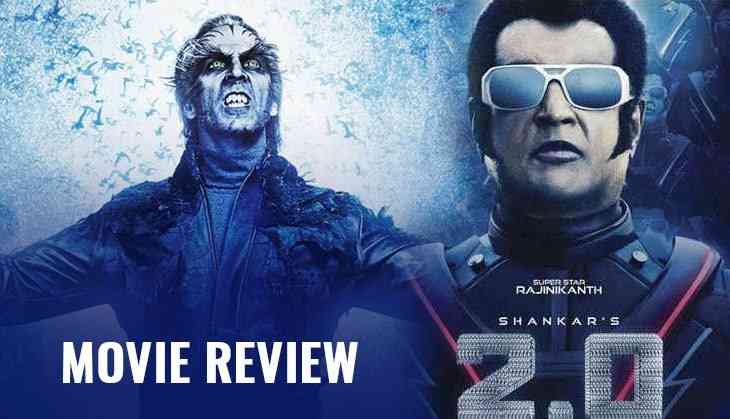 2.0 Movie Review: After a long wait of more than three years the most awaited project of master storyteller director S Shankar, 2.0 has been released this Thursday with a boom at the box office. There are lots of expectations from the movie as it is being touted to the most expensive and visualized film of Indian cinema. So now when the film is out then let's see what Shankar has made for us in 2.0
Movie Name - 2.0
Star Cast - Rajinikanth, Akshay Kumar, Amy Jackson, Adil Hussain, Sudhanshu Pandey, Anant Mahadevan
Director - S Shankar
Producer - A Subaskaran
Music - AR Rahman
Genre - Sci-Fi Drama
Critics Rating - 4.5 stars
STORY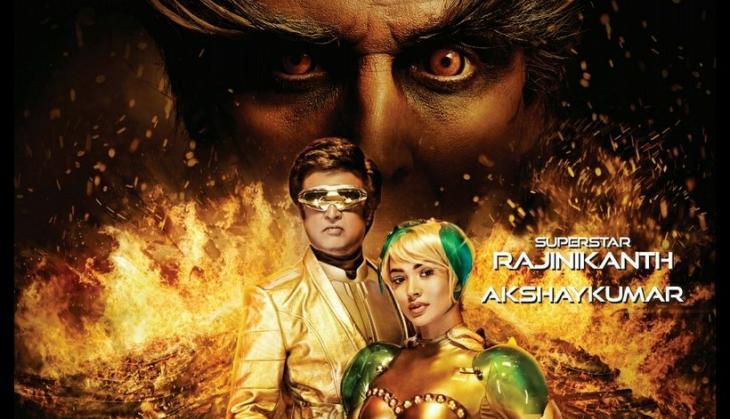 2 point 0 film
The film starts with a scene where a man covered with crows suicides on a mobile network tower, after that scene we immediately reach to Dr Vasikaran (Rajinikanth)'s lab where some of the engineering students are on the research of robots. Here Vasikaran introduces his new robot Nila (Amy Jackson) who is smart and also the new assistant of Vasikaran. After that, we see one of the students who came to learn about robots to Vasikaran loses his phone in a midway back to home.
After back to back phone missing and flies to the sky people of Tamil Nadu gets panic. Here the government asks scientist Vasikaran to find a way for a solution but without Chitti - The robot. Well, after some of the experiments, Vasikaran finds that the person who is stealing the cell phones and killing the people is none other than Dr Pakshirajan (Akshay Kumar) who is not happy with the people who are using cell phones. From here the fight between good and evil starts with full of science and robotic version.
DIRECTION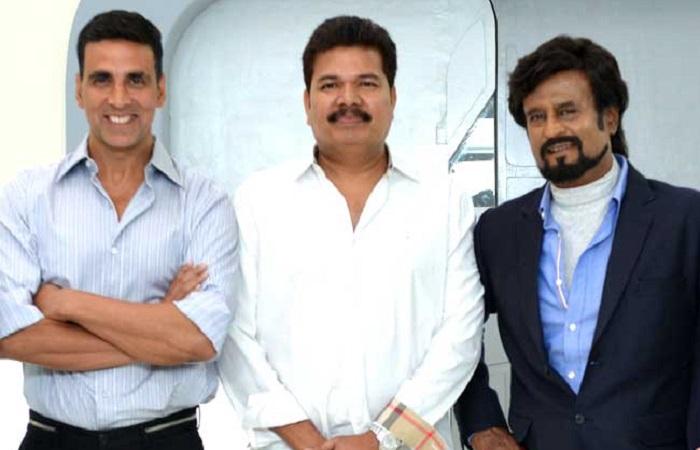 Shankar Akshay rajini
South cinema has really gone to a different level and this time it has been proved that if we want to compete with Hollywood then we need to get collaborated with the South film industry. First, we got SS Rajamouli who told how the period film should be shot and presented after that now we have S Shankar who has told us how we can present visually high graphical films.
Now what we should say about Shankar, he is a master of his art actually sometimes you feel this man can't be Indian filmmaker who has given us with the most visually high experience in the theaters. He is on the top notch in every department, Scripting, Direction, VFX supervisor and others job as well. He has not just made a VFX film but also has told us the future and a social message with it. His concept of capturing the most useful thing of a human right now and how a technology has handicapped the humans is on high.
Even he has not just come with a problem, he also has come with a solution and that too in the filmiest style. Obviously, it is Shankar who makes us think that what we are doing is good or not? This movie is on his shoulder, he is actually the captain of this flying ship.
PERFORMANCES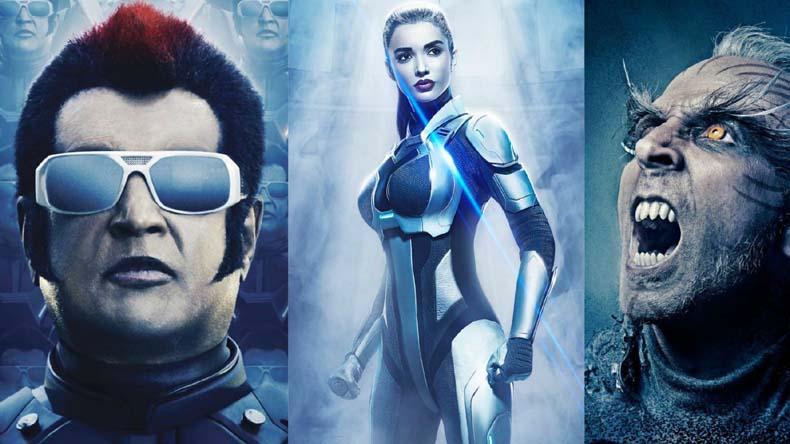 Performances
Rajinikanth, is the superstar and his name is enough for his fans but what if, if I told you that this time even his fans will get surprised. Actually, yes after a long time you will see Rajinikanth on his top scale of performance. It is really a tough job to play three different kinds of characters, especially when the two characters are not human. Forget Vasikaran, this time as Chitti the Robot he makes you laugh, emotional and romantic as well. This is really a treat for Thalaivar fans.
Akshay Kumar plays the lead role of antagonist, although he comes a little late on the screens but his role is mainly on technology. I won't say this is Akshay Kumar's best performance, but I would say that this is something that Bollywood actors have not tried in the past. Akshay has really taken this role as a challenge and in the final, he will make you proud that he is an actor who is trying to do something different. Good job Akki!
Now we should say thank to director Shankar now that this time he has not just used an actress for romantic angle or songs. Actually, in 2.0 Amy Jackson is a surprise by Shankar to the franchise fans. Amy played the role of robot Nina and she is super hot, cute and smart as well. Her action scenes are perfect and the best thing is that not in a single scene she will make you realize that she is a human. Amy is quite good and she should be continued in the sequels as well.
VFX
The film has got VFX in the supervision of Srinivas Mohan who had worked with S Shankar from his very first film Boys released in 2003. Now we have included VFX section especially to praise him and his team's work. Actually, it is VFX team who makes this film a unique and most appreciating. The VFX team has given this visually high film a class that now every Indian audience can proudly say that now we have reached a different level. Kudos to Srinivas Mohan and his team.
MUSIC
AR Rahman has given music and background score to the film like what he did for Robot as well. However, this time there are few songs in the film, actually in Hindi there are only two songs. Maybe it was Shankar's idea to make the film relevant not a musical entertainer. The half star that I have not given is only because Hindi audience will miss the songs.
VERDICT
Whatever are you doing right now, just take some free time and watch this masterpiece and also took all those people who criticize Indian films to make them realize what Shankar has made for them. This is a film that has not made in India earlier so just go and witness the most visually high experience.