YSR Congress moves no-confidence against Modi over special status for Andhra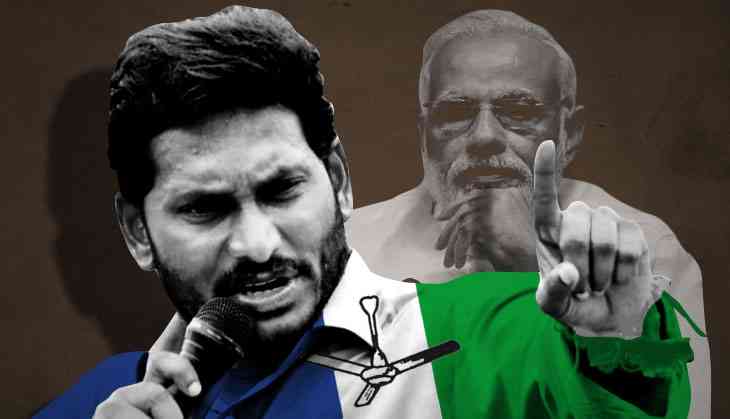 (Arya Sharma / Catch News)
Miffed with the Centre's reluctance to give Special Category Status (SCS) to Andhra Pradesh, Yuvajana Shramika Rythu Congress Party (YSRCP) has moved a no-confidence motion against the Narendra Modi government.
On 15 March, YV Subba Reddy – a member of Parliament from the party – moved the motion under Rule 198 (b) of Chapter XVII of the Rules of Procedure and Conduct of Business in Lok Sabha wherein he mentioned: "I hereby give notice to move the following motion in the House on 16.03.2018. I request you to include the motion in the Revised List of Business for 16.03.2018."
In addition, YSRCP leader Jaganmohan Reddy has also made an appeal to all political parties to support his party's initiative on seeking SCS for the southern state.
"I write this letter with the right earnest to muster support from your party in our fight for justice and remind you that after the (Andhra Reorganisation) Bill was passed and Andhra was torn away separating it with Telangana with Hyderabad. The promises made by the central government and the assurances given on the floor of the Parliament during the debate were not kept. The residual state of Andhra Pradesh with all shortcomings and disadvantages it had to carry, had been under utter neglect."
Reminding party leaders of former Prime Minister Manmohan Singh's assurance of providing special status to the state, he goes on to add that it was ratified by all Opposition parties, including the Bharatiya Janata Party (BJP), back then.
He highlighted that back then BJP leader Venkaiah Naidu had categorically requested for the grant of SCS for 10 years with the contention that five years would not be sufficient as setting up any industry itself would take three-four years and that benefits should be extended to a longer period.
In 2014, Prime Minister Narendra Modi, while campaigning for the General Elections in the state, had promised SCS to Andhra for a period of 10 years to ensure sustained development and prosperity. Moreover, the promise of SCS was also included in the state manifesto of both the BJP and its ally Telgu Desam Party (TDP) as well. Jagan alleges that once the BJP managed to form the government, it tried to dilute the SCS issue and instead started talking about Special Financial Package with the "blessings of Chandrababu Naidu".
Further accusing the TDP of not pressurising the central government enough to push forward the SCS demand, Jagan listed various reasons in his letter for not giving Andhra SCS. He pointed how it was denied to the state following the recommendations of the 14th Finance Commission despite 11 other states receiving the status.
Accrording to him, two commission members – Abhijit Sen and M Govinda Rao – recently clarified in writing that it did not recommend abolition of SSC to any state. "Rather than looking for reasons to not give SCS, it is very important in democracy to honour the assurance given to the state on the floor of the House," he wrote.
Ever since Telangana, along with Hyderabad, was carved out of Andhra Pradesh, the state debt burden has reached a whooping sum of Rs 2.20 lakh crore. Jagan pointed that since Independence the state had accrued a debt of Rs 97,000 crore.
However, it shot up by an additional Rs 1.20 lakh crore since bifurcation which has put the state at a serious disadvantage. "With this level of debt and lack of industries, how can we survive without CCS," he said.
According to Jaganmohan, since his party with six MPs has been unable to achieve SCS, they introduced a first ever no confidence motion against the central government. "In this backdrop, I request you to extend support for the cause and join us in chorus when we move the No Confidence motion on 21 March in the ongoing budget session," he said while adding that if the government still doesn't pay heed to their demands, all YSRCP MPs would resign on 6 April.
Political parties in Andhra Pradesh have raised a banner of revolt against the central government over the SCS. In fact, last week, two TDP ministers even resigned from the central government in protest while their leader Chandrababu Naidu has been making stinging attacks on the government, particularly the Prime Minister, over SCS.
On 15 March, he even accused Modi of deploying the same tactics in Andhra as he did in Tamil Nadu where he pitted the OPS faction of AIADMK against the EPS faction, which eventually led to a split. He claimed that the prime minister was using YSRCP and Jana Sena's Pawan Kalyan against him in the state. He also claimed that a strong anti-BJP and anti-Modi feeling is gaining ground in the country which according to him also reflected in the by-poll results announced earlier.
Meanwhile, actor turned politician Kalyan too has backed Jaganmohan over his decision of a no-confidence motion against the government. Although, the no confidence motion in no way threatens the incumbent government, it is being seen as a way to send a message to voters in Andhra.
Despite BJP's loss of three seats in UP and Bihar by-polls, the saffron party still has a comfortable majority with 272 members in the Lok Sabha since the majority mark has fallen to 269 due to vacancies created after death of two BJP MPs from Kairana and Palghar.
Another seat fell vacant after BJP MP Nana Patole from Bhardara Gondia in Maharashtra.