Yes Lalu is back. But let's not worry about jungle raj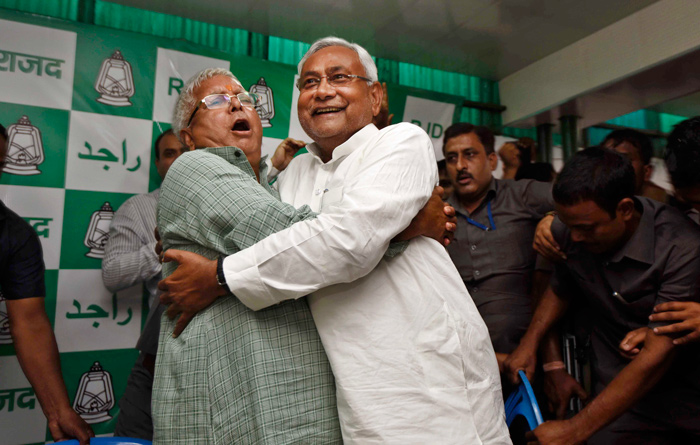 The Bihar verdict
The Grand Alliance has got a clear mandate in Bihar
But none of the constituents are in a position to run govt alone
Dependence on each other
Nitish Kumar will continue to be the CM, but on Lalu\'s crutches
Lalu is back in the game after a long sit-out
More in the story
Lalu has been associated with jungle raj. Will Bihar see a rerun of that?
If things go out of hand, will Nitish be able to control?
In 1998, during the wedding of Lalu Prasad's daughter Misa Yadav, his brothers-in-law took all the cars away from Patna's Maruti showroom to cater to guests.
As Lalu knocks again at the corridors of power in Patna, people there remember several incidents like this. Many fear a return of 'jungle raj'.
Also read - How Modi's Bihar defeat will alter the world's view of him
The numbers that Sunday's results have thrown up have led to some apprehensions: Lalu's Rashtriya Janata Dal (RJD) has won the most number of seats and this can lead to a power tussle; Lalu may want a large share in power; and then there is the fear of a return of 'jungle raj'. How Nitish deals with these remains to be seen.
Analysis by some senior journalists and social scientists in Bihar gives us an idea of what to expect. The RJD has 80 seats, but the Janata Dal (United) [JD (U)] is not far behind with a tally of 71. The Congress has managed 27 seats.
RJD's margin is not big enough to give Lalu a huge advantage over Nitish. Neither of the parties can think of walking away with the Congress as the numbers don't add up. This will guarantee stability of the upcoming government in itself.
Any other way, the alternative formation will have to include the Bharatiya Janata Party. While one can assume that Lalu would not join hands with the BJP, the same can't be said about Nitish - politics is the art of possibility. And this possibility will keep Lalu in check.
'Nitish needs Lalu to stay CM. But politically, Lalu needs him more'
According to Patna-based senior journalist Giridhar Jha, no constituent of the Grand Alliance is in a position to bargain: "This is a combined victory of Lalu's caste arithmetic as well as Nitish Kumar's clean image. If Lalu misconstrues this as his victory, he would do so at his own peril. The Congress, too, is dependent on the other two parties," says Jha.
Lalu has already signalled that his feet are firmly on the ground, magnanimously announcing Nitish to be the chief minister at Sunday's post-victory press conference. In this changed political circumstance, the chance of a return of 'jungle raj' seems distant.
A series of political setbacks have forced Lalu to mend his ways. "Lalu's brothers-in-law were largely responsible for 'jungle raj' and they have already been shown the door. This time, Lalu distributed tickets to relatively cleaner candidates, and even stayed away from Pappu Yadav due to his tainted image. Lalu has redefined his politics," Jha said.
The rebranding started when Lalu was the railways minister during the UPA-1 government and many hailed his performance. The polity of the country doesn't allow unfettered style of functioning anymore.
Watch - #BiharResult is a political watershed. Here's why
The changing contours of democracy kept Lalu out of power for a decade, and today he can't even fight an election. Certainly, he would not like to fall into the same trap again.
His biggest priority now is to establish the political careers of his sons Tejasvi and Tej Pratap. This could be the most likely reason for friction in the Grand Alliance.
"Nitish has a greater moral strength in this victory. Therefore, he will always have an upper hand in the government. But Lalu would want a greater share of power as the stronger partner. He may bargain for the deputy chief ministership for one of his sons. Nevertheless, Nitish will rule the roost," says senior journalist Om Thanvi.
Seems Lalu has accepted that his political welfare lies in getting along with Nitish. But his cadre, which has tasted power after a long time, may create problems.
'Lalu has redefined his politics. Chances of another jungle raj are slim'
Mulayam Singh Yadav faced a similar situation in Uttar Pradesh, where SP workers were reportedly unconvinced of his standing within the party until he slapped a cop. Nitish needs to be vigilant against such elements.
According to Rai Atul Krishna, a Patna-based journalist: "Lalu will try his best to keep such elements in check. Also, Nitish is known for not working under pressure. He would either have the strings in his hand, or offer to walk out of."
There is no doubt that the Grand Alliance owes the mandate largely to the positive image of Nitish. It is rare for a leader to not face anti-incumbency after a decade in power.
Nitish has erased the possibility of bargaining from Lalu's side by getting himself declared as the CM candidate well in advance. He needs Lalu's support, but Lalu needs him more. And this equation is what is keeps hopes that there is no return of 'jungle raj' on the cards.
READ MORE - Ears to the ground: Bihar's political analysts break down the verdict
'No cows were harmed in this defeat': social media trolls BJP after #BiharResults