Yashwant has come a long way from rooting for Modi as PM to seeing him as threat for democracy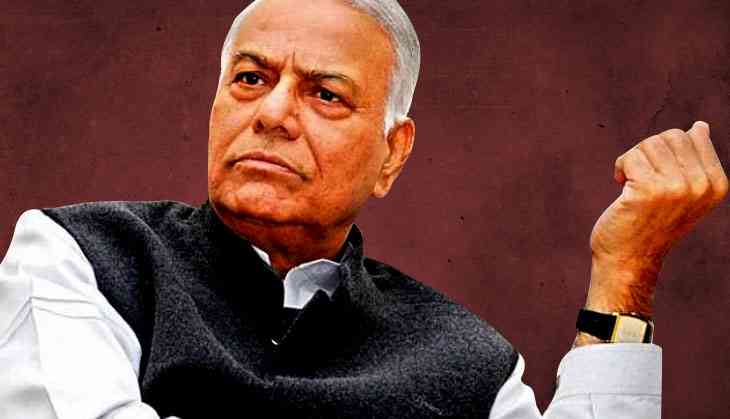 (Arya Sharma / Catch News)
The process of rebellion that Yashwant Sinha triggered months ago met its natural conclusion Saturday. The former finance minister announced that he has severed all relations with BJP, the party that was his home for over two decades.
"The future of democracy" is in danger, Sinha said while making the announcement, at an event in Patna. The event was the first gathering of a platform created by Sinha and a few other leaders about a year ago, named Rashtra Manch.
Saying he was sad at the erosion of democratic institutions in the country, Sinha announced he wasn't just quitting the BJP but was giving up party politics forever. Vowing to never join any political party from now on, he also pledged to launch a massive movement to save democracy.
Many will be compelled to say that this will hardly have any impact on the BJP's electoral prospects because Sinha appears to have become a spent force. He has not been fighting elections and has been sidelined inside his party for a long time.
However, his action needs to be looked at from the prism of what it says about how BJP has changed from his glory days in the party to now. It must be remembered that Sinha is not from RSS ranks and was a case of lateral entry into BJP. He rose in stature in spite of that and was eventually appointed national vice-president, apart from Finance Minister and External Affairs Minister.
However, the rise of Amit Shah and Narendra Modi proved to be disastrous for him and two other party veterans, LK Advani and Murli Manohar Joshi. Along with Jaswant Singh, these three leaders occupied top positions in the party and the government when the BJP first came to power under former PM Atal Bihari Vajpayee.
In the year when Modi became PM, Vajpayee, Advani and Joshi were dropped from the party's parliamentary board and relegated to a newly constituted body called 'Margdarshak Mandal', essentially a toothless old age home of sorts. Sinha didn't find a place even there.
Non-allegiance to RSS is what distinguishes him from Advani and Joshi and it is this difference that explains the difference in their approaches. Advani and Joshi have quietly receded into the background, largely surrendering to the total grasp of Modi and Shah on the party. Sinha, however, refused to lay low, in spite of the fact that his son is a sitting BJP MP and a minister in the Modi government.
Sinha is also not an Advani loyalist, a qualification that is said to have marred the prospects of several leaders in the party who were at the top echelons before the ascent of Shah and Modi on the national scene. In fact, Sinha was the first among the party's top leaders to push for the selection of Modi as the prime ministerial candidate, way back in January 2013.
There is little doubt that his rebellion is primarily against Modi and Shah and then everybody else who is seen to be doing their bidding. This rebellion, therefore, means that somebody who was rooting for Modi to be made the prime ministerial candidate five years ago is now not just disappointed in Modi, but is angry with him.
This should be fodder enough for others in the party to ruminate over, with elections just around the corner.