Why mainstream parties disqualify a tribal for leadership in tribal-dominated states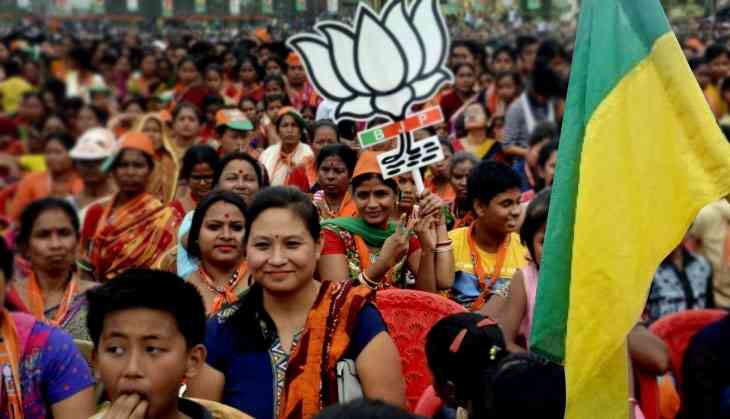 It's a strange but interesting contradiction. The Bharatiya Janata Party (BJP), like in Tripura, claims to have its influence in most seats reserved for Scheduled Tribes (STs) across the country. But it hardly entrusts leadership and power to the leaders of these communities in those states.
In politically and economically tribal-dominated states the political character of mainstream parliamentary parties, including the Congress, the BJP and the Left, remains tinged with similar upper-caste mentality?
This question has become more relevant after the results of the recently concluded Tripura Assembly elections. In Tripura, the largest number of seats (20) is reserved for STs; at 31.8 per cent, their share in the population is higher than other castes and communities. But is it politically possible to have a tribal chief minister there?
If we study the leadership sitting at the helms in the states having similar political weightage like Tripura, an answer of this question can be found perhaps.
Jharkhand, Odisha and Chhattisgarh are considered to be tribal-dominated states like Tripura. It is pertinent here, in the context of these states, to clarify the definition of a tribal-dominated state. These states are different from those six states and Union Territories (Arunachal Pradesh, Nagaland, Mizoram, Meghalaya, Dadra & Nagar Haveli and Lakshadweep) where more than half the population is tribal. Also, Manipur and Sikkim have tribal populations at 35.1 per cent and 33. 8 percent, respectively.
Political parties, while deciding leadership issue in a state having more than 50 per cent tribal population, never face any dilemma. For them, political challenges arise in those states where a third of the population is tribal. Can any mainstream political party muster courage to entrust the leadership to a person from a tribal community after winning an Assembly election.
In Tripura, the BJP is giving credit to its alliance with Indigeneous People's Front of Tripura (IPFT) for wining all 20 seats reserved for tribals. But can the saffron party accept a tribal leadership there in the post-result scenario? In states like Tripura, the tribal population is only acceptable as an electoral vehicle for ensuring victory or defeat as per the wishes of upper castes leaderships of the mainstream parliamentary parties?
If we trace the answer of Tripura in Jharkhand, the BJP got an absolute majority there for the first time in the last Assembly elections. That too on its own. But it decided to instal a non-tribal leader chief minister. Raghubar Das became the first non-tribal chief minister of Jharkhand.
When Jharkhand was being carved out as a separate state from Bihar, an alibi was frequently given those days that it's an essential step in the interest of tribal population of that region. It was the people of tribal communities who had built a strong movement for a separate state right after the Independence. The rhetoric of a tribal chief minister remained valid only till no mainstream political party secured majority in the Assembly since the birth of the new state.
In Chhattisgarh also, the BJP is in power on its own and its leadership there is in the hands of an upper caste leader for the last 15 years. That state was carved out from Madhya Pradesh to end the backwardness of the region's tribal population. The Congress made Ajit Jogi, a bureaucrat of tribal background, its first CM. But this was done before the first official Assembly election in the state was held.
While Chhattisgarh has 30.6 per cent tribal population, there is 26.2 per cent tribal population in Jharkhand. There are a total 29 and 28 reserved seats respectively for the tribals in these two states.
Politically, they enjoy even more powerful electoral weightage only because they are spread all along in the both states and the victory of non-tribal leaders squarely depends on their votes.
In Odisha as well, there are only 33 reserved seats for the tribals. But with a 22.8 per cent population they are capable of casting influence on a majority of its Assembly seats. Here also, there has been no tribal CM all since Independence except Giridhar Gamang (1999, Congress). That too was a stop-gap arrangement at a time of factionalism within the party.
Mainstream political parties don't entrust leadership to a tribal in these states; they only use tribal communities as a tool to ensure power to an upper-caste leadership? Mainstream political parties in these states equate tribals with Maoist and separatist politics.
As senior journalist Sudhir Patnaik points out, tribals and Dalits are used by mainstream parties only to play their cards.
Edited by Joyjeet Das