Waiting for the other shoe to drop? New symbol defines falling standards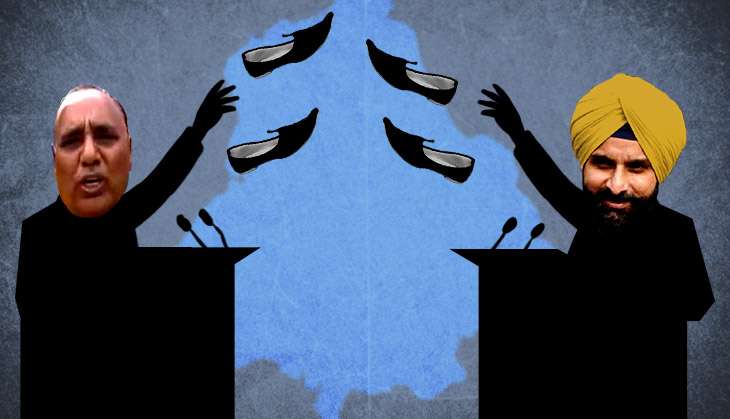 Congress MLA Tarlochan Singh Soondh's shoe has come to symbolise many things in Punjab politics. It now stands as a remnant of the pits to which political conduct and discourse have fallen in parliamentary institutions like the State Assembly.
Not only was his hurling the shoe towards the treasury benches on the last day of the just-concluded Assembly Session an unparliamentary act, what followed is far worse.
Ironically, the shoe now stands out as a 'case property' that was reportedly sealed in the State Assembly after being deposited by the Parliamentary Affairs Minister Madan Mohan Mittal.
The shoe-story so far
It was on the last day of the Assembly Session when the protesting Congress leaders, who had already spent two nights in the Assembly Hall protesting the denial of an opportunity to debate depleting law and order scenario, were in a belligerent mood.
While the pandemonium was on, Soondh allegedly hurled his shoe towards the treasury benches and that landed close to Revenue Minister Bikram Singh Majithia.
Soondh said that he wanted to target senior Shiromani Akali Dal (SAD) leader Virsa Singh Valtoha for a casteist slur which the latter has denied.
With no customary farewell speeches and no handshakes, the last Assembly Session ahead of the polls ended on a bitter note.
Ever since then the shoe has become the centre point of a new round of political confrontation between the Congress and the Akalis.
Shame!
Valtoha has now demanded a privilege motion against Soondh and other Congress MLAs for their 'shameful acts'.
In a letter addressed to the speaker Dr Charanjit Singh Atwal, Valtoha said that the Congress MLAs used defamatory language against him and concocted a false story blaming him of using foul and objectionable casteist remarks in a bid to cover up their own sins. He said that by committing such a sin the Congress MLAs have breached his special privilege in the house.
Claiming that he is an Amritdhari Sikh who lives his life as per the teachings of Sikh Gurus and respects all religions and castes, Valtoha said he cannot even think of using a casteist remarks against any community.
He accused Soondh of lowering the dignity of the house and said that he is deeply hurt and saddened by this shameful act.
Valtoha said that Congress MLAs have made a mockery of the rich traditions of the Vidhan Sabha. He also asked Congress MLAs to explain why they had resorted to drinking sessions of scotch and whiskey, eating chicken and meat in the august house during their night-long protest.
"There are also reports that some Congress MLAs shared vulgar video clips among themselves which needs to be investigated. All these incidents prove that the Congress party is deeply frustrated by its inability to rise to the expectations of the people," Valtoha has charged in the letter.
He has also condemned the Congress MLAs for throwing paper at the speaker while using derogatory language against him.
Counter attack
On the other hand, Punjab Congress president Captain Amarinder Singh has upped the ante demanding the arrest of Valtoha for passing a casteist remark against Banga MLA Soondh.
"It was Valtoha who had earlier said in the Vidhan Sabha that he was, he is and he will remain a terrorist. And he had gotten away with it," Amarinder has said.
He further added,"I am never in favour of hurling a shoe at anyone and had opposed every such incident. But what should one do if a casteist remark is passed at him? One can get emotional. It is unfortunate."
He has rubbished the SAD's allegation that protesting Congress MLAs consumed liquor in the Assembly.
Rs 50k for that shoe please!
Media reports say that Soondh's worn-out shoes became a "prized" possession when a Canada-based channel offered Soondh Rs 50,000 if he could bring it on their show. They wanted the shoe allegedly hurled by him at the Akali Dal legislators or even the one he did not throw.
When Soondh had later gone to the Vidhan Sabha to get back his shoe, he was told that it had become a case property.
What a 'disgrace'!
Dalit MLAs belonging to the SAD and the BJP have attacked Soondh for his 'disgraceful' conduct. Senior Dalit leaders including former judge Nirmal Singh, former bureaucrats Som Prakash and SR Kler, three-time parliamentarian Mohinder Kaur Josh and Manjit Manna and Pawan Kumar Teenu said they are collectively shocked and pained by Soondh's utter misconduct in the Vidhan Sabha.
They said this act was a slur on the teachings of Baba Saheb BR Ambedkar and the fact that it had come one day after the entire house had paid eulogies to Baba Saheb made it even more reprehensible.
They said Soondh, who had also participated in the special session on Ambedkar, had proven through his actions that he did not believe in the ideals of Baba Saheb and had even insulted the Dalit icon by his actions.
Saying that Soondh's charges against Valtoha are baseless, they said, "None of us heard any such thing. This has been concocted by you (Soondh) to explain away your disgraceful conduct. We all saw you start protesting on this made up issue ten minutes after you threw the shoe."
The legislators said that Soondh violated 'Maryada' by not stopping his fellow feudal colleagues from shouting slogans against the speaker whom they claim is a Dalit face of Punjab assembly.
"You even supported your colleagues in hurling paper missives loaded with heavy objects at the speaker proving the respect you have for a genuine Dalit icon who is doing the community proud," they slammed.
The depths to which parliamentary conduct of politicians has stooped was rounded up by former deputy speaker Bir Devinder in his column appearing in a national daily.
Devinder, a former Congress leader who is known for his political speeches penned, "Even the theatre of absurd and comedy circus have some semblance of civility and self-control, but the ruckus in the Punjab Vidhan Sabha surpassed all canons of decorum. This kind of classic disgracefulness calls for a serious introspection by all the members of parliamentary institutions. The dignity of the house has to be restored if our parliamentary institution has to survive with glory and righteousness. This would be possible if Punjab MLAs express a fair degree of remorse on malevolence that marred the concluding session of Punjab assembly."
Edited by Jhinuk Sen