Victory in UP will make Modi more bold in the foreign policy arena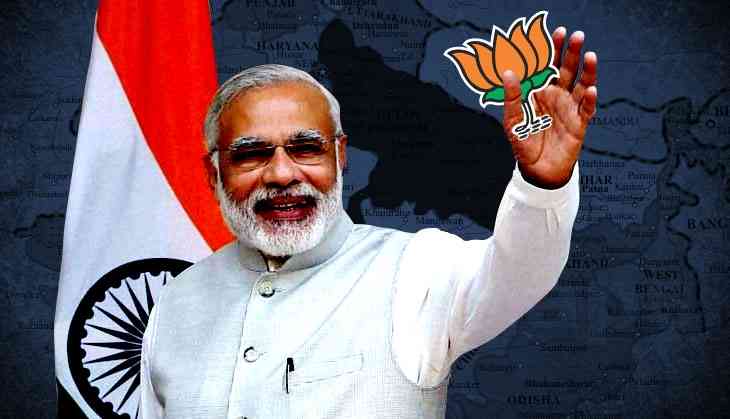 Of the five states that went to the polls for their Assemblies, foreign observers have been, above all, focussed on Uttar Pradesh, politically India's most important state. The results show that Narendra Modi's 2014 Lok Sabha success in Uttar Pradesh was not a flash in the pan.
He has swept his adopted political home UP again, stamping his authority in state and reinforcing his already formidable position in India's political life. This can only enhance his already high international reputation.
Normally only India-watchers follow Indian state elections to get a granular understanding of the political landscape. However, there is no doubt that India's neighbours and many in the international community have closely followed these Assembly elections.
These include diplomats and political leaders, academics and journalists and trade and finance people. Their main interest is to assess the impact of these elections on the political fortunes and future of Prime Minister Narendra Modi and secondarily to ascertain if these elections indicate the emerging political trends in the country.
The wave called Modi
Modi's impressive victory in the Lok Sabha polls had earned him the respect of his international peers. They had noticed that despite the strident opposition of a major section of the Indian intelligentsia he was the first Indian politician to have won a clear majority in the Lok Sabha in three decades.
Many who had reservations rushed to establish contact with him to pursue their interests in a country that was rapidly moving ahead.
On his part, Modi responded with an energetic and somewhat personalised foreign policy. Not only did he undertake a number of bilateral visits to countries in the region and beyond, he participated in multilateral conferences as well as the United Nations General Assembly Special Sessions. In all, he has visited 56 countries for these purposes till now.
Modi developed a rapport with some of his counterparts. He emerged as a significant international leader respected for his ability to deliver on important global issues as was seen in the Climate Change conference.
Ultimately that is what decides the worth of a leader in the calculations of the international community – the ability to deliver.
But a leader can only do that with the backing of the people and ultimately their willingness to endure hardships and yet keep the faith. It is this context that the political aspects of demonetisation are being seen by foreign leaders.
This was clear from a conversation that took place between this writer and a leading Afghan political personality. He said with admiration that if Modi could "pull it off" he would re-fashion India. Naturally, this included an assessment of the economic and financial aspects of demonetisation but his underlying political admiration was obvious.
What does this mean for Indo-Pak, Indo-China relations?
Will the UP success embolden Modi to once again undertake a meaningful attempt try to "turn the course of history" in India-Pakistan relations?
He spent political capital when his December 2015 initiatives failed due to the obduracy of the Pakistani generals. Clearly, Nawaz Sharif wanted to mend the relationship though his position on Kashmir is hard. Now there is a new Pakistani army chief. It is possible that Modi may now seek to move cautiously on Pakistan?
However, as the Pakistan army has given no evidence that it wants to give up terrorism from its security doctrine, he will have to be aware that they may once again ensure that his initiative gets grounded.
Another foreign policy question that will occupy Modi will be the handling of China. This is especially because the Chinese continue to move aggressively in the region including through pursuing the China-Pakistan Economic Corridor (CPEC).
Through 2016 China maintained a negative stance on Masood Azhar's 'designation' as a terrorist via the United Nations 1267 committee process and on India's membership at the Nuclear Suppliers Group (NSG).
It is unlikely if the consolidation of Modi's political position will move China to relent on these issues though they will now know that they will, in all likelihood, have to deal with a politically stronger and a more enduring Indian leader.
The Trump factor
A major foreign policy priority for Modi will be to establish a good personal relationship with Trump. Here the UP victory will help him. For Trump will know that it will be useful for him if he has India under Modi, sympathetic to positions that the US will take.
India still has clout with many developing countries. There is little doubt that the India-US relationship will move in a positive direction.
India's neighbouring countries will respect and fear Modi now all the more. They will assess that they will have to deal with Modi for many years to come. Nepal may be less inclined now to have a cavalier attitude and Sri Lanka may keep the Chinese embrace a little more distant than before. It will be easier to deal with Maldives too.
In assessing the Indian political landscape foreign analysts will see Rahul Gandhi's failure in UP as one more indication of his lack of political instincts and the decline of the Congress. And this, notwithstanding the consolation of winning Punjab. They may not still write him off but he is not going to taken seriously.
The AAP with all its tall claims has been cut down to size in Punjab and Arvind Kejriwal will attract little international attention for the foreseeable future.
With UP under his belt, Modi has now the same power and stature in India as Jawaharlal Nehru and Indira Gandhi in their heydays. This will not escape foreign observers who will prepare accordingly to deal with him for a long time as the political master of India.
Edited by Jhinuk Sen