UP MLC polls: "Secular" unity defeats BJP amidst heavy cross voting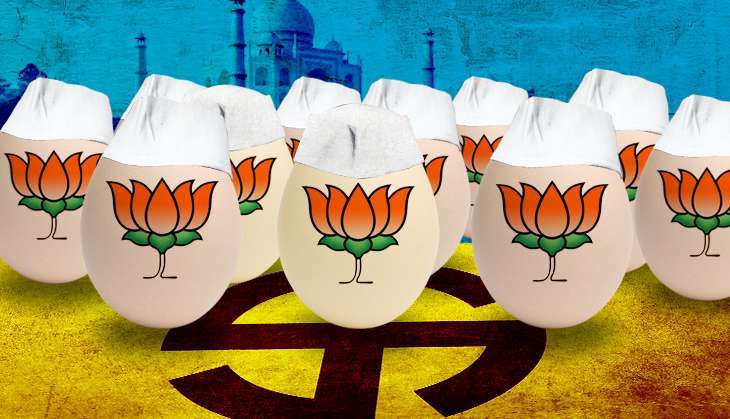 Amidst heavy cross voting across parties, the Bharatiya Janata Party's strategy to ensure victory of its extra candidate Daya Shankar Singh came a cropper when he lost to the Congress candidate Vivek Singh by three votes in the election to the 13 seats of Uttar Pradesh legislative council held in Lucknow on
Friday
.
The result should bring some relief to Kapil Sibal as the BJP has fielded Preeti Mahapatra to spoil the Congress candidate's chances.
Daya Shankar Singh polled 23 votes, 11 more than the party's 12 spare votes after the victory of its other candidate Bhupendra Singh. Yet, he lost by three votes as 26 votes were cast in favour of the Congress candidate. Daya Shankar was the 14th candidate because of whom voting was necessitated.
Also read: BJP backs Gujarat's Preeti in UP RS election, SP-BSP cross-voting likely
Although the Congress has 29 MLAs in the state Assembly one could not make it due to ill health, while another voted for the SP.
But the Congress candidate polled 26 votes, instead of 27. Even these 26 votes included four Rashtriya Lok Dal MLAs. The RLD had announced before the polls that it will divide its votes equally between the SP and the Congress. The actual number of Congress MLAs who did not vote for the party candidate was not yet known.
More interesting than the BJP and the Congress was the case of Bahujan Samaj Party, whose three candidates - Dinesh Chandra, Atar Singh Rai and Suresh Kashyap - were understood to have together polled 90 votes.
The party has 80 legislators in the Assembly and was seven votes short to begin with. After one MLA, Rajesh Tripathi, deserted the party and two others - Bala Prasad Awasthi and CL Verma - also rebelled, its vote shortage went up from seven to 10. However, Trinamool Congress decided to support BSP, bringing this number down to nine.
Polling 90 votes meant that at least nine MLAs had cross voted in BSP's favour. The exact number of votes polled by each candidate was not yet known as the counting was still on.
Also read: Mathura violence: how the SP regime is trying to brazen it out
At least six SP MLAs were learnt to have voted against the party's candidates. All 8 of its candidates sailed through.
The ruling party's Guddu Pandit, who was seen hobnobbing with a BJP leader said, "I used my brain while voting. I voted where I am safe."
As results were made known, it was clear that opposition parties had ensured the defeat of the BJP candidate. They may not have made a formal announcement for opposition unity but the parties came together to take on the extra candidate foisted by the BJP.
While the RLD extending support to Congress and the SP was significant, equally important was the Peace Party chief Mohammed Ayub extending support to Congress as he was "against communal forces".
Raja Bhaiyya lent his support to the Samajwadi Party. "All SP candidates will win. Cross voting by some MLAs won't make difference. We have support of MLAs from other parties," he said.
Mafia don Mukhtar Ansari said that he was there to defeat communal forces. His Qaumi Ekta Dal has two legislators who "favoured Congress and SP".
Also read: Cong emulates BJP, tells UP ticket hopefuls to get 25,000 Facebook likes