Umar, Anirban say they are proud of sedition charge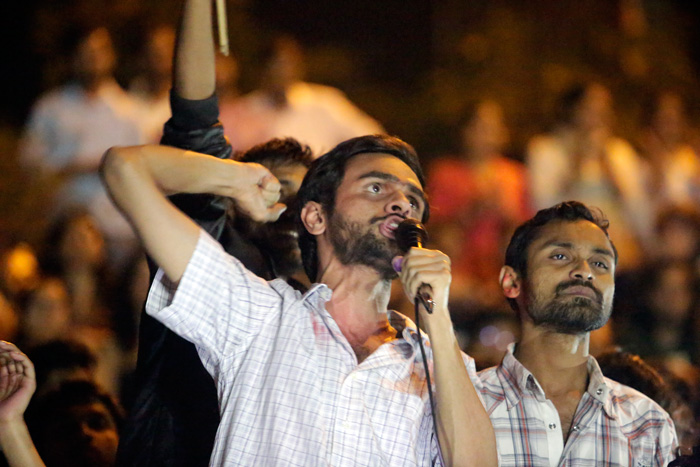 "I am proud to have been charged with sedition, for this puts me in the illustrious company of Dr Binayak Sen and Arundhati Roy, who have thrown in their lot with the dispossessed and the deprived at grave and significant personal cost," said Umar Khalid.
"I take pride in being labelled 'anti-national', because today's idea of nationalism is viciously poisonous," Anirban Bhattacharya said.
The two doctoral students of Jawaharlal Nehru University were addressing a massive crowd on Friday night at the campus after they were released on bail.
Read- No credible evidence: Umar and Anirban get interim bail
The duo has been slapped with sedition charges and pilloried by sections of the media and others who proclaim themselves 'true patriots'. At JNU, however, they got a heroes' welcome, greeted by applause and vociferous slogan-raising at the Administrative Block quadrangle that almost burst at the seams.
In Custody, I Felt like a 'Reluctant Fundamentalist'
Without going into the details of their sustained custodial interrogation by Delhi Police and its Special Cell (a specialised anti-terror unit), Umar and Anirban said they were subjected to prejudicial treatment that arises only out of deep-seated communal bias.
"I was constantly being heaped with abuse, and asked to prove my patriotism. At one point, it seemed the men in uniform were not questioning me, but putting the entire Muslim community on trial. There came a juncture when I felt I was a 'reluctant fundamentalist' (referring to Mohsin Hamid's 2007 novel)," Umar said.
Anirban said he was called a "triple terrorist" - someone who has betrayed his country, religion (Hinduism) and caste (high-ranking Brahmin) by supporting "anti-national" elements. "What could have been our possible plight if both of us were practising Muslims from Azamgarh?".
The eastern Uttar Pradesh district has long been labelled 'the breeding ground of terrorsists'.
Condemn Media Trial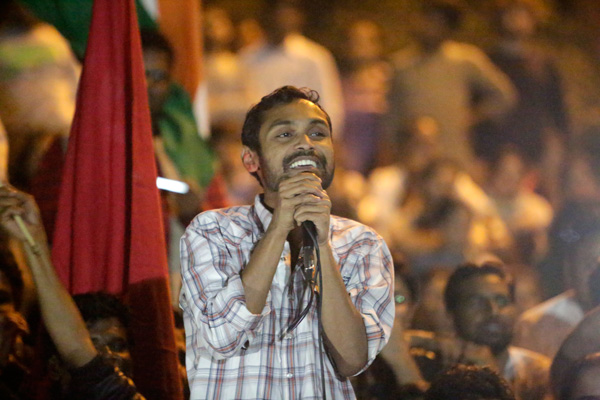 The two young men tore into those media houses which they accuse of conducting a vicious, sustained "media trial", at times even "faking news".
Umar cited an example: On 22 February, while he was in JNU, a leading Hindi daily reported that he was with Maoists in Odisha.
Anirban, similarly, slammed television channels Zee News and Time Now, accusing them of being untruthful for the sake of TRPs or to please "political patrons and bosses".
Universities are the Real Opposition
"Why are we (JNU) being targeted, hounded and abused? It's because we think critically, question the status quo, and have staunchly resisted becoming cogs in the Establishment's wheel," Anirban said.
"Universities and colleges are the real Opposition when a bully of a government is at the helm of power."
Peace of the Graveyard
On 17 March, Prime Minister Narendra Modi, while speaking at the World Sufi Summit, appealed for communal peace and harmony.
At JNU, Umar said Modi's peace is that of the graveyard for it rolls roughshod over impunity for communal violence and oppression of people. Hindutva forces and their stormtroopers of communal bigotry have no business to talk about peace, he said.
Of 'Masterminds' and 'Anti-Nationals'
"Mastermind" is a much-abused word that the government and its agencies frequently use to falsely implicate, torture, maim and kill innocents, Anirban said.
"We were also branded "masterminds". For "masterminding" a cultural programme of protest? The real masterminds and culprits are those who fool, pillage and plunder the aam aadmi in the name of good governance," he said.
Also read: Kanhaiya Kumar gets bail. How will it affect #JNUcrackdown discourse
According to Khalid, "We are being heckled and abused for being 'anti-nation'. But the real anti-national forces are the BJP, the Sangh Parivar and its affiliate outfits, who champion the cause of communal bigotry."
Their brilliant oratory went on well past midnight. By the time the teeming audience started dispersing, one was left with a giddying feeling of plunging into ideological criticism and practised, on-the-ground protest against innumerable wrongs and offence being perpetrated on the people.
Never mind that one could face a vituperative torrent of abuse for harbouring such thoughts. After all, ideas and ideologies can never be felled.
Edited by Joyjeet Das
More in Catch:
Who will blink? It's India's streak vs Pakistan's perfect record at Eden
These sketches tell us one thing: Donald Trump was born to be a cartoon
After a Jarawa baby's murder, fear clutches illicit visitors
Kapoor and Sons movie review: giant cinematic leap for modern Indian families