Trouble for Ajit Jogi: ex-MLA suspects he's behind mother's killing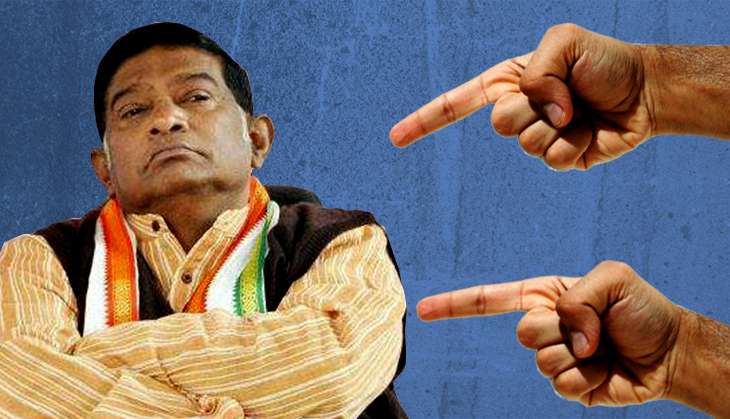 Former Chhattisgarh Chief Minister Ajit Jogi is a seasoned politician. But he also seems to be a favourite child of controversy.
Currently, Jogi is busy preparing the ground for his fledgling political party. But his efforts have been hit by a serious allegation made by former Congress MLA Shiv Dahariya.
Dahariya, formerly a staunch Jogi supporter, has raised doubts that his mother was murdered as part of a political conspiracy.
His mother, Godavari Bai, was killed in the Chachanperi village near Raipur on the night of 10 June. Dahariya's father, Asharam, was critically injured in the attack. The police has so far been unable to solve the murder mystery.
Drawing a parallel with the murder of Nationalist Congress Party (NCP) treasurer Ramavtar Jaggi in 2003, Dahariya says his mother could have fallen prey to a similar political plot.
According to Dahariya, he was under pressure to join Jogi's new party, but chose to remain with the Congress instead. He is now demanding a CBI probe into the killing, alleging that the Jogi camp had adopted similar tactics to compel him to switch sides as in Jaggi's case.
Political storm
Dahariya's damning charges against his former mentor have created a political furore. The issue has reverberated in the ongoing monsoon session of the state Assembly.
Leader of the Opposition, TS Singh Dev, and senior Congress leader Bhupesh Baghel have supported the demand to hand over the investigation to the CBI. Both leaders are known to be Jogi's bitter political rivals. Both have stressed inside the Vidhan Sabha that Dahariya's accusations should be taken seriously.
The state government has not accepted Dahariya's request for a CBI probe as yet. However, Chief Minister Raman Singh has admitted that it is a serious matter, and the ongoing police investigation should be expedited.
Activist's allegations
To add to Jogi's woes, a social activist, Kunal Shukla, has also alleged threats to his life from the Jogi family. Shukla claims he was on the verge of making a big expose against Jogi, but Ajit and son Amit somehow got wind of things, and his life is, consequently, in danger.
Shukla was, admittedly, a supporter of VC Shukla in 2002, when Jogi senior was the Chief Minister. He was also apparently under pressure to join the Jogi camp.
He alleges he was brutally beaten up at the behest of Jogi when he refused to part ways with VC Shukla. He was allegedly hounded by Jogi's shooters, but the circumstances changed after Jaggi's killing snowballed into a major issue, and his life was spared.
Jogi's shady past
In 2003, VC Shukla had quit the Congress to join the NCP. Ramavtar Jaggi was a trusted lieutenant of Shukla, and managed the NCP's funds on his behalf.
He was believed to have become the victim of an intense political rivalry between Jogi and former Union minister Shukla. While most of Shukla's supporters were allegedly forced to switch allegiance to Jogi under dubious circumstances, Jaggi had remained loyal to Shukla despite intimidation. He was finally shot dead on 4 June 2003.
The Opposition cried foul at the murder, and demanded a CBI enquiry. Jogi had predictably rejected calls for a CBI probe as the Chief Minister. But, his successor, BJP's Raman Singh, handed over the case to the CBI after coming to power.
Jogi's son Amit was jailed for almost 10 months as an accused in this case. He was acquitted by the district and the High Court. The matter is still pending in the Supreme Court.
Ramavtar Jaggi's son Satish, who is currently the state president of the NCP, views his father's killing as an outcome of a deep political conspiracy.
"Jogi and his family can go to any lengths for political benefit. Dahariya's allegations should be thoroughly probed, so that the truth comes out," he says.
Jogis defiant
Amit Jogi, on his part, has dismissed the charges, stating it has become a fashion in the state's politics to level accusations against his family. "Our family has faced similar allegations in the past, and come out clean every time," he insists.
Meanwhile, Jogi senior has supported the demand for a CBI investigation so that the real conspirators are unmasked.
"I don't see anybody's hands or feet behind the murder. I am into active politics, and facing my opponents. There is bound to be politics against me," argues Jogi.
Translated by Deepak Sharma, edited by Shreyas Sharma
More in Catch
Will Jogi's new party prove to be the Congress nemesis in Chhattisgarh?
Trouble for Raman Singh, Ajit Jogi; audio reveals deal to ensure BJP's victory in 2014 bypolls
Chhattisgarh tapes: Cong makes Jogi & son shut shop. Why is BJP silent?