The outsiders: Dikshit & Babbar get lukewarm response from UP Congress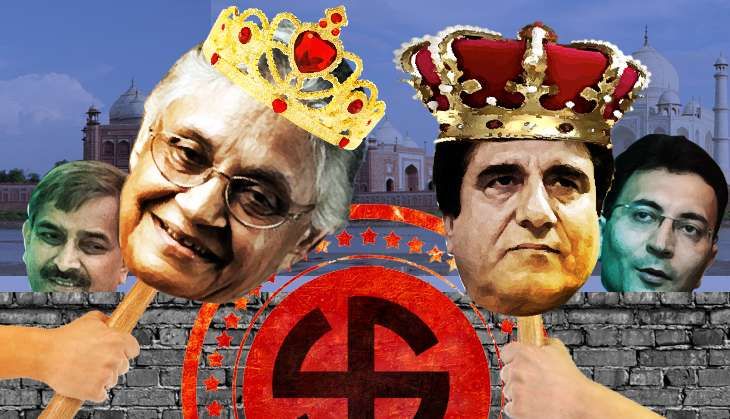 The response
Projection of Sheila Dikshit & Raj Babbar in UP hasn\'t gone down well with local Congress leaders
However they hope the duo would put a leash on Prashant Kishor and team
More in the story
What local leaders have to say
Will the experiment work?
While talking to a hand-picked group of 10-15 editors at a five-star hotel in Lucknow before the Lok Sabha elections, Rahul Gandhi had patted himself on the back for initiating the process of decentralisation in his party.
The Congress Vice-President repeatedly mentioned decentralisation and democratisation as his priorities while pointing out that the Narendra Modi-led BJP was heading towards an exactly opposite direction. However, he was at a loss of words when one of the editors asked him about Vijay Bahuguna's appointment as Uttarakhand's chief minister. He was asked whether it was a democratic decision to choose a man as CM who had no connect with the state.
Rahul Gandhi's lieutenants came to his rescue diverted the discussion.
Facing a monumental challenge in the form of the Uttar Pradesh Assembly elections, the Congress seems to be repeating its old mistakes.
It has appointed Raj Babbar as its state president and Sheila Dikshit as its chief ministerial face. Ghulam Nabi Azad has been entrusted with the charge of the state. Additionally, five new state vice-presidents have also been appointed in a bid to give representation to all the regions and communities.
Also read: Sheila chali sasural: 'Bahu' Dikshit to be Congress's face in Uttar Pradesh
It looks like a formidable team on paper. But what about the ground reality?
Lukewarm response
"The party has reduced its chances by half in just a week," says one old Congressman, who is a member of the party's Varanasi unit. "The Congress had taken a lead by anointing Raj Babbar, but it was undone with the announcement of Sheila Dikshit as CM candidate," he explains.
Most Congress workers and state leaders are worried over Dikshit's age factor as well as her 'outsider' status. They are also not sure about the political prowess of Raj Babbar to lead the party in a state as complex as Uttar Pradesh. While some are trying to rationalise the appointments, others are simply dejected.
Congress state spokesperson Surendra Rajput, however, is an exception. In his words, "the party leadership could not have thought of a better combination. Ghulam Nabi Azad is a senior leader. His sagacity, political weight and experience would help curb internal bickering. Raj Babbar is a popular face. Besides the Gandhi family, he is one of the few crowd-pullers the party has in UP,. Similarly, Sheila Dikshit's track record as Delhi chief minister speaks for itself. She is a perfect candidate to counter the development plank of Narendra Modi and Akhilesh Yadav," Rajput argues.
But Lucknow-based senior journalist Govind Pant Raju has a different perspective. According to him, the decision to appoint Raj Babbar as the state president is symptomatic of the mindset of the party high command.
Mulayam Singh Yadav had fielded Raj Babbar against Atal Bihari Vajpayee from Lucknow during the 1996 general elections. The film star-turned-politician was not even aware of the wards in the city. No wonder, the contest proved to be a nightmare for Babbar as well as the Samajwadi Party.
Although, Raj Babbar has made long strides in politics since then. He is now a three-time MP and some of his development initiatives in Agra have been widely appreciated. Nevertheless, leading the party in India's politically most important state is a different ball game, considering the complicated caste, class, regional and communal factors involved.
The appointments
Imran Masood, party's minority face in the Western UP, is among the five new vice-presidents. Although he can claim some pockets of influence, a controversial past stands in his way. Rajesh Mishra, another vice-president, is a former MP from Varanasi. His appointment can be read in the light of party's efforts to reclaim its Brahmin votes as well as make inroads in the Poorvanchal region.
The following remark by a local Congress worker sums up his chances of making a positive difference to the party's prospects, "It is doubtful that Mishra would be of any use to Sheila Dikshit or Raj Babbar. He is known to be involved in a ferocious rivalry with Rajeshpati Tripathi in his own region. It will be difficult for him to remain firm-footed in his own constituency. What can the party expect of him at the state level?" this activist asks.
Two other vice-presidents are RPN Singh and Bhagwati Chaudhary. While Singh is a Kurmi, Chaudhary, a the senior-most vice-president, comes from a Dalit background. The latter is also credited with the success of the Bheem Jyoti Yatra. He is reportedly in the good books of Rahul Gandhi.
The Congress think tank seems to believe the simultaneous projection of an OBC (Raj Babbar) and forward caste (Sheila Dikshit) can reverse its dwindling fortunes in UP. However, the public perception in this regard is best described by Sharat Pradhan, a senior Lucknow-based journalist.
Also read: Sheila Dikshit as UP CM face: 5 reasons why Congress has aced it
"The Congress will first require waging a separate door-to-door campaign to inform masses about Raj Babbar's OBC status," Pradhan, says half jokingly.
Local leaders ignored
But its Sheila Dikshit's sudden entry into the fray that has surprised most Congressmen from top to bottom. Especially when leaders like Pramod Tiwari and Jitin Prasad were already active in the state. Tiwari has won Vidhan Sabha elections nine times, a record few in the state can match. But his often surreptitious ties with Mulayam Singh Yadav have not gone down well with the party high command. In fact, he is currently a Rajya Sabha member owing to the support of the Samajwadi Party.
Congress leaders, as well as activists see Prashant Kishor and his team's style of functioning as one of the reasons behind these recent appointments.
"The new team will improve the morale within the party to some extent. Many party members were dissatisfied with Prashant Kishor and his team. They might be professionals but Uttar Pradesh is not Delhi. These people would often address the former state president Nirmal Khatri as 'Mr. Nirmal'. We usually called him 'Khatriji' or 'Adhyakshji'.
Most leaders, as well as workers, were upset with Prashant Kishor and his team over such trifles. This cultural gap was a big problem. We expect Raj Babbar and Dikshit would bring this team under control. Prashant Kishor and his team have only alienated party's senior leaders and activists," explains one Congress leader, who works in party's Lucknow office at Mall Avenue.
However, there is a big question mark over the political relevance of the 'senior activists' that this leader refers to. The Congress has little to offer to its workers in UP. The party has lost power at the centre.
"There are hardly any Congress activists left at the booth level. It is the result of remaining deprived of power in the state for so long. The party cannot offer any incentive to its foot soldiers. So why would they stand up for it on the ground," says one senior Congress leader from Allahabad.
This is the reason Prashant Kishor has made it mandatory for every potential candidate to recruit at least five booth level workers.
Can a change of guard at the top bring success to the party without feet on the ground? Sources say this latest overhaul would help curb the factionalism. There is a general consensus over the newly-appointed leaders.
But some activists think it is too little and too late. In Rajput's opinion, "the party should have taken this decision at least 6-8 months ago. We should have declared candidates for at least 150 seats by now."
Taking a lead in announcing its candidates could have helped the Congress to set the trend in these constituencies. For instance, fielding a Brahmin candidate much before the elections would have forced other parties to decide their strategy accordingly. Now, the party has no option but to decide its tactics based on the plans of its rivals.
Both Raj Babbar and Sheila Dikshit were introduced to make Congress a front-runner, but they might still be forced to walk behind the other parties.
Also read: 5 reasons why Sheila Dikshit adds to Congress' losers' line-up in UP