Swami Prasad Maurya fallout: will BSP's loss be BJP's gain in UP?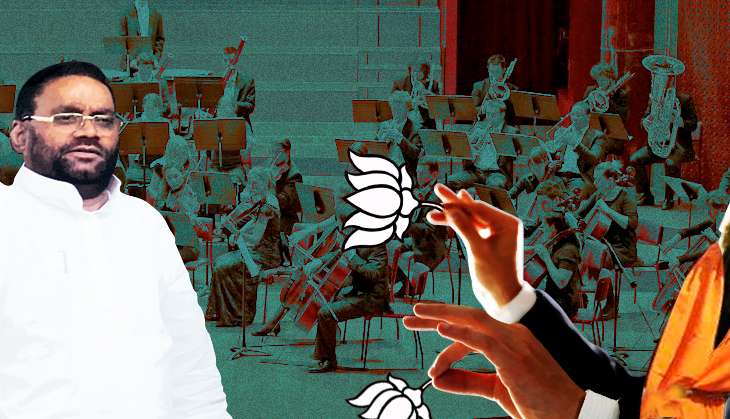 In November 2014, Bahujan Samaj Party's (BSP) Rajya Sabha member Akhilesh Das had resigned from the party's primary membership.
At that time, BSP leader Swami Prasad Maurya had defended party supremo Mayawati from his verbal attack.
In retaliation, Das had told this writer: "Who is Maurya to defend Mayawati? He is himself planning to quit the BSP and form a new party."
Das may have got a whiff of Maurya's intentions, but the Leader of the Opposition in the Uttar Pradesh Vidhan Sabha guarded his move well from his leader.
It is not yet clear whether Maurya will float a new outfit or join the BJP. That is only expected to be known on 1 July, when he holds a meeting of his loyalists in Lucknow. But Maurya is not the first BSP leader to desert the party at a critical juncture, and he won't be the last - sources say the OBC leader is working on weaning away some of his MLA colleagues.
Must read- Swami Prasad Maurya quits BSP, may join SP. But this won't harm Mayawati
High-profile desertions
Over the years, many of BSP founder Kanshiram's loyalists have left the party. Leaders like Raj Bahadur, Dinanath Bhaskar, Daddu Prasad, Sonelal Patel, Jugal Kishore and Babu Singh Kushwaha have gone their separate ways, with some of them blaming Mayawati's 'arrogant and greedy' ways for their departure.
While Bhaskar, Das, Kishore and Maurya have accused Mayawati of ticket vending, Bahadur and Prasad, both of whom were with the party since its formation, resigned because they felt that Mayawati had moved away from Kanshiram's ideology of changing money-oriented democracy into people-centric democracy. Kushwaha, meanwhile, is an accused in the multi-crore National Rural Health Mission scam.
According to Prasad, who is the national general secretary of the Bahujan Mukti Party, Kanshiram's ideology was a boon for Dalits and backwards.
Bahadur, who at one time was a minister in the SP-BSP coalition government in 1994, has made a business out of Dalit awakening by providing political shelter to the moneyed. He is now with the Congress.
BSP's loss is BJP's gain
The biggest gainer from this exodus has been the BJP. Sonelal Patel founded the Apna Dal, which allied with the BJP and assisted in the party's virtual clean sweep of Uttar Pradesh in the 2014 general elections.
In January 2015, Kishore, another BSP Rajya Sabha MP and a Dalit leader from Lakhimpur Kheri, was removed from all party positions for accusing Mayawati of selling party tickets.
Kishore had said that the party had changed its ideology and it had started taking huge amounts of money for allotting tickets.
One year later, in January 2016, Kishore joined the BJP on Makar Sankranti, just a few days before Mayawati's birthday.
His wife Damyanti Singh and son Saurabh Singh, who was a ticket aspirant from Kasta constituency of Lakhimpur Kheri, had joined the saffron party in February 2015, a month after Kishore had fired his salvo against Mayawati.
With backward castes accounting for about 9% of backward castes other than Yadavs, they would be an important factor in next year's UP Assembly polls. It's important to note that these castes are spread across the state.
The BJP is aware of this reality. Even in 2012, the party was keen on inducting scam-tainted Kushwaha.
Maurya's impending decision
Where do these desertions leave Mayawati? Maurya's departure is the biggest setback for her. But if Maurya takes away a sizeable number of the party's 80 MLAs with him, Mayawati may find it difficult to recover from the blow.
A tottering BSP would surely warm the cockles of BJP president Amit Shah's heart, but these are early days still. If Maurya doesn't join the BJP and forms an outfit to keep his bargaining muscle intact, Shah's dreams may remain unrealised.

Edited by Shreyas Sharma
More in Catch
Senior BSP leader Swami Prasad Maurya resigns, accuses Mayawati of 'selling' party tickets
Fearing Maurya like exit, Mayawati orders only closed-door party meetings
Meet Keshav Prasad Maurya: BJP's new UP chief faces 10 criminal charges