Smriti Irani gives scathing reply to Rahul Gandhi for his tweet over PC for women in Indian Army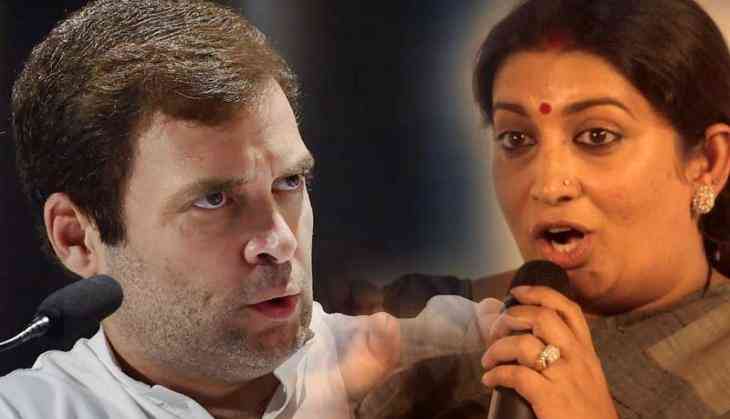 BJP leader Smriti Irani launched a scathing response at Rahul Gandhi on Monday for his tweet on the Supreme Court's milestone decree that women officials can get permanent commission in the armed forces and as will be entitled for command post in the army.
The Congress leader had tweeted, "The Govt disrespected every Indian woman, by arguing in the SC that women Army officers didn't deserve command posts or permanent service because they were inferior to men. I congratulate India's women for standing up & proving the BJP Govt wrong."
The Union Minister in a tweet launched at Rahul Gandhi, addressing him as "Begani shaadi mein Abdullah deewane". She held the Congress responsible for "twiddling its thumbs" on the issue and asked Rahul Gandhi to make his team confirm specifics before he tweets.
Also Read: SP leader blames UP govt for Akhilesh Yadav's security breach, BJP refutes charges
आदरणीय बेगानी शादी में अब्दुल्ला दीवाने,

It was PM @narendramodi Ji who announced Permanent Commission for Women in Armed Forces, thereby ensuring gender justice & @BJPMahilaMorcha took up this issue when your Govt. twiddled its thumbs. Tweet से पहले टीम को बोलो check kare 🙏 https://t.co/DQhm3tRc0g

— Smriti Z Irani (@smritiirani) February 17, 2020
In its order, the top court dismissed the government's plea of "physiological limitations and social norms" for refusing women permanent commission and command posting, stating that it was against the notion of equality and smacked of gender bias. It also stated that it found the centre's arguments disturbing.
Smriti Irani and Rahul Gandhi have time and again been at odds on Twitter. Smriti Irani defeated Rahul Gandhi in the Lok Sabha elections from Amethi after losing to him in the 2014 elections.
Not long ago, Rahul Gandhi had taken a dig at the BJP government over increase in LPG cooking gas price with an old picture of the Union Minister protesting against the Congress led UPA over increase in price of the same.
Also Read: Asaduddin Owaisi reacts to temple being installed in Kashi-Mahakal Express, call for PM Modi's attention