Sidhu bats for Imran Khan: Why he is stressing on better relations with Pakistan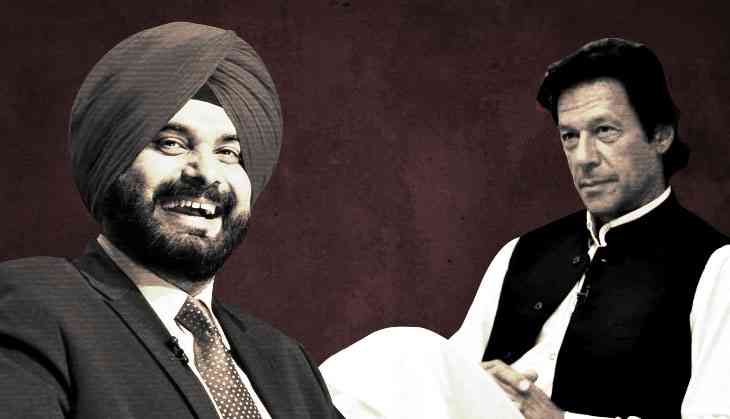 Taking cricketing relations ahead into the political realm, Punjab's cultural minister Navjot Singh Sidhu has batted for the new Pakistani Prime Minister Imran Khan saying that the latter's elevation to the top political post brings forth a new dawn promising an era of hope. Sidhu along with other prominent personalities like Sunil Gavaskar and Kapil Dev from the cricketing world along with Aamir Khan from Bollywood have reportedly been invited for Imran's investiture. He has disclosed that he would be going to the other side of the border with the hope of thawing of relations between the two sides.
Sidhu went on the front foot to present Imran as a towering personality of the present era both in the world of cricket as well as in socio-political sphere. Recalling his relations with Imran he recalled how he was hit in the stomach by the very first bowl sent at him by the Pakistani cricketer when he represented Board President XI.
"He never attacked the weak as he did not throw any bouncers at me at that time. Things changed when I faced him again in 1988. I was a strong boy who was then hitting sixes," he said while underlining that he sees Imran as a 'pure soul' and a 'selfless man'.
At an interaction with the journalists at Chandigarh Press Club on Thursday, Sidhu said, "What a great leader he is. He generates faith in people. People like Wasim Akram and Waqar Yunus who had come from villages, he created heroes out of non entities." He also recalled how Imran had brought back the Pakistani team in the 1992 World Cup from the brink of ouster and gone on to lead them to victory.
Sidhu pointed that Imran's initiative in setting up a world class cancer hospital in memory of his mother that offers free treatment to the poor speaks volumes about the man who wants to bring happiness to mankind.
"I have seen him when he had only one seat in the parliament. I have seen him when he witnessed death from very close quarters. He has again risen from scratch. He fought the system and today he is empowered to change the system," Sidhu pointed while drawing parallels with Imran since he too has been elected by the people to address their aspirations in Indian Punjab.
"That is where I see hope. I am seeing an 'umeed ka suraj' (dawn of hope). I see him as an instrument of realising the dreams. I want to take my Chief Minister Captain Amarinder Singh to Nankana Sahib for starting the celebrations of the 550th birth anniversary of Guru Nanak," the Indian cricketer turned politician said.
He voiced his support for the opening of Kartarpur corridor and bringing back the pre-independence glory to Amritsar Mandi. He said the relations between the two countries should be such that a Punjab should be able to have Makki ki Roti and Saag in Amritsar and Biryani in Lahore on the same day.
"The thaw must begin. The ice must melt. He (Imran) can give wings to our aspirations. There are infinite possibilities. He has turned weaknesses into strength, obstacles into stepping stones and obstructions into triumphs," he said.
On being asked to comment government of India's approach towards Imran, Sidhu said that he would not encroach upon Indian government's approach as certain things are decided at the level of ministry of external affairs. On the issue of Imran's approach on Kashmir and the Indian government's stand he said, "On Kashmir my view is that of the Indian government."
"It is my personal opinion that sportsmen break barriers and unite people," he underlined as he shared anecdotes of the era of Gavaskar, Kapil and Imran.
Better ties with Pakistan are an important issue for many Punjabis. As many important Sikh religious places such as Nankana Sahib and Panja Sahib are in Pakistan, Sikh pilgrims often have to bear the brunt of worsening ties between the two countries.