Same rhyme, different reason: why NDA has the edge on 4 key phase II seats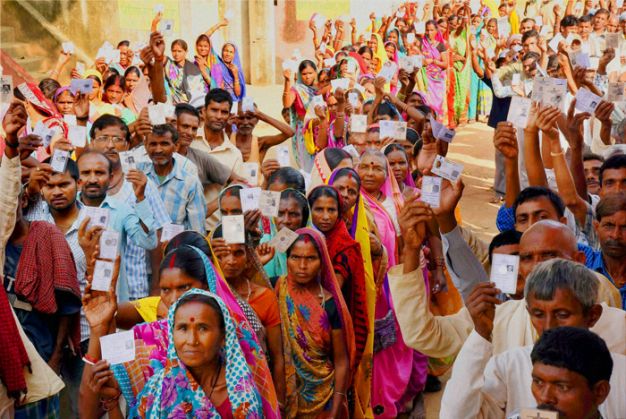 The first thing you need to know about the key constituencies that voted on 16 October is this: they don't conform to generalisation.
They each have their own experiences of democracy, varied aspirations and layered sentiments that guide the voters.
The second thing is that, for a host of reasons, the NDA has the edge over the Grand Alliance.
Catch visited four of these assembly segments in south and central Bihar in the run up to the second phase. Here's the sense we got of the voters' mood.
As we make our way to the Suara airport ground where Narendra Modi is addressing a large crowd, several people are leaving. "Roz rata rataya baat bolte hain. Ye pradhan mantri ka language nahin hai. Ye shikva shikayat karna pradhan mantri ko shobha nahin deta hai," they complain.
In english: "He parrots the same lines everyday. Is this how a prime minister speaks? He is always complaining, it ill behoves a prime minister.
Soon, another group of people joins in. Clearly, they are Modi's admirers. "Aisa pradhan mantri kabhi nahin bane thay (there's never been a prime minister like him)," they say.
And they have no doubt who will win. "Sarkaar BJP ka hi banega. Khaali BJP, sirf BJP." It's BJP all the way, they insist.
At the rally, people have turned up in large numbers to listen to Modi. He is holding forth on his now-old themes of jungle raj, welfare of the poor, lack of electricity, special package for Bihar, rising crime.
He is also reminding the crowd that Bihar has low prati vyakti aay (per capita income) and lags in shiksha (education), peene ka paani (drinking water supply), rozgaar (employment), and tele-density.
As the prime minister's helicopters fly away, we catch up with Lal Babu Singh Chandravanshi, who is an EBC. What did he make of Modi's speech?
"Kahaan jungle raj hai. Pehli baar raat beraat ghoomne ka azadi mila." Jungle raj? he responds. We can move around freely even at midnight.
In Sasaram town, Uma Shankar Soni, 32, is a sales officer with Hindustan Lever. That's his day job. In the evening, he runs a paan shop. He is a Sonar, an OBC caste, and is "voting for change" in his area.
Change? "By again voting for Jawahar Prasad", the BJP's sitting MLA. Isn't that a contradiction? No, he says, Prasad is from his neighbourhood and that's reason enough to support him even though he hasn't done much work here.
Jawahar is pitted against RJD's Ashok Kumar, a former MLA. In a direct contest, locals feel, Jawahar would have had an edge. But the Independent Krishna Kumar Singh has altered the equation.
Krishna Kumar, a Rajput, is a landlord and trader of considerable means. He's also the first strong non-Kushwaha candidate here in 35 years, and is hoping to encash the other castes' anti-Kushwaha sentiment.
Munna Prasad Sonkar, 50, has a wholesale green grocer. He is a Khatik, a caste included by Nitish Kumar's regime among the EBC, giving it special benefits.
Sonkar, however, isn't happy: in UP, his is a Scheduled Caste and thus enjoys greater benefits. "Nitish hum harijan ko ati-pichhada banake hamara vikas rok diye (By including us SCs in the EBC category, Nitish has prevented our development).
Of course, he won't be rooting for Nitish. He is voting for the BJP "because the country has to be saved". From whom? "People like Owaisi," he replies, recalling an "inflammatory" speech by the AIMIM chief's younger brother Akbaruddin Owaisi that he watched on TV.
Sonkar brings up J&K legislator Engineer Rashid's beef party. "Kitna mann badha hua hai in logoon ka (just see the audacity of these people)."
He also knows about Mohammad Akhlaq, who was lynched by a Hindu mob in Uttar Pradesh, for allegedly eating beef. "Akhlaq ki kismat kharaab thi," is all he says when asked how he feels about the murder. "It was his bad luck."
Unlike canal-fed Sasaram, rain-dependent Aurangabad is parched and signs of drought are clearly visible. Most water bodies have dried up, the soil of the paddy fields is cracked and large swathes of sun-burnt crop dot the landscape.
The farmers, mostly Rajput, are upset with the Nitish government as well their MLA, Ramadhar Singh of the BJP, a fellow Rajput who they say hasn't visited here in 15 years.
They would have voted him out this time, if not for Modi.
Virendra Kumar Singh, former principal of AN Sinha College, Aurangabad, is an old RSS supporter. But the 65-year-old is disappointed not only with his MLA, but the BJP and the RSS as well.
Why? They still haven't constructed a Ram temple in Ayodhya. He is also miffed that the RSS is promoting "one temple, one well, one crematorium" for all castes in a village.
Still, he will for Ramadhar Singh, again.
In Aurangabad town, a conversation with two young Rajput students reveals they are voting for the BJP - because Modi - even though they "like Nitish's efforts in most areas of governance, except education".
A Brahmin owner of a bicycle repair shop and a Kayastha salesman, too, are rooting for the BJP. They would have voted for Nitish, as they did the last time, had he not allied with Lalu Prasad.
A little up the road, Mukesh Prajapati, 30, runs a paan shop. He has studied till class IX. He's a Kumhar, an EBC caste that is counted among Nitish's supporters. Not this time, Prajapati says.
Nitish was elected to end jungle raj, "fir aap he jungle me ghus gaye." He himself went into the jungle, he complains, referring to the chief minister's alliance with Lalu.
Prajapati, too, isn't impressed with Ramadhar, but will vote him anyway "in the name of Modiji".
Kanhaiya Prasad is 57. When he isn't selling tobacco, he helps conduct prayers at the nearby Mahakal temple.
He is a Warnkaar, an OBC, and has long list of grievances against Ramadhar; the MLA hasn't done anything about the area's poor power and water supply, or the absence of doctors and lack of medicines at the local Sadar Hospital.
Nonetheless, he'll vote for Ramadhar because the alternative is "somebody who is asking Hindus to eat gau maas". He's referring to Lalu, whom the BJP has accused of asking Hindus to eat cow-meat.
The beef politics hasn't left Gaya untouched either. The town has a history of communal strife, which has benefited the BJP. Its Prem Kumar is in his sixth consecutive term as MLA.
In all the contests, barring in 2005, his nearest rival was a Muslim fielded by the CPI. And each election, locals say, word would spread after the first few hours of polling that Muslims are voting in large numbers. This would ensure that Hindu go out in large numbers to vote for Kumar.
A Muslim shopkeeper on the busy GB Road who did not want to be named says the town is tense, fearing communal violence. And he blames the BJP for it. "What is this politics of calling the cow your mother and then declaring that anyone who eats it will be killed?" he asks.
[twittable]Gaya multiplex owner: Narendra Modi's foreign trips to attract investment is 'a brilliant approach'[/twittable]
Anurag and Avinash Singh opened Gaya's first multiplex about six months ago. Anurag, a Dehradun-educated Bhumihar and a former banker, says a lot has improved for businesses under Nitish, but the not quite enough.
Nitish has failed, for example, to create an enabling environment for bigger businesses, something Anurag believes Modi will do. According to Anurag, the Indian economy needs massive investment and in the absence of domestic funds, Modi's trips to attract foreign money is "a brilliant approach".
This is the hot seat of Jitan Ram Manjhi, chief minister for nine months during a tumultuous period in Bihar's politics following the Lok Sabha polls of 2014.
He is seeking reelection from here, but is also contesting from Imamganj, where he is locked in a tough fight with Assembly Speaker Uday Narayan Choudhary.
Symbolically, he is fighting against Nitish himself, who had both installed him as chief minister and then dethroned him.
[twittable]Jitan Ram Manjhi is the favourite in Makhdumpur. He's backed by Musahars, Paswans and Bhumihars[/twittable]
When Makhdumpur's voters elected Manjhi in 2010, he was with the JD(U). Now, as president of his own Hindustani Awam Morcha and an NDA ally, he is pitted against his former party, and leader.
There is still a significant undercurrent of support for the Grand Alliance, but most of the voters seem to have made up their mind to go with Manjhi.
His caste kin, the Musahars, are obviously backing him as are the Paswans and the Bhumihars. That's not an easy combination to beat.