Real jungle raj: SP appeases dons, betrays Muslims falsely accused of terror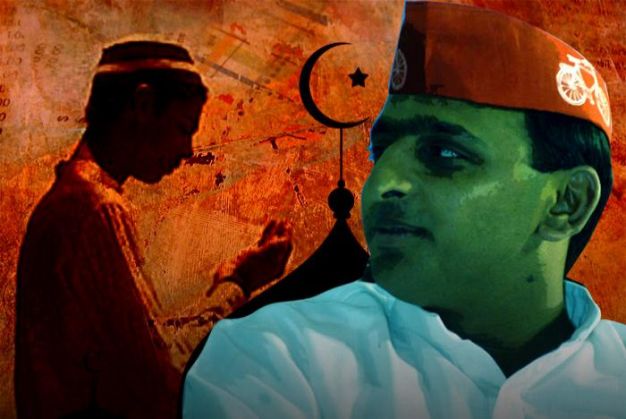 The bailout
SP govt has ensured that the cases against many criminals netas are dropped
These include Raja Bhaiya, Pandit Singh, Mehboob Ali and Rajesh Yadav
But it has broken its promise to rehabilitate Muslim men falsely accused of terror
More in the story
Why is SP appeasing criminals?
What are the cases that have been dropped?
It is not for nothing that the Samajwadi Party and its government in Uttar Pradesh have come to be identified as a safe haven for criminals. The government seems to have ensured that criminal cases against some of its legislators and ministers are withdrawn to help them face the electorate with a "clean" image.
While withdrawal of criminal cases against legislators and ministers is government's priority before the assembly elections, rehabilitating Muslims who were falsely implicated under terror-related cases is not.
Fourteen such persons were released from Lucknow jail recently. There were others from various parts of the state. The Samajwadi Party had promised to rehabilitate these persons but now seems to have gone back on its promise.
To protest against government's apathy the Rihai Manch, an outfit fighting for their cause, is organising a march in Lucknow on Wednesday.
Also read: Samajwadi Party MLA Jairam Yadav's brothers kill man for overtaking car
The beneficiaries
Obviously, protecting the interests of criminal-turned-legislators is government's priority. Those benefiting from the government's pro-criminal approach include Raghuraj Pratap Singh alias Raja Bhaiya of Kunda in Pratapgarh, Vinod Kumar Singh alias Pandit Singh of Gonda, Mehboob Ali of Amroha, Shahjahanpur MLA Rajesh Yadav, to name a few.
According to the state's Prosecution Directorate, 65 cases involving MPs, MLAs and ministers were either disposed of by the court or withdrawn by the government. Many of these cases ended after a "compromise" was reached with the complainant.
SP govt has withdrawn criminal cases against several MLAs & ministers including Raja Bhaiya
Mirzapur MLA Kailash Chaurasiya was awarded a three-year imprisonment and a fine of Rs 9000 for criminal intimidation and voluntarily causing hurt. He walked free after a higher court absolved him of all charges.
In the case of Raja Bhaiya the government has withdrawn two cases under the Gangster Act, 7 Criminal Law Amendment Act pending since 2006 and 2011. A common man would have remained behind bars for years for offences under these sections.
Also read: How favouring Yadavs could boomerang on Mulayam, Akhilesh & Co.
Cabinet minister Vinod Singh aka Pandit Singh gained notoriety after he allegedly abducted and assaulted the then chief medical officer of Gonda. Last year he was again in the news for rattling off choicest expletives at a youth in Gonda. He later called it a political conspiracy.
He was facing cases under sections 279 (rash and negligent driving) and 304-A (causing death by negligence) of the IPC. The cases now stand withdrawn.
In the case of Mehboob Ali, eight cases under different sections of the IPC have been withdrawn. These cases pertained to use of criminal force and assault (section 352 IPC), criminal trespass (447 IPC), dacoity (391 IPC), criminal intimidation (506 IPC) and intentional insult (504 IPC).
For some legislators like Azeemul Haq Pahalwan, the muscleman of Ambedkarnagar, Akhilesh Singh of Rae Bareli and Veer Singh of Chitrakoot, the government was saved the trouble of withdrawing cases against them after they reached a "compromise" with their complainants.
Haq, along with others, had been booked for killing a witness in a murder case. Is it surprising then that he managed a compromise?
Veer Singh is the brother of the dreaded dacoit Dadua who is alleged to have enjoyed the patronage of some important leaders of the Samajwadi Party during his reign of terror. Charges against him included murder, kidnapping and extortion.
Akhilesh Singh has been Rae Bareli's most notorious don for a long time now, managing to stay beyond the reach of law agencies all these years. A compromise in his case too should not come as a surprise.
Mafia dons Mukhtar Ansari, Brajesh Singh, Abhay Singh, Vijay Mishra, Ajay Rai and Sushil Singh are all facing cases of serious criminal offences. And in all these cases witnesses turning hostile is the most likely thing to happen.
The consequences
The presence of dangerous criminals in the UP assembly does not augur well for the legislature. Mukhtar Ansari and Brajesh Singh have had a bloody feud running in eastern Uttar Pradesh. Will they use the House to settle their scores? It may be very scary thought to ponder, but not for the Samajwadi Party and its government which probably feels that more, the merrier.
Leader of Opposition in the Vidhan Sabha, Swami Prasad Maurya of Bahujan Samaj Party said the Samajwadi Party has always encouraged goondas, mafia and other criminals but the withdrawal of cases against them is unconstitutional.
Edited by Aditya Menon
Also read: Shade of saffron: to counter BJP in 2017, SP throws sops at Hindus