Rahul Gandhi & Priyanka Vadra march for Kathua & Unnao rape victims, attack Modi on women's safety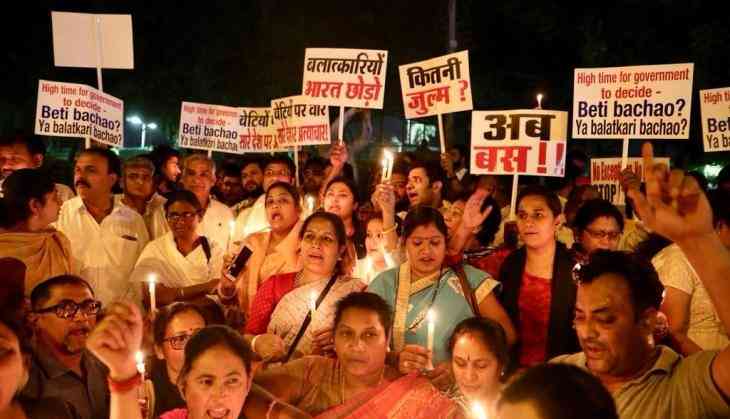 After being criticised for his alleged reluctance to take a stand on the rape and murder of 8 year old Asifa in Kathua, Congress President Rahul Gandhi not just broke his silence but also organised an impromptu candlelight protest in Delhi. Accompanied by his sister Priyanka Gandhi Vadra, brother-in-law Robert Vadra, senior Congress leaders like Ashok Gehlot, Ghulam Nabi Azad, Ahmed Patel, Ambika Soni, Salman Khurshid, Digvijaya Singh, Ajay Maken and hundreds of Congress volunteers, Rahul Gandhi marched to India Gate in protest against the rapes in Kathua and Unnao.
Gandhi said that as this concerned the safety of women it was a "national issue, not a political issue". "We want the government to act...women should at least feel safe in the country," Gandhi said.
As the police didn't let the protestors reach India Gate, Priyanka Vadra sat on the road in protest, along with All India Mahila Congress chief Sushmita Dev.
Vadra didn't speak much, except for a brief moment when she scolded some of the protestors as they were "shouting and pushing".
Speaking to the media on the Asifa case, Congress leader Salman Khurshid said, "If this case doesn't stir your conscience, nothing will".
Azad chose to train his guns on Mehbooba Mufti and Yogi Adityanath, chief ministers of Jammu and Kashmir and Uttar Pradesh, the states where the two rapes took place.
Azad's active presence in the rally is important as he hails from Jammu and had contested the Lok Sabha elections from the Udhampur-Doda constituency, under which Kathua falls. His presence was a clear signal to the Congress' Jammu unit, a few of whose members were alleged to have supported the Bandh called in favour of Asifa's alleged rapists.
The protest march, which began from the AICC headquarters at 11 PM, is said to have been planned in barely a few hours. Delhi Congress leader Aman Panwar disclosed that the party held the protest late at night to avoid causing traffic disturbances in Central Delhi. Apparently, the Congress took a leaf out of the book of Maharashtra's protesting farmers, who marched at night to avoid disturbing students giving their board examinations.
Over 1500 people had gathered for the Congress' protest near India Gate. A large number of them were volunteers from the Youth Congress, National Students' Union of India, Mahila Congress and other frontal organisations of the party as well as the Delhi Pradesh Congress Committee. However, some common people, who had nothing to do with the party, also attended the protest.
"The cause is what brought me here. What happened to Asifa is a disgrace to humanity. Each one of us should be out protesting," said Shweta, who had come for the protest from South Delhi after receiving a message on WhatsApp.