Rahul Gandhi effect: Young guns all set to take charge of Congress state units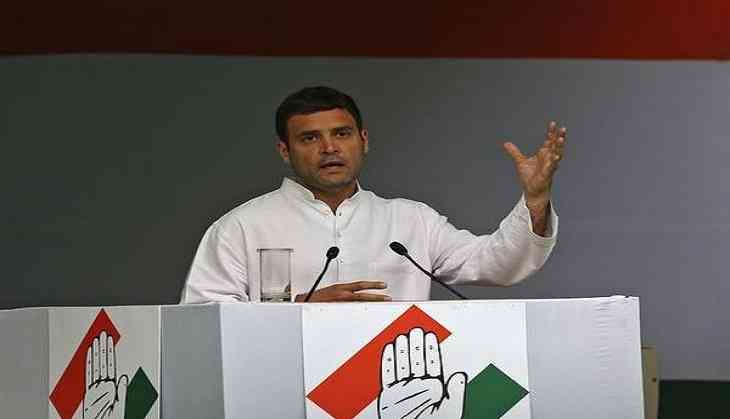 Congress president Rahul Gandhi's concluding speech at the 84th plenary session seems to have struck a chord with senior state unit presidents who one after another are offering to resign from their posts to give young leadership a chance to lead the state units in the run up to 2019 Lok Sabha elections. Rahul had in his speech promised to demolish the walls that existed between the cadres and leaders and promised to put more focus on youth.
Since then, there has been a lot of speculation over the resignations of PCC chiefs with the latest being that of UP state president Raj Babbar offering to resign. Babbar, who has had a disastrous outing as party chief ever since he took over before the 2017 Assembly polls, was quoted by ANI as saying, "New arrangements are being worked out in the Congress. Whatever new positions will be given by party president, we will take them up and work towards 2019."
When asked whether he has tendered his resignation due to party's poor show in the recently held by-polls in UP, Babbar informed ANI, "Whatever I have to say, I talk it out with my party President, the same (defeats) has been happening and is happening." However, it was Babbar's tweet, wherein he quoted Hindi poet Kedarnath Singh, which led to speculations on him offering to resign.
अंत में मित्रों,
इतना ही कहूंगा
कि अंत महज एक मुहावरा है
जिसे शब्द हमेशा 
अपने विस्फोट से उड़ा देते हैं ....

उनकी ऐसी पंक्तियां उन्हें कहां हमसे दूर होने देंगी । कविवर केदारनाथ सिंह जी को विनम्र श्रद्धांजलि pic.twitter.com/UvqkPDFImy

— Raj Babbar (@RajBabbarMP) March 20, 2018
Meanwhile, as media began to speculate on Babbar's successor, senior party leader and Rajya Sabha MP, Pramod Tewari, vehemently denied any offer of resignation and claimed that Babbar continues to be the party's state chief.
I want to clear the issue, Raj Babbar has not resigned from his post of Uttar Pradesh Congress President: Pramod Tiwari, Congress pic.twitter.com/nMbHpPxqyW

— ANI UP (@ANINewsUP) March 21, 2018
A senior Congress leader, while scotching rumors of his resignation, claimed that he had offered to resign after the 2017 Assembly polls. He did claim that Babbar was under tremendous pressure after the party's disastrous performance in the recently held by-polls in Phulpur and Gorakhpur.
However, there is a significant possibility of Babbar being replaced with a young Brahmin face in the near future. The Grand Old Party is hoping that an upper caste will help in countering BJP's non-Yadav OBC and non-Jatav Dalit consolidation. Among those who are in the reckoning for the party's state president include former Union minister Jitin Prasad, Rajesh Mishra and Laliteshpati Tripathi.
Speculations over Babbar's resignation is reminiscent of Bharatsinh Solanki's alleged offer of stepping down as Gujarat PCC president.
Reports suggested that upset with not being nominated for Rajya Sabha from Gujarat had led to Solanki's decision. However, Solanki too denied these claims and maintained that there was no truth in these rumors.
Apparently, Solanki too had offered to step down after the party's performance in 2017 assembly elections.
If Solanki does resign, Congress is expected to experiment with yet another young face in the state. Among those being considered in the race include former PCC chief Shaktisinh Gohil, who was instrumental in securing a Rajya Sabha seat for senior leader Ahmed Patel.
Even Patidar leader Paresh Dhanani is in the reckoning but it is unlikely considering he is currently the legislature leader of the party in Gujarat.
Meanwhile, it was Goa state PCC chief Shantaram Naik who was first to resign after Rahul's call for infusing young blood in prominent party positions. Naik claimed that he was inspired by Rahul's speech and submitted his resignation soon after he returned from Delhi after attending the plenary session.
Sources have informed that Goa is witnessing a political crisis ever since chief minister Manohar Parrikar was diagnosed with cancer. Congress has sensed that Parrikar's absence from the state has given them an opportunity to lure BJP's allies who remain crucial to government's stability in the state. Allies like Goa Forward Party, Maharashtrawadi Gomantak Party and independents had agreed to be part of the government on one condition that Parrikar was named the chief minister.
Back then BJP readily agreed to the proposition and asked Parrikar to resign as Union defence minister to take over as chief minister.
However, in his absence, Congress is hoping to create fissures in the alliance and would certainly need someone who can negotiate with the likes of Sardesai, who had earlier fought elections as a Congress candidate.
It is for this reason that Congress has been careful in naming Naik's successor and is looking for someone who is young and has some experience in handling the party's organisational setup. Sources have informed that among those who are in the reckoning include former Youth Congress president Girish Chodankar and high court lawyer Yatish Naik.
Chodankar had earlier contested against Parrikar from Panaji where he lost while Naik is the young party spokesperson who is articulate and a backroom strategist. Former MP Francisco Sardinha and Digamabar Kamat have also thrown their hat in the ring. Kamat could also emerge as Naik's successor considering his proximity to Sardesai and even the other state leaders could come to a consensus on his candidature.
Meanwhile, changes are expected in states like Odisha, Bihar, Kerala and Haryana. The party unity is at its worst in Odisha where Congress has conceded the opposition to BJP in recent years. The state leadership holds the incumbent PCC president PK Harichandan for the party's disastrous performance in recent times. IN fact, the state leadership has on several occasions urged central leadership to replace Hariharan.
Similarly, Mumbai Regional Congress chief Sanjay Nirupam, who is at loggerheads with Maharashtra leadership, could also be shunted out to accommodate a more acceptable face. In Bihar, the party had replaced former PCC chief Ashok Chowdhary with Kaukab Qadri as a temporary arrangement after the former was accused to splitting the party.
In Bihar, rumors of Qadri being replaced with an upper caste leader have been gaining momentum. It is expected that Akhilesh Pratap Singh could be handed over the reigns of the state unit. In fact, Singh was given prominence over others during the plenary session where he along with other young faces was seen coordinating the event. Similar changes are expected in Haryana and Kerala where party is looking to give prominence to young leaders.