Race to release Bose files is really a race to benefit from his legacy
Rajat Roy
| Updated on: 14 February 2017, 5:31 IST
Race to declassify
Earlier West Bengal CM Mamata Banerjee too brought out files
Believers vs non-believers
The govt has held that Netaji did die in an air crash
But that view has been fiercely contested
More in the story
Which side believes what?
Why is the debate on Netaji\'s death still alive?
Did Subhash Chandra Bose die in a plane crash? The debate seems to be never ending.
The Government of India seemed to have concluded that Netaji did meet his end in the fateful crash in Taihoku more than 70 years ago.
Read- Netaji files reveal: Bose did suffer burns in Taiwan plane crash
According to a Union Cabinet note, dated 6 February 1995: "There seems to be no scope for doubt that he died in the air crash of 18 August, 1945 at Taihoku. Government of India has already accepted this position. There is no evidence whatsoever to the contrary."
But the issue leapt up in public discourse once again when Prime Minister Narendra Modi opened up access to declassified files on the nationalist leader on 23 January, his birth anniversary.
On the same day West Bengal Chief Minister Mamata Banerjee said: "The country has the right to know about the fate of Netaji. He left the country 75 years ago, but we still have no idea about his disappearance. Can there be a bigger tragedy?"
A couple of days before that, too, she said she didn't believe Bose died in the crash. She was speaking at a function at Netaji Bhavan.
Never mind that at the same venue Nobel laureate Amartya Sen said that while the declassified files were of interest, it was far more important to debate Netaji's life and works than his death. That was on his 119th birth anniversary.
Who benefits, who doesn't
But belief, especially a belief without a reason, has always found takers among politicians. More so if that belief has overtone of conspiracy, making it easier to capture the imagination of the lay people.
Parties across the political spectrum have been alike in that respect: Forward Bloc, the party Subhas Bose founded, never accepted that he died in the crash. And West Bengal BJP leaders such as Tapan Sikdar and Rahul Sinha also found it convenient to believe that he lived his last days in the prison of Soviet ruler Joseph Stalin.
Any attempt to demystify the "death" met with vehement opposition from these circles and a section of Netaji's family members contributed in fomenting the sentiment.
Gandhi had the moral courage to correct himself and accept that unacceptable
After the fall of Soviet Union, there were demand to explore archives there to find out anything related to Netaji. And the Centre's resistance to declassify Netaji-related files strengthen the belief that the government had something to hide.
After assessing that there won't be any political harm to the BJP, or its predecessor Bharatiya Jan Sangh, rather there could be some awkward moments for the Congress, Prime Minister Narendra Modi decided to declassify the files.
The West Bengal CM, though, pre-empted the move, releasing 64 files related to Netaji that were with the state government.
Modi released the first batch of 100 files on 23 January. Another 500 files will follow. But, there is nothing in the files to throw any new light on the 'mystery'.
Historians and observers such as Lenard Gordon and Sugata Basu, Netaji's grandnephew and a Harvard professor, have steadfastly said there was no mystery.
Also read-Netaji files declassifed: His death accepted in 1995. No ammo for BJP against Cong
But the BJP and Banerjee's Trinamool Congress have been vociferous about their claim. It doesn't help that the West Bengal Assembly elections are due in a few months.
"They are doing it to mobilise vote, but they won't benefit," BJP's lone MLA in the state Shamik Bhattacharjee, said about Trinamool.
"Modi's decision to release the files was a calculated move to put the Congress in an awkward position. Besides, like Swami Vivekananda, Netaji is also being rightfully appropriated by our party," said Jayprakash Majumdar, another state-level BJP leader.
Is there any merit in the controversy?
"I don't think the common people are really bothered or excited about something that took place 70 years ago," said Achin Chakraborty, noted social scientist and director of Institute of Development Studies Calcutta (IDS-Cal).
According to him, political parties want to play with the sentiment attached to the memory of great patriots for their own benefit. Also, the political aspirations of some of Netaji's kin contributed to that.
Family members of Sharat Chandra Bose, a Congress leader and Netaji's eldest brother, had been in politics. His son Sisir Bose was a Congress legislator, whose wife Krishna Bose went to the Lok Sabha on a Trinamool ticket. Now their son Sugato is also a TMC MP.
Many of Netaji's kin believe he escaped to Russia; the BJP thinks he was in Stalin's prison
Subrata Bose, another son of Sharat Bose was a Forward Bloc MP. And this week, Chandra Bose, another of Sharat Bose's grandsons, joined the BJP.
While Krishna and Sugato - trustees of Netaji Research Bureau - accept that the leader died in the crash, a good number of family members still cling to their belief that he escaped to Russia.
Interestingly, according to the 1995 Cabinet note: "If a few individuals/organisations have a different view, they seem to be more guided by sentimentality rather than by a rational consideration."
How did the 'different view' gain ground?
Nirmalya Mukherjee, a researcher of politics and philosophy, pointed out that the belief that Netaji didn't die in the plane crash was initially voiced by no less than Mahatma Gandhi. A few months after news of the crash reached India, Gandhi was hesitant. Initially he believed the report, but later raised doubts.
Later, however, he said he relied on his "inner voice" to reach such a conclusion, but people thought he must have had some information that he kept to himself.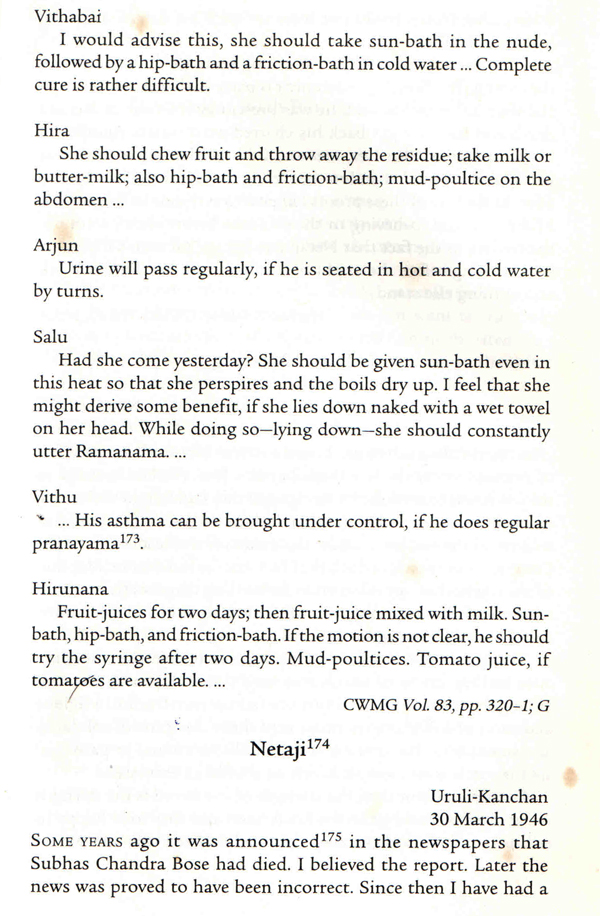 In 1946, the Mahatma published a letter in Harijan, according to which: "Some years ago it was announced in the newspapers that Subhas Chandra Bose had died. I believed the report. Later the report proved to have been incorrect. Since then I have had a feeling that Netaji couldn't leave us until his dream of swaraj had been fulfilled.
"On the other hand, there is strong evidence to counteract the feeling. The British government is party to that evidence. Capt. Habibur Rahaman said, he was present at the time of Netaji's death and has brought back his charred wrist watch. Another of his companions, Mr. Iyer, met and told me that my instinct was wrong and I should abandon the feeling that Subhash Chandra was alive.
Nobel laureate Amartya Sen stressed the need to focus on Netaji's life and works than his death
"In the face of these proofs I appeal to everyone to forget what I have said and, believing in the evidence before them, reconcile themselves to the fact that Netaji has left us."
Gandhi had the moral courage to correct himself and accept that unacceptable fact. But the politicians looking for short term gains are not ready to see reason and accept the hard fact.
Edited by Joyjeet Das
More in Catch:
R-Day takeaway: Why the amended SC/ST Act matters
City of Joy to Genius: a new book that maps the world's 'genius cities' picks Kolkata
North Korea claims it's just made hangover-free alcohol
Rafale: how the "mother of all deals" ended up like an "unplanned child"