Pranab flummoxes all at RSS headquarters: Praises Hedgewar, stresses on secularism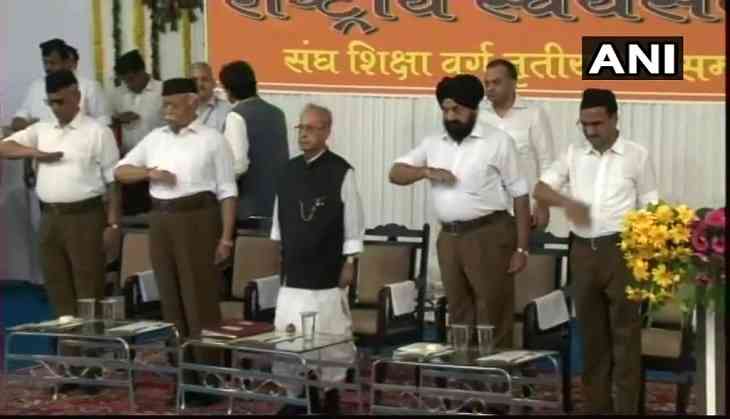 If there was a purpose behind former President Pranab Mukherjee accepting to be the chief guest at the RSS headquarters in Nagpur, it wasn't revealed today.

There was no new idea in Mukherjee's speech if you consider the general mood of the speeches he has given since he was jettisoned into the role of a statesman, as President of India.

A brief history of India with a stress on 5000 years of the country's 'civilisational continuity' and the country's constitutional values has been the hallmark of his speeches in the last 6 years.

He merely reiterated these aspects in Nagpur too and in doing so, hardly made any departure from his views known so far. This kind of content was barely enough to decode whether he gave the RSS a message or not.

Sure, there was renewed stress on diversity, secularism, plurality and 'constitutional patriotism', but there is nothing new in his exposition of these ideas.

Many, including Mukherjee's own daughter, had already highlighted that his acceptance of the RSS' invitation was a statement in itself. The spectacle of the man who was once a towering Congressman now visiting RSS headquarters and addressing pracharaks was itself damaging for the Congress.

It gave RSS legitimacy, they said, thus belittling the 130-year old legacy of the Congress party. Many others, however, were of the opinion that merely Mukherjee's act of visiting RSS headquarters should not be looked at in isolation. It will be important to see what he says there, they said.

The former president did make a departure, though, from his views known so far. He separately visited the birthplace of the founder of RSS, K B Hedgewar and wrote in the visitor's book, "Today I came here to pay my respect and homage to a great son of Mother India".

Never before has the RSS founder received that kind of a praise from a Congressman. There were other points too that invited sharp reactions from several quarters. CPI(M) General Secretary, Sitaram Yechury, said asserted that Mukherjee refraining from mentioning "Mahatma Gandhi and his assassination speaks volumes".

No data to display.No data to display.

The Congress party, however, took no exception to Mukherjee's musings and noted, instead, that he showed the 'mirror of truth' to the RSS at its own headquarters.
INC COMMUNIQUE

Press Release by @rssurjewala Media In-charge AICC on former President @CitiznMukherjee's address at RSS HQ. pic.twitter.com/uxdlpZotoW

— INC Sandesh (@INCSandesh) June 7, 2018
This was a sharp U-turn from the consternation that several Congress leaders had expressed so far. Apart from Mukherjee's daughter Sharmishtha Mukherjee and senior leader Anand Sharma, no less than Ahmed Patel, long believed to be the voice of Sonia Gandhi herself, had rebuked the former president for accepting the invite.
Did the Congress do this to kill the impression that the event had generated that it was the RSS who was having the last laugh? At the end of the day, the Nagpur-based organisation whose political arm calls for a Congress-free India did succeed in getting a former Congress patriarch of sorts to visit its headquarters and praise its founder with folded hands in front of his statue.