PM Modi has given all opportunities to youth to make country number one in the world: Amit Shah in Karnataka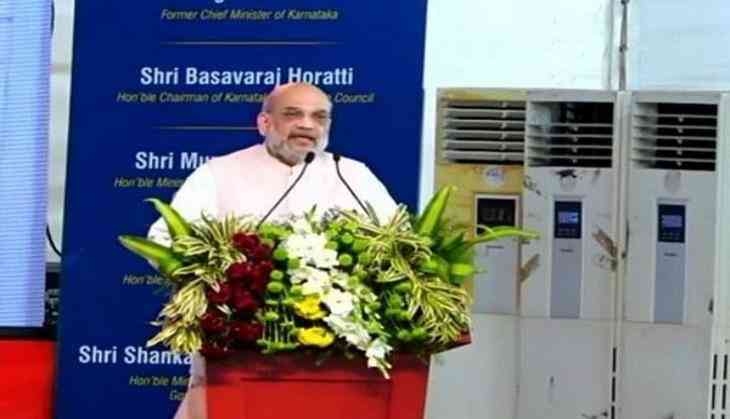 Union Home Minister Amit Shah.
Union Home Minister Amit Shah on Saturday appealed to the youth that Prime Minister Narendra Modi has given them all the opportunities to make the country number one in the world.
"If you can't sacrifice your life for the country then live your life for your nation and make it the number one country in the world. PM Modi has given you all opportunities to do that," Amit Shah said after attending 'Amrit Mahotsav' event at BVB Engineering College.
Amit Shah who arrived in Karnataka earlier in the day inaugurated a stadium at KLE society's BV Bhoomaraddi Engineering College and Technology University in Hubballi city the state.
The home minister is likely to attend a roadshow in Karnataka today as the southern state is expected to witness Assembly elections in mid-April or the beginning of May.
The Home Minister will participate in the roadshow near Brahma Devara Temple in Dharwad's Kundgol area, mentioned an official engagement plan.
Earlier, Home minister Amit Shah was received by Karnataka's Chief Minister Basavaraj Bommai and Pralhad Venkatesh Joshi, Union Minister of Parliamentary Affairs.
The Minister will further lay the foundation stone of National Forensic Sciences University (Karnataka Campus) around noon in National Forensic Science University (NFSU) in Dharwad, a city located in the north-western part of Karnataka.
Shah will also offer prayers at Shambulingeshwara Temple in Dharwad's Kundgol and visit Sri Basavanna Devara Mutt in the area on Saturday afternoon.
The Home Minister's visit to Karnataka has been organised at a time when Assembly elections are scheduled here this year along with eight other states, including Chhattisgarh, Madhya Pradesh, Rajasthan, Telangana, Meghalaya, Mizoram, Nagaland and Tripura.
These Assembly elections are said to be the semi-finals ahead of the Lok Sabha Elections scheduled to be held in 2024. The elections in Karnataka are likely to be held in mid-April or the beginning of May. Ahead of the assembly polls, the focus of political parties has shifted to the state. Among the other significant seats, one is the Mangalore City South assembly constituency.
(ANI)
Also Read: Mehbooba Mufti joins Bharat Jodo Yatra as it resumes from J-K's Awantipora