Opposition demands parliamentary panel probe into Adani stock crash row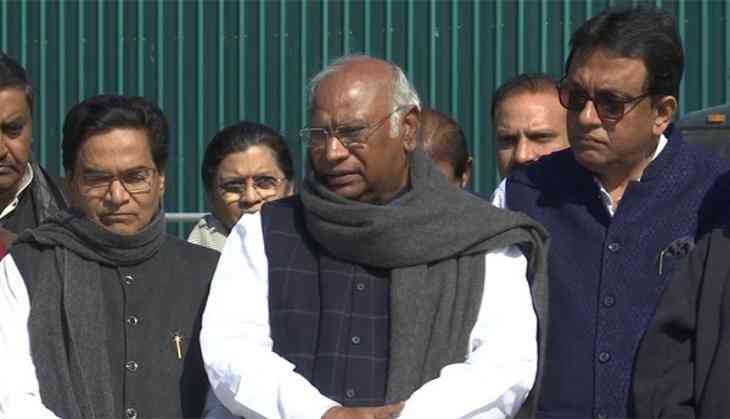 Opposition demands parliamentary panel probe into Adani stock crash row.
Opposition parties on Thursday demanded an investigation by a parliamentary panel or a Supreme Court-appointed committee under the Chief Justice of India into the alleged "economic scam" in connection with allegations by a US-based short seller against the Adani Group.
Addressing a joint press conference after both Lok Sabha and Rajya Sabha were adjourned shortly after the commencement of the third day of the ongoing Budget Session of Parliament, Congress president and Leader of Opposition in the Rajya Sabha, Mallikarjun Kharge said that the suspension of Business notices of the Opposition parties demanding a discussion on the issue were rejected.
"All Opposition parties have decided to raise their voices against the economic scam in the Parliament. We have given the suspension of Business Notice under rule 267 to discuss the issue of investment by LIC, Public Sector Banks and financial institutions in companies losing market value, endangering the hard-earned money of crores of Indians. But our notices are rejected every time. When we raise important issues, we do not get time for discussion," he said.
"Either a Joint Parliamentary Committee or a team under the supervision of the CJI of Supreme Court should investigate this," Kharge added.
The LoP questioned the government over lending money to "such companies", and accused it of putting pressure on the banks to lend money.
"Crores of people invest in LIC which is a reputed institution. Rather than pointing out repeatedly to one person, we would say how is the government giving money to such companies? We are unable to understand why is the government pressuring to lend such companies money?" Kharge said.
Like-minded Opposition parties held a meeting in the chambers of the Kharge before the commencement of the day's Session of the Parliament to discuss strategy for the day.
Several Opposition MPs have given suspension of Business notices to the respective Houses of Parliament on the issue. However, both Houses were adjourned soon after the Session began till 2 pm.
The leaders who gave the notice in their respective Houses include Leader of Opposition Mallikarjun Kharge, CPI(M) leader in Rajya Sabha MP Elamaram Kareem, Shiv Sena MP (Uddhav Thackeray faction) Priyanka Chaturvedi, CPI Rajya Sabha MP Binoy Viswam, Bharat Rashtra Samithi Lok Sabha MP Nama Nageswara Rao, BRS Rajya Sabha MP K Keshava Rao, Aam Aadmi Party MP Sanjay Singh among others.
The first part of the session will conclude on February 13. Parliament will reconvene on March 12 for the second part of the Budget Session, which will conclude on April 6.
(ANI)
Also Read: Gautam Adani's first response after calling off Rs 20,000 cr FPO: 'Interest of my investors is paramount...'