Non-Gandhi as Congress Boss: Rahul suggests, Priyanka Gandhi nods in approval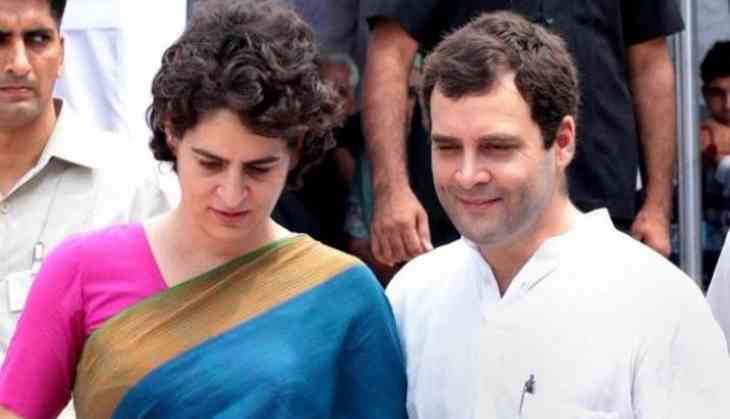 In the midst of speculation as for who would be the next Congress president, Priyanka Gandhi stated that she completely supports her brother Rahul Gandhi's notion that a non-Gandhi should be installed as the Congress president.
"Perhaps not in the (resignation) letter but elsewhere, he has said that none of us should be the president of the party and I am in full agreement with him," Priyanka has said. "I think that the party should find its own path also," Priyanka said.
She enunciated this statement in an interview in the book India Tomorrow: Conversations with the Next Generation of Political Leaders, which has been written by Pradeep Chibber and Harsh Shah.
Furthermore, Priyanka stated that she would welcome a non-Gandhi as her boss. "If he (party president) tells me tomorrow that he doesn't want me in Uttar Pradesh but wants me to be in Andaman and Nicobar, then I would jolly well go to Andaman and Nicobar," she said.
Rahul Gandhi relinquished the post after the grand old party came up against an electoral drubbing in the 2019 Lok Sabha polls. Sonia Gandhi had taken charge as interim chief on 10th August 2019. not long ago, Congress stated that Sonia Gandhi will continue as interim chief till such time a "proper procedure" is enforced in the "not too distant future" to elect a party president.
Several, including party leaders, have indicated concern over the fall in the Congress because of a purported unavailability of leadership. Previously, after Rajasthan's CM Ashok Gehlot held BJP responsible of trying to oust his government, Congress' Kapil Sibal has stated that he was worried for the party. Worried for our party. Will we wake up only after the horses have bolted from our stables," he tweeted.
In the meantime, MP from Thiruvananthapuram Shashi Tharoor, in an interview, said that if Rahul Gandhi is not ready to carry on with the leadership of the Congress, the party should consider elections for the post and also to the elected seats on the Congress Working Committee (CWC), to end the perception that it is rudderless and adrift.
Priyanka Gandhi's statement also assumes significance as it comes close on the heels of suspended Congress leader Sanjay Jha's claim that about 100 leaders of the party, including MPs, had written to Sonia Gandhi seeking a change in the political leadership of the party.
However, the party had repudiated Sanjay Jha's claim and Congress spokesperson Randeep Singh Surjewala described it as BJP's tactics to draw away attention from the issue of the latter's links with Facebook.
Also Read: Taking jibe at Satya Pal Malik's transfer, Abhishek Singhvi asks 'what about West Bengal'