No Confidence Motion: Why Rahul Gandhi is the clear winner in his face-off with Modi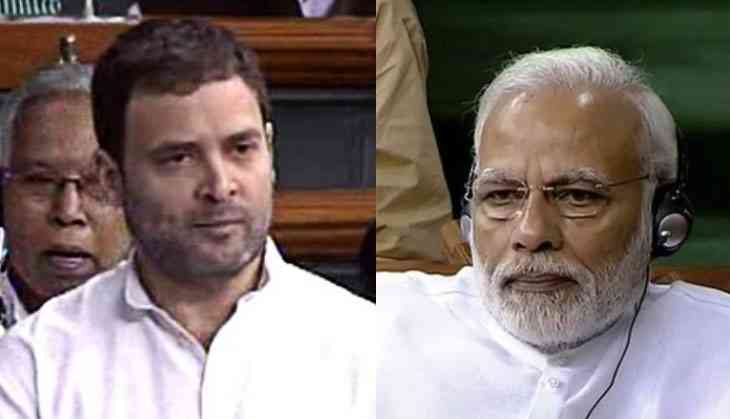 The Narendra Modi government's victory in the trust vote in Lok Sabha was not the day's surprise. The curveball was actually Congress President Rahul Gandhi's speech and its theatrical culmination which has grabbed everybody's eyeballs and imagination.
While Modi's reply to the debate did not carry any departure from his previous speeches, Gandhi's address had spunk in more copious volume than ever before.
The Amethi MP didn't refer to any notes, was both sharp and emphatic and stood his ground resolutely even in the face of continuous attempts by ministers and BJP MPs to bully him.
In fact, he took Modi head on and baited him into a duel, saying the latter refuses to look him in the eye and is fearful. He also directly attacked BJP President Amit Shah as well as his son, for good measure, and used their reference to buttress his allegation of BJP's crony-capitalism.
Rahul Gandhi deployed a triad of boldness, confidence and skill to slay his political adversary, like never before.
Modi, on the other hand, was predictable, at best and, at worst, rattled. The smugness on his face vanished during the moments Gandhi mentioned him directly, and the hug, which will be remembered for a long time to come, totally stumped him.
Gandhi walked across the aisle after finishing his speech, reached over to Modi's seat, gestured him to rise and upon receiving refusal, just went ahead and gave a seated Modi a full-fledged embrace.
Modi was left stupefied and looking much more uncomfortable than many unsuspecting foreign leaders who have been caught unawares by his own habit of giving awkward hugs.
Stunned, he gestured a retreating Gandhi to come back, whispered something into his ear, shared an uneasy laughter with him and patted him on his back even as the latter left for his own seat.
This was a rare moment in the public life of the prime minister. A meticulous planner and a gifted performer, Modi has seldom been seen in a vulnerable position inside the country, certainly never in the Parliament.
To be bettered by his principal adversary at a juncture when the country is hurtling towards the polls has a special significance for both sides. Observers were expecting a bombastic come back later in the day, when it was to be Modi's turn to take the floor.
However, he failed to roll up any new tricks up his sleeve and his imminent defeat in the day's one-on-one kept getting increasingly evident as the evening progressed.
Quite unlike his usual self, Modi was caught regularly consulting notes and getting distracted by TDP MPs' relentless sloganeering. The trademark witty comebacks were also missing.
Refusing to answer most points of criticism directly, he didn't say a word on the unfulfilled promise of Rs 15 lakh in every bank account, the continuous assault on Dalits, tribals, minorities and women, the perils brought by demonetisation and failures of his foreign policy.
He mentioned, instead, the shutdown of 2.5 lakh shell companies, rise in digital transactions and fall in prices of LED bulbs, apart from serving his usual fare of electricity connections, jan dhan accounts, Swachh Bharat toilets, MUDRA loans, LPG cylinders etc.
Modi did appear to be in his elements for a while, when he told the Congress that the BJP created three new states in one go – Chhattisgarh, Jharkhand and Uttarakhand - and everything happened smoothly. The Congress created only one – Telangana – and look how contentious the situation continues to be, Modi jabbed.
He also tried to expose TDP by saying that their leader and Andhra Pradesh Chief Minister N Chandrababu Naidu had agreed to a special package for the state in place of special status and made a U-turn later to hide his own failure in governance.
However, Modi failed to come up with any explanation for his own U-turn over the special status promise.
He slipped while defending his foreign policy too. Gandhi had alleged that the government messed-up the Doklam stand-off with China and also surrendered to Chinese agenda. Modi's reply was that even as the government was trying to settle things at Doklam, Gandhi clandestinely met the Chinese ambassador.
Neither did he address the allegations of buying Rafael jets at higher rates than those clinched under the UPA.
Predictably, he played the patriotism card, emotionally slamming Gandhi for questioning the surgical strikes and consequently, the country's soldiers.
He also tried to drive a wedge in the opposition ranks, by saying Congress had a history of betraying a series of non-Congress leaders it initially promised to support – from Charan Singh to Chandrashekhar to Deve Gowda and IK Gujral.
The biggest evidence of Modi's failure, however, was in the manner he chose to address the criticism over his government's failure to generate jobs. Faced against Gandhi's statement that this was borne out by the government's own data, Modi went on to do the unthinkable.
He unleashed a barrage of assumptions from other sectors and correlated them to claim a much higher number of jobs generated than shown by the labour bureau's statistics. Believe it or not, these included adding up the figures of probable car, truck and auto drivers and helpers base on car/truck/auto sales.
If there was any more evidence required to prove Modi's failure, it was this whataboutery. His government did succeed in winning the trust vote with a thumping margin, but the exercise didn't really turn out to be an opportunity for the government to launch its campaign.
It actually strengthened the Opposition by exposing the government's failures and hollow promises, by displaying unity among opposition parties and by presenting Rahul Gandhi in an entirely new avatar. Gandhi was certainly the star of the day.