Name game: Why BJP & RSS don't want Bhagat Singh to be honoured
Chaman Lal
| Updated on: 10 February 2017, 1:47 IST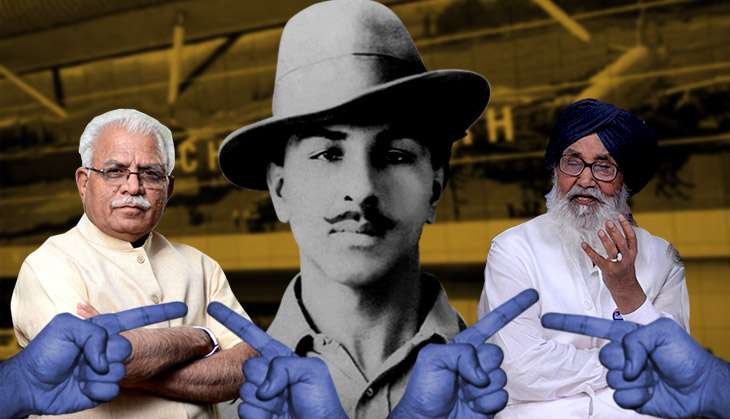 In September 2015, when Prime Minister Narendra Modi inaugurated the Chandigarh international airport, Akali Dal MP from Mohali area, Prem Singh Chandumajra, where the airport is actually located, publically reminded the PM about the airport being named after Shaheed Bhagat Singh.
Two governments involved in the construction of the airport - Punjab and Haryana - had agreed through unanimous resolutions in their respective assemblies to name the airport on Shaheed Bhagat Singh earlier in 2009-10, prior to the 2014 general elections.
The governments have had their differences but they were unanimous when it came to naming the airport on one of India's foremost freedom fighters and an idol of the Indian youth.
However after 2014 elections, when Manohar Lal Khattar-led BJP Government took charge of Haryana, the new chief minister without even consulting his own cabinet, leave aside the Haryana Assembly, wrote to the civil aviation ministry to name the Chandigarh airport after RSS's unknown activist and former minister Mangal Sen's name.
He did not consult even his Punjab counterpart, where BJP forms part of the government as well.
This whole matter would have remained unknown to people, had Congress MP form Ludhiana, Ravinder Bittu, not asked a question in Parliament. After the minister's revelation it became a national issue.
Name rights
There were dharnas, meetings, questions in Parliament and several protests. Dharnas were held in Chandigarh, and in January and February 2016 at Jantar Mantar New Delhi.
It was only after these spate of protests that the Haryana CM withdrew his recommendation and agreed to let the airport be named after Bhagat Singh and it was made public.
Aam Aadmi Party (AAP) rebel MP Dr Dharamvira Gandhi participated in all these dharnas. But to add weight to his protest, he even stood on his seat in Lok Sabha with a board demanding the airport be named after Bhagat Singh.
Later, led by Sitaram Yechury, General Secretary of CPM and Rajya Sabha member, all left MPs accompanied by Dharmavir Gandhi protested outside Parliament in front of Bhagat Singh's demanding that the issue be tackled in the last Parliament session.
Many other Parliamentarians like JD-U MP KC Tyagi came out to support the demand as well.
Counter tactics
But then, the RSS cannot possibly let people think that they had insulted freedom fighters - then their whole agenda of chanting names of revolutionaries like Bhagat Singh and Chandrashekhar Azad to fool its cadres - would have been exposed.
Instead, they came up with a clever tactic. They announced a policy of 'not naming' airports on personalities and just keeping the names of cities.
One could still understand this new policy if it was without mala fide intention and brought about after naming the Chandigrah airport on Bhagat Singh, as it had been decided by the two state governments.
But the main ploy was to suppress Bhagat Singh's name which RSS could not appropriate like Sardar Patel or Madan Mohan Malviya in their designed Hindutva code.
By making this clever move, the RSS put the issue of naming the Chandigarh airport into cold storage.
What's in a name?
India has more than 135 domestic, international and other types of airports. Out of which nearly twenty or so are named on historic personalities of the nation and the state concerned, honouring people's love and respects for those personalities.
Incidentally, none of the airports are named after Mahatma Gandhi or Jawaharlal Nehru. Let us see how the major airports in the country are named.
West Bengal
The state's most important airport - the one in Kolkata - is called Netaji Subhas Chandra Bose International Airport. Another airport in West Bengal at Asansol-Durgapur is also named appropriately as Kazi Nazrul Islam Airport.
Uttar Pradesh
Moving to the largest state of Uttar Pradesh, Varanasi airport in the PM's constituency is justifiably named Lal Bahadur Airport and the international airport of in the capital city of Lucknow is called Chaudhary Charan Singh International airport.
Bihar
In Bihar, Patna airport is called Loknayak Jayaprakash Narayan International Airport.
Madhya Pradesh
In Madhya Pradesh they have the Raja Bhoj International Airport at Bhopal, while at Indore airport is called Devi Ahilya Bai Holkar Airport.
Rajasthan
The airport in Rajasthan's Udaipur is called Maharana Pratap Airport.
Maharashtra
Maharashtra has its two big airports named after great historic personalities. Mumbai airport is called Chhatrapati Shivaji International Airport and the Nagpur one is called Dr Babasaheb Ambedkar Airport. Both are rather appropriately named.
Gujarat
Moving to Gujarat, the Ahmedabad airport is called the Sardar Patel International Airport.
Jharkhand
The Ranchi airport is appropriately called Birsa Munda Airport.
Karnataka, Andhra Pradesh & Telangana
The airport in Bengaluru is called Kempegowda International Airport and the Hyderabad airport, now in Telangana, is called Rajiv Gandhi International Airport.
In Andhra Pradesh at Puttaparthi, the airport is named after Satya Sai.
New Delhi
The New Delhi airport is called Indira Gandhi International Airport. That makes two major airports in the country being named after members from the famous family, but strangely, there isn't a single airport yet that is named after Jawaharlal Nehru.
Had the rulers been wiser they would named Delhi airport - Jawaharlal Nehru International Airport.
Any airport in the world should be named after the best personality of the country, like in America where the New York airport is named after JF Kennedy.
No one has better credentials than the first and longest serving prime minister, freedom fighter and the leader of the Non-Alignment movement Jawaharlal Nehru.The airport in the country capital should not have been named after anyone other than him.
Andaman & Nicobar Islands
Andaman's and Nicobar's Port Blair is named expectedly as Veer Savarkar Airport.
Chattisgarh
Chhattisgarh capital Raipur airport is called Swami Vivekananda airport.
Jammu & Kashmir
In Jammu and Kashmir, the Leh airport is called Kushak Bakula International Airport.
Assam
Assam's Guwahati airport is called Lokpriya Gopinath Bordoloi International Airport.
Odisha
The airport in Bhubaneshwar is named - Biju Patnaik International Airport.
Punjab
In Punjab, the Amritsar international airport is called Sree Guru Ramdasji International Airport honouring the Guru as the founder of the city. Wikipedia, however, shows the Chandigarh airport to be named - Shaheed S Bhagat Singh International Airport.
Clearly, wrong information based on the Punjab and Haryana governments' earlier decision has made it to the Wikipedia page.
The Central government has not released a formal notification yet and is playing spoil sport at the behest of RSS, who does not want socialist Bhagat Singh to get any national recognition as a freedom fighter.
The spectre of Bhagat Singh
Not a single university, out of the 250 plus government ones and nearly 500 private ones, is named after Bhagat Singh despite him being the most popular youth icon.
Such is the hypocrisy of Indian political parties, who keep on chanting Bhagat Singh's name day and night, but just to deceive people.
One can see from all major states have their airports named after their local, but nationally known, heroes. Only Tamil Nadu and Kerala do not have airports named after heir heroes like Periyar, C N Annadurai or Kamraj or Sree Narayana Guru or even EMS Namboodripad.
In most of the Hindi speaking states - UP, Bihar, Madhya Pradesh, Jharkhand, Chhatisgarh, Rajasthan etc - have airports named after their local/national heroes.
But can one accept that Raja Bhoj, Ahilya Devi Holkar, Chaudhary Charan Singh, Kushak Bakula or Gopinath Bordoloi in Assam, Biju Patnaik in Odisha, Kempegowda in Karnataka are better known nationally than Bhagat Singh?
Maharashtra and West Bengal have named their airports after national heroes - Subhas Bose, Nazrul Islam, Shivaji and Dr Ambedkar, so has Jharkhand on Birsa Munda, Bihar on JP, Gujarat on Sardar Patel and Chhattisgarh on Swami Vivekananda, even though he was not their nationally known state hero.
In the Andamans there were many martyrs in the Cellular Jail or as it is better known - Kala Pani - but its airport was not named on any of them.
Let Indian Parliament members and citizens speak up if they think that Bhagat Singh is not in the league of national heroes like Subhas Bose, Dr Ambedkar, Birsa Munda, JP, Sardar Patel or Swami Vivekananda.
If different airports in the country can be named after such national personalities - then why is Bhagat Singh's name being degraded and insulted by not naming the Chandigarh airport after him?
Had Punjab and Haryana in 2009-2010 not decided to name the Chandigarh airport after Bhagat Singh - it would not have been an issue for the Punjabis in particular and Indians in general.
But after the decision was taken, it was not implemented just because the Haryana government, along with the Central one, decided to push the RSS agenda that did not want Bhagat Singh to be given honour and respect.
Not implementing the decision is nothing but an insult to Punjab and to the Indian youth who love Bhagat Singh.
Chaman Lal is retired Professor from JNU, New Delhi and is known for his books on Bhagat Singh in many languages, the latest being Understanding Bhagat Singh
Edited by Jhinuk Sen