Nagaland CM change on cards again as political intrigue sweeps state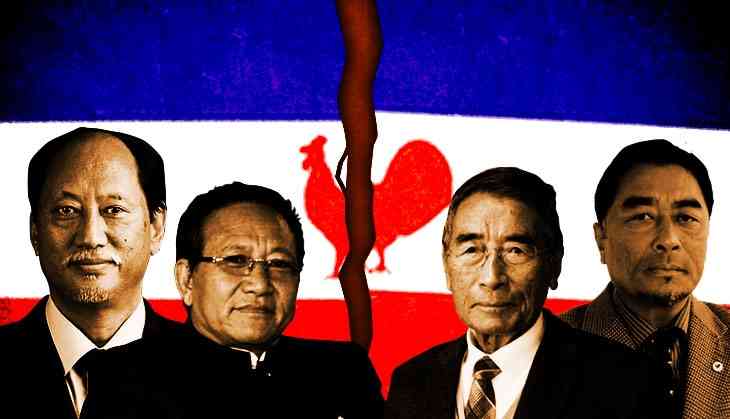 Political intrigue and the unseating of incumbent chief ministers is not uncommon in the North East - be it the crisis in the Gegong Apang government in Arunachal Pradesh in 2007 or the repeated crises in Nagaland this year.
With less than a year to go before Nagaland goes to polls in early 2018 and only weeks before Chief Minister Shurhozelie Liezietsu will contest bypolls on 29 June, the game is afoot.
But the future doesn't look all so bright for the president of Nagaland People's Front: More than 40 legislators are camping at the Borgos Resort in Kaziranga National Park in neighbouring Assam, around 235 km from Kohima.
In fact, 41 members of the state Legislative Assembly said they have no confience in Liezietsu, in a press statement released from Kaziranga. They include four Cabinet ministers and the Speaker.
The trigger
"We graciously made him (Liezietsu) chief minister for a period of only six months. But during this short period, his true colour of power mongering and nepotism has been completely exposed," the legislators, led by former CM TR Zeliang, said in a statement.
The immediate reason, it has been claimed, is how Liezietsu has shown favour to his son Khriehu Liezietsu. Khriehu had vacated his Northern Angami-1 seat to let his father get elected so that he could continue as chief minister. His father then made him an adviser to the chief minister with cabinet rank and all its perks.
On the backfoot after the allegations, Khreihu on 10 July wrote to his father, saying that he would be unable to accept the position. But that may not be enough to save his father's chair.
In fact, Zeliang is already in New Delhi to meet with Nagaland and Arunachal Pradesh governor PB Acharya, who is to fly from Mumbai on 11 July.
This drama comes just five months after Lok Sabha MP Neiphiu Rio engineered a plan to unseat Zeliang from the chief minister's post. Now the two have joined hands to unseat Liezietsu. The BJP, an ally, which is eyeing the entire Northeast, is a willing accomplice.
In February, after a month-long turmoil in the name of opposition to women's reservation in municipal elections, Liezietsu was made chief minister in place of Zeliang.
But even though Liezietsu, as president of the ruling Naga People's Front, may not have the numbers, he does have a grip over the party.
Political drama
On the afternoon of 7 July, over 30 legislators of the ruling Naga People's Front, led by former chief ministers Zeliang and Neiphiu Rio, met in commercial hub of Dimapur.
At a social event later that evening where the political leaders hobnobbed, smiles were exchanged and victory signs flashed on the sly. By the wee hours next day, over 30 NPF and independent legislators checked into the Borgos Resort at Kaziranga national park.
"He does not have support. More than two-thirds are against him," said Lok Sabha MP and suspended NPF member, Neiphiu Rio. The dissident camp claims to have support of 37 of the 47 NPF members and from seven of the eight independents.
Even if the NPF is to be fractured, only 31 legislators are needed to avoid disqualification under anti-defection rules. "But there are no plans to break the party," said a source. Four BJP legislators would also readily join the dissidents even as New Delhi is said to have hinted to Liezietsu to step down.
Liezietsu is reportedly holed up in the secretariat in Kohima with his small band of supporters and party cadres, holding meetings and checking files.
"The dissidents have rebelled because the chief minister has come down hard on corruption. He will fight back," said a source in the chief minister's office.
A criminal case against one MK Pillai, a former Nagaland policeman who is accused of siphoning funds on behalf of ministers and legislators, is said to have played a hand in the rebellion, say Liezietsu's supporters. While Liezietsu wanted to go hard on the case, there are some dissidents who have a lot to hide, they say.
Liezietsu's supporters say those who want to return to Kohima have been prevented from leaving Kaziranga. "Their cars have been seized and mobile phones switched off," said a source. The chief minister's hopes hinge on a repeat of the failures of such rebellions in 2015 and in January this year.
The BJP hand
The BJP's dream of hoisting the saffron flag across the Northeast would be incomplete without Nagaland. The party first made inroads in 2003 during the Atal Behari Vajpayee administration. It has continued to be a small ally in the Democratic Alliance of Nagaland (DAN) governments.
In the past few months, it has helped engineer changes in both Nagaland, and with the help of leaders in Kohima, in the Naga hills of Manipur. As elections approach, the need has been felt for more "accommodative leaders". Foremost among them has been Rio, whose political acumen is at odds with the aggressively regional Liezietsu.
Leaders from BJP are said to have brokered a deal between Rio and Zeliang in February. Zeliang had gotten cold feet at the eleventh hour and had supported Liezietsu, stealing the thunder from Rio.
Yet, from April onwards the two leaders began meetings with BJP hotshots in New Delhi culminating in the current situation fanned by Liezietsu's mistake of promoting his son even before being elected as legislator.