Mumbai civic elections: why Shiv Sena should rethink its alliance with BJP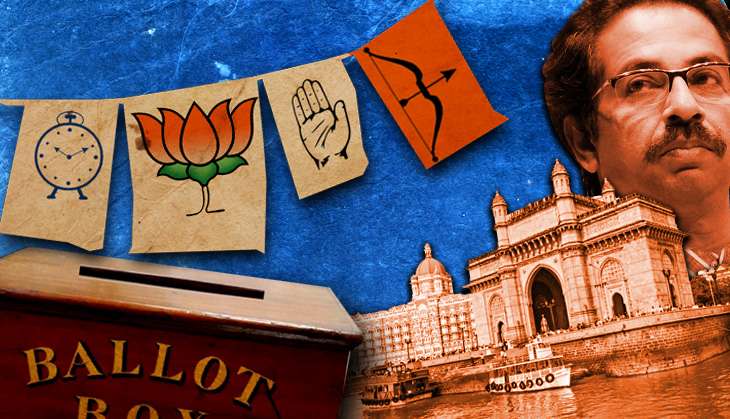 The Mumbai civic elections, scheduled to be held in February next year, are all set to change the social and political texture of the metropolis.
With the change in voters' composition, political parties have changed their strategies to try and establish control over the richest municipal corporation in the country.
While other political parties are trying to consolidate their position by aiming at a marginal increase in the number of corporators, Shiv Sena is the most worried of the lot as it has to retain power at any cost.
There is a strong reason for Shiv Sena to be worried. The party has been on a consistent decline since 2002.
As if this is not enough to render Shiv Sena leadership worried, the steady growth of Bharatiya Janata Party (BJP) has come as an added trouble.
The story so far
Shiv Sena and BJP are in an alliance since the last two and half decades and fighting Municipal Corporation of Greater Mumbai (MCGM) elections as partners.
Shiv Sena has always played the role of an elder brother in the alliance due to its strong mass base in Mumbai. However, the socio-political transformation of Mumbai over the last one and half decade has resulted in a cognisible decrease in the mass base for Shiv Sena.
Interestingly, despite contesting with lesser seats, BJP has managed to consolidate its position in Mumbai and Shiv Sena has been losing grip.
Both the parties were in alliance till 2014 Assembly elections. The outcome of 2014 Assembly elections, followed by civic elections of Kalyan Dombivli Municipal Corporation, saw BJP surging ahead, making a dent in the Shiv Sena mass base.
"When Shiv Sena and BJP contested elections in alliance, BJP always got lesser seats. Still, it has managed to consolidate its position. While contesting separately, BJP managed to win 15 Assembly seats in Mumbai, whereas Shiv Sena won 14. And at KDMC, the party surged ahead with 42 from 9 corporators in previous House. This is a quantum leap for BJP and a major cause of concern for Shiv Sena," says political analyst Dr Dinesh Thite.
It's about the voters
Unlike in the past, the voters' composition has drastically changed in Mumbai. With the migration of Marathi people to places like Thane, Kalyan, Dombivli, Badlapur and Ambernath, non-Marathi residents of Mumbai have become a decisive force in the elections.
"This was evident in the last Assembly elections. Since BJP has the support of non-Marathi people as well, it managed to perform well and Shiv Sena suffered losses. This change in the composition will definitely work in favour of BJP in MCGM elections," Thite said.
This is the reason behind the frequent threats to walk out of alliance made by Shiv Sena leaders. They have realised that the party will lose big if they fight MCGM elections independently and BJP will grab the opportunity to consolidate its position further.
"With the migration of Marathi people out of Mumbai, there would be around 30% Marathi voters in Mumbai, which is not enough to win elections, even if all of them vote for Shiv Sena. But this is not the case. The Marathi voters, too, have been divided among Shiv Sena, Congress, NCP, BJP and other parties. This leaves Shiv Sena with bleak chances of retaining current strength in the House," Thite opines.
The other side
Veteran journalist and political analyst Ganesh Torsekar thinks otherwise.
According to Torsekar, alliance with BJP has always been a big disadvantage for the Shiv Sena.
"Shiv Sena must not get into any alliance with BJP. It has the capacity to get a majority in civic elections. The presence of Shiv Sena on a micro level in Mumbai is unmatched. When it comes to civic polls, voters are not concerned about the party, but the candidate, who is available for them round the clock. This is the USP of the Shiv Sena," Torsekar said.
According to him, Shiv Sena can get a clear majority in civic elections on its own due to the strong presence at the grass root level.
"Shiv Sena has a culture of helping people in any manner. Shiv Sainiks can go to any extent to help people. This has helped the party over the years. Changing voters' composition will not affect the party in civic elections. Not just Marathi people, but all communities in Mumbai need Shiv Sena," Torsekar said.
Thite, however, says, "BJP has 15 MLAs in Mumbai, each Assembly constituency has six corporators. Going by this equation, BJP stands a chance to win minimum 80 seats in MCGM, which is far more than the current 31 corporators. BJP contested 72 seats and won 31, whereas Shiv Sena contested 155 and won 75 in 2012 civic elections. The high moral of party cadre after last Lok Sabha, Assembly and KDMC elections, will propel the party to the position where it would be a decisive factor in MCGM."
Edited by Jhinuk Sen
Also read: Mumbai road repair scam: 10 auditors arrested for false reports
Also read: Shiv Sena, BJP go to war over #OpenSpacePolicy. Prize is civic polls
Also read: We didn't start the fire: Mumbai's netas blame each other for fires at dumping grounds
Also read: Khadse resigns: Modi and Shah said to have had enough of allegations