Modi's note ban: How BJP is struggling to defend its reckless boss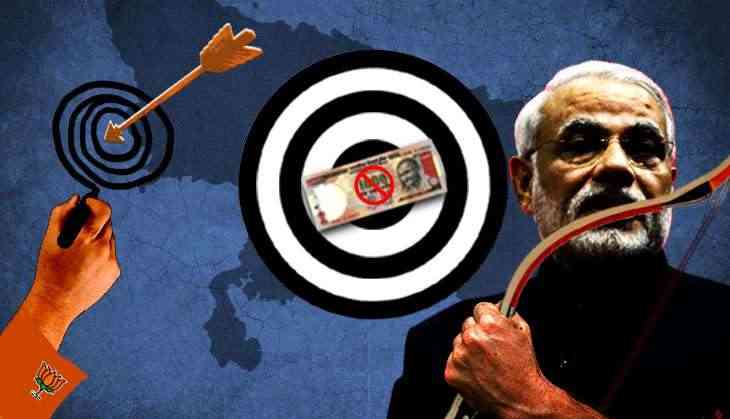 The Bharatiya Janata Party (BJP) is suddenly wary of its electoral prospects in Uttar Pradesh. Before demonetisation, it was supremely confident of victory and Prime Minister Narendra Modi's rallies drew enthusiastic crowds.
But Modi's dramatic decision has put the brakes on his seemingly unstoppable evolution into an irresistible, larger than life figure. Suddenly, no one is clapping or chanting "Modi, Modi" as they used to. The damage to the lives of ordinary folk because of demonetisation, or "notebandi" as it is popularly called, has been enormous.
The international media is unanimous that the Indian government has botched up big time. The social media that had been crucial in fabricating Modi's image is now chipping away at it with viral videos, memes and messages mocking his decision. There are few from within the party who want to tell the leadership that its image is in tatters.
Ordinary people, however, know what lack of cash means. Even those with money in the bank have been made to feel poor. It is no surprise therefore that Modi's public meeting at Bahraich earlier this month was cancelled and he addressed it through a mobile phone after he learnt that attendance was thin at the rally grounds.
Demonetisation has become such a drag on the BJP's poll prospects that Modi spent most of his speech at Kanpur on 19 December, announcing harebrained daily and weekly lottery schemes incentivising digital transactions.
Whether the cashless voters of UP will vote with their feet in the upcoming Assembly elections remains to be seen. What is clear, however, is that as of now demonetisation and its shifting objectives - initially the aim was to curb black money but soon it transmogrified into creating a cashless economy - are not cutting any ice with the people.
Reports from the ground suggest that traders are unhappy as business has shrunk to less than one-third. The votes of the trading community - traditionally loyal supporters of the BJP - may get divided this time around with some voting for other parties and others choosing not to vote at all.
Political observers claim that misery of demonetisation will take some more time to manifest itself in the rural areas of UP. There, the misery, they point out is being caused not by standing in bank or ATM queues but by shrinking demand and the prospect of unemployment as young migrant workers return from the cities and semi-urban centres.
Shortage of cash has meant that shopkeepers and traders have started buying less because they are selling less. They may continue to keep their casual workers on the rolls because of loyalty but after a month or two, they will be forced to let them go. That is when the pain of demonetisation will become acute.
Backlash from within
BJP president Amit Shah who once elicited pure fear among party MPs and office bearers has had to face their anger at a recent meeting in Delhi. The meeting which lasted three hours, drew praise for demonetisation from party representatives from Gujarat but those from Delhi and UP were extremely critical of the move. Not used to being questioned, Shah lost his cool when some of them pointed to the negative impact of demonetisation.
Two MPs from UP, who stood up to tell him how the party's electoral prospects had been eroded were virtually told to shut up. They were reminded that they were weak candidates who had won because of the Modi wave - and they should not be criticising their benefactor.
He told those present that he would not hear anything against demonetisation and that the BJP would have to continue saying that the move was success. "If you repeat it a hundred times, it will become the truth (Sau baar bologe to sach ho jayega)," they were apparently told.
Notwithstanding the party propaganda, there is fear in the BJP that the party will have to pay for the Prime Minister's recklessness. Many think that neither digitisation nor the orchestrated enthusiasm at Modi's rallies might translate into votes. In the Bihar election campaign too Modi had addressed a spate of well-attended rallies but they had not converted into votes, they point out.
The BJP won 71 Lok Sabha seats in the 2014 general election. This roughly translates into 339 Assembly segments. There is no way that the party can repeat its performance of May 2014 in the assembly elections due in early 2017. Amit Shah had set a more realistic target of victory in 3 Assembly segments for each MP in his constituency - each Lok Sabha constituency has four to five Assembly segments. That should theoretically take the BJP's tally to 213 - a clear majority in the 403 member Assembly. However, politics does not work in such predictable formulaic ways.
Party insiders say that internal poll surveys in UP before and after demonetisation show both the BJP and Bahujan Samaj Party slipping and surprisingly, a substantial improvement in the fortunes of the Samajwadi Party. Party insiders say that five years of anti-incumbency does not seem to have stuck to Akhilesh Yadav.
Why UP matters
Doing well in the UP elections is important for the BJP. If the BJP were to win UP, it would provide a big boost to the party and its undisputed leader, Narendra Modi. Critics, who thought that Modi had peaked and was now on decline, would be proven wrong and his electoral chances for the general election in 2019 would brighten substantially.
Between UP and Bihar, the BJP has 93 parliamentary seats in the present Lok Sabha. It will have to retain most of them to win the 2019 general election. If the BJP wins in the UP Assembly election, then Modi will have a lot of freedom to play around with the selection of candidates - besides picking candidates from his party he would also be able to attract winnable candidates from the BSP and the SP. The minor downside of a UP victory would be that Modi would have to defend his record not only at the Centre but also in Lucknow.
If however, the BJP were to lose the UP Assembly election, and the party is not able to retain even 50 per cent of the Lok Sabha seats in UP and Bihar, then the chances of it forming the next government in Delhi will be extremely bleak.
The UP defeat will impact the mood of the country elsewhere too as people will take it as further evidence of Modi being on his way down. His public appeal will fade.
There are two factors that could still go in Modi's favour though. One, although the BJP is facing negativity after demonetisation, the index of Opposition unity remains weak. So it is difficult to say who will benefit from the BJP's loss.
Second, Modi has a record of defying all odds. A senior BJP leader once described him as a successful event manager. His events and tamashas dovetail into each other - a new one begins unfolding even before the first one is over. He can still pull a rabbit out of his hat - say with mass scale loan waivers for farmers, social security for the rural unemployed, tax sops for traders and businesses, and reduced income tax for the middle class.
He is also capable of talking up an external threat to divert national attention from internal issues. A neutered party may still be forced to hail him in the hope that this will help it to hang on to political power.
There are dangers, however, of defending, believing in and even celebrating a reckless boss. Fearlessness, impulsive behaviour and a risk-taking ability may lead to success in politics some times. However, history also shows that such large scale social manipulation can have dangerous consequences for the polity and eventually even for those who perpetrate it.