Maharashtra: Why Sena and Congress-NCP feel they can defeat BJP in 2019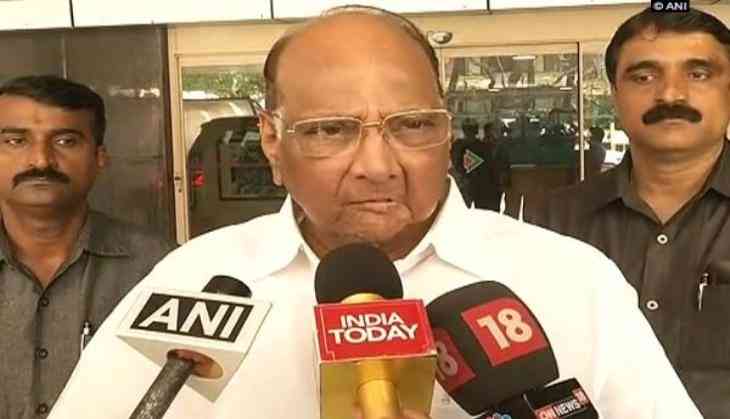 The bye-elections for Lok Sabha held last week have given a clear message: the Bharatiya Janata Party (BJP) and Narendra Modi are not invincible. The Opposition has tasted blood and are raring to go all guns blazing for the 2019 general elections. The defeat is being seen as beginning of the end of Modi wave, if at all there was anything like it. Out of the two Lok Sabha by-polls in Maharashtra, BJP retained one and lost another to the Congress–Nationalist Congress Party (NCP) alliance. The outcome of the Lok Sabha bye-polls is an eye opener for BJP on many counts. Though the party leadership is patting its own back for retaining the Palghar Lok Sabha seat, the humiliating defeat at Bhandara – Gondia seat has come as a major blow.
While Opposition parties have started believing that the Mega Alliance is the perfect answer to Narendra Modi and BJP, some are still sceptical about it.
"Though it is a good indication that a united Opposition can defeat BJP, we are not sure if the performance can be repeated in the 2019 general elections. The biggest hurdle in 2019 would be lack of a face for the post of Prime Minister, which, every partner could accept. Though the victories in recent bye-polls are no less important, it cannot translate in majority in 2019 elections," said a senior Congress leader who did not wish to be named.
Manisha Kayande, spokesperson of Shiv Sena feels that though Shiv Sena couldn't win the Palghar elections, it has shown its mettle by increasing its vote share. During the 2014 general elections, Shiv Sena polled a total of 1,82,343 votes. It has considerably increased to 2,43,210 votes in the bye-polls held on 28 May. Whereas the vote share of BJP in Palghar Lok Sabha constituency came down to 2,72,782 from 5,33,201 in 2014, a decline of 2,60,419 votes.
Similarly, the vote share of the Congress, has gone up sharply as compared to 2014. Congress leader Sachin Shingda who contested as an independent, had polled just 7,957 votes in 2014. But in the bye-polls, his father Damodar Shingda 47,714 votes as the Congress candidate. The CPI-M saw a minor decline in vote share. The party candidate had polled 76,890 votes in the 2014 Lok Sabha elections, while this time around, the party candidate got 71,887 votes. Similarly, the vote share of Bahujan Vikas Aaghadi, a local political outfit, too, dropped by 70,000 votes.
"This is a clear indication that Shiv Sena is growing rapidly. The betrayal by BJP on almost every count is the main cause that voters are leaning towards Shiv Sena," Kayande said. According to her, Shiv Sena has already begun its journey to become the strong alternative to BJP in Maharashtra and this will be evident in days to come. Reacting to future of the Mega Alliance and its performance, she said, "People will stand behind the Mega Alliance if they get a strong alternative. The Mega Alliance will get stronger gradually." Shiv Sena will join the Mega Alliance if invited by the members, she added.
Congress spokesperson Sachin Savant, however, is confident of defeating the BJP in the 2019 general elections. "Given the successive defeats of BJP in the bye-polls, we are confident of defeating it even in 2019," he said.
Reacting to the question on acute difference of ideologies among the members of Mega Alliance, Savant said, "It is remarkable that all the Opposition parties have come together to fight the BJP. The sole aim is to remove Modi from power. The fact that parties like Samajwadi Party (SP) and Bahujan Samaj Party (BSP) came together is indicator of the commitment of the Opposition to remove Modi from power. As far as issue of seat sharing and PM Candidate is concerned, it would be resolved amicably.
"The task at hand is to protect national interest which is to uproot BJP from power. Party interests are secondary at this moment. BJP has been a big failure on all the counts. Parties like SP and BSP coming together shows the failure of Modi," he said.
When asked about Shiv Sena's willingness to join Mega Alliance, Savant sharply reacted saying, "Aligning with Shiv Sena is out of question. We cannot even think of it."
"It is too early to predict that the Modi wave has dissipated. It has been observed so many times that the ruling party loses by-polls. Hence they cannot be any yardstick for the 2019 general elections," says veteran journalist and political analyst Ganesh Torsekar.
"Remember it was Modi, who propelled BJP to number one in Karnataka. Had Modi lost his winning charm, Congress would not have surrendered to JD(S) and gave away the post of CM," Torsekar added.
Though Shiv Sena is preparing to part ways with the BJP in the forthcoming elections, there is a divide among party MLAs and MPs on the issue. Many of the MLAs are not happy with the decision. "It will be a disaster for the party if there's no alliance with the BJP. Contesting elections independently will mean our MPs will be reduced to single digits, from 18 at present. We can also suffer major losses in Assembly elections," said a senior Shiv Sena leader who did not wish to be named.
He also ruled out the possibility of joining the Mega Alliance as the Congress is dead against Shiv Sena. "The so called Mega Alliance can work in Maharashtra only if Shiv Sena is part of it. Congress, NCP and other parties combined, cannot make any difference. The situation will change only if Shiv Sena is on their side. And given the ideological difference between Congress and Shiv Sena it seems to be a distant possibility. It will reflect badly on Shiv Sena and can lead to large scale discontent among its cadres," Torsekar said.