Lok Sabha election 2019: BJP, JD(U) to contest at equal no of seats; ally Upendra Kushwaha's RLSP remain at stand-by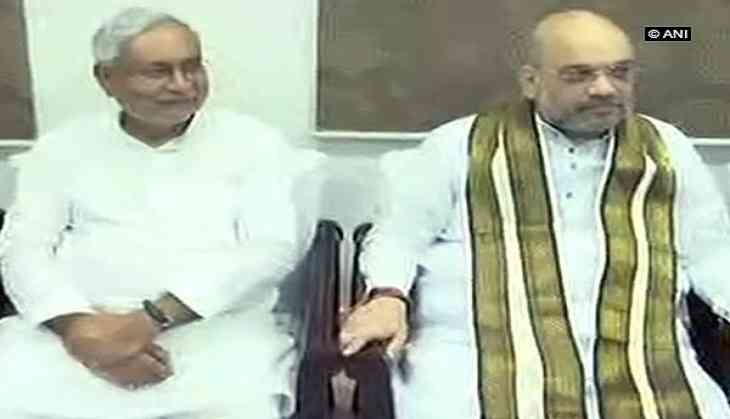 Nitish Kumar and Amit Shah
The preparation for the final showdown has begun as BJP president Amit Shah met JD(U) chief Nitish Kumar yesterday and finalized the number of seats sharing between the two parties for the upcoming polls.
Bihar has 40 Lok Sabha seats and the BJP, JDU have decided to contest on equal number of seats; although the exact number will be "announced in two or three days."
Nitish had met Prime Minister Narendra Modi in Delhi before he left for his tour to Japan. Later on, he held a long hour talk with the party president Amit Shah where the seat sharing was discussed, as per sources.
The National Democratic Alliance in Bihar accommodates two other party's namely Upendra Kushwaha's RLSP and Ram Vilas Paswan's LJP. Both the parties are said to be on the same page with that of Nitish Kumar, and will get a "respectable" share of numbers.
"Number of seats(for Bihar LS 2019) has not been decided yet, we are discussing, I have talked to Amit Shah Ji, can't say anything else right now" said RLSP chief Upendra Kushwaha
Amit Shah told the media that "When a new friend joins, the number of seats for each goes down. Everybody needs to support each other." He added that ""After a consensus, we will announce which seats and how many seats will be contested by each. All four parties are part of NDA and everyone is in agreement. The seat sharing will be announced in two three days."
Although, earlier this week the JDU had made it clear that it will not fight on less than 17 seats in the Lok Sabha elections, the sources told.
Also read: Former NCP leader Tariq Anwar, upset over Sharad Pawar's remark on Rafale, joins Congress Party
Number of seats(for Bihar LS 2019) has not been decided yet, we are discussing, I have talked to Amit Shah Ji, can't say anything else right now: Upendra Kushwaha, Union Minister and RLSP Chief pic.twitter.com/5AEHy1uSkD

— ANI (@ANI) October 27, 2018