Kejriwal deputes close aides to breach BJP bastions Gujarat & Goa
Catch Team
| Updated on: 10 February 2017, 1:47 IST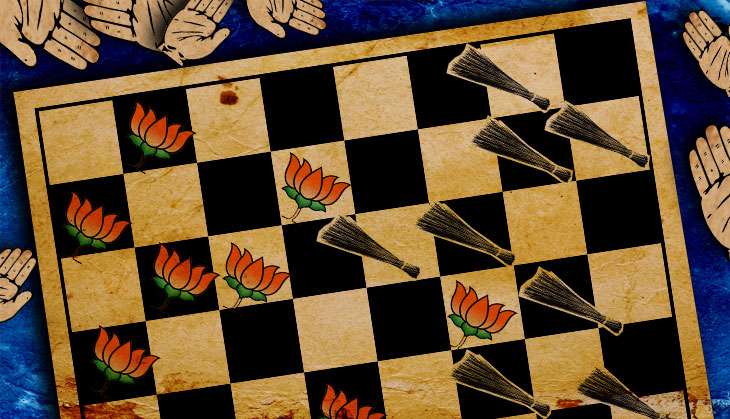 Confident of sweeping the 2017 assembly polls in Punjab, Arvind Kejriwal led Aam Aadmi Party (AAP) has now shifted its focus to poll bound Goa and Gujarat where it has been quietly working on the ground mobilising support. Sensing an opportunity to make political inroads in these states, Kejriwal has assigned senior ministers to exploit the widespread anti-incumbency against the BJP government.
While Goa will be managed by Delhi Deputy Minister Manish Sisodia and Health Minister Satyendar Jain, Ashutosh and Water Minister Kapil Mishra have been tasked to create a Punjab like wave in Gujarat. Kejriwal has also directed these election managers to spend at least 15 days in each of these states and the process will begin in September.
AAP wishes to galvanise public support and considering that Congress has not been able to counter an aggressive BJP, AAP is going for the kill. Moreover, the grand old party is focusing exclusively on UP and ignored other election bound states where it still has some stakes.
This is evident from the fact that the Congress has maintained an eerie silence on its campaign strategy in smaller poll bound states like Goa, Uttarakhand and Manipur where elections are likely to coincide with those in UP and Punjab. While the party has invested all its energies in the bigger states, the smaller ones, have been completely ignored. Even in Gujarat, Congress is fraught with factionalism and looks in no position to take on the BJP.Sensing this political stagnation, the AAP leadership is hoping to exploit this vacuum created by the Congress and has every reason to believe that it could eat into Congress' vote share. In these highly urbanised states, Gujarat and Goa, the party is hoping to get support of the middle class that has been crucial to its rise in national politics. A Delhi like performance could further alienate the Congress in these states and even nationally.
Moreover, the exit of Prime Minister Narendra Modi and Amit Shah from Gujarat and Manohar Parrikar from Goa has given Kejriwal a chance to propel an alternative to the people of the state. Reports suggest AAP has had some sort of tacit understanding with Dalit leaders in Gujarat and even with Hardik Patel.
These strategic alliances are likely to give the party a fillip in the state witnessing massive protests on the atrocities on Dalits, especially after the Una incident where four Dalits were brutally flogged for skinning a dead cow.
With four of his most trusted lieutenants now exclusively focusing on Goa and Gujarat, Kejriwal is not shying away from taking on the BJP and Congress in their own bastions. This should be a major concern for both the BJP and the Congress, especially the latter.
Also read: Dharna mana hai: Believe it or not, AAP govt just banned protests!
Also read: What next Kejriwal? AAP mulls strategy as 21 MLAs disqualified
Also read: Punjab elections: will overconfidence be AAP's undoing?