Dharna mana hai: Believe it or not, AAP govt just banned protests!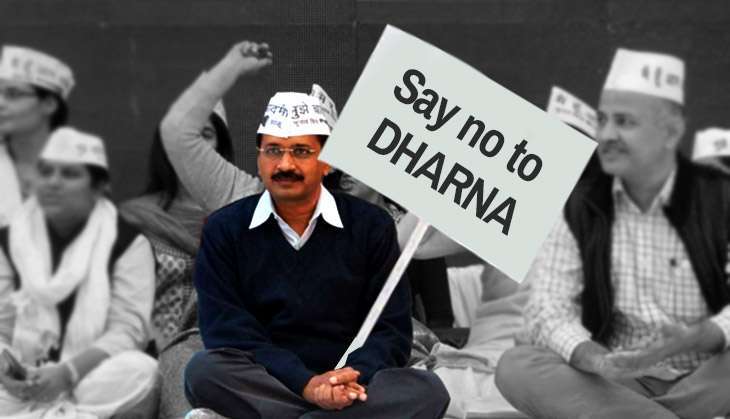 It is a case of remarkable irony for Delhi which has been witness to a series of tumultuous political events in the last five years. A quintessential protestor has banned protests. Dharnas, speeches and even public meetings have been banned in a corner of the city by a government led by a party that itself was born out of protests. That the ban has been put in place outside the residence of that party's protestor-in-chief serves to amplify the irony further.
Widespread anti-corruption protests of 2011 that had taken the Delhi government as well as the Union government by storm had culminated in the formation of Aam Aadmi Party. The party then went on to contest assembly polls and scripted history by coming to power, not once but twice. Party members still proudly stake their claim to the status of a political alternative borne out of what they call "a people's movement".
Is it mere irony or signs of something deeper? The Delhi government has reportedly banned "public meetings, protests and shouting of slogans" near the official residence of Chief Minister Arvind Kejriwal for the whole of August. The reason cited is to avert "serious and law and order problems".
Also read:What next Kejriwal? AAP mulls strategy as 21 MLAs disqualified
Sub Divisional Magistrate (SDM) BK Jha issued the order under Section 144 of the CrPC.
AAP puts its past behind
The order assumes that various political parties and pressure groups may hold protests, demonstrations, dharnas, processions etc on political and others issues in front, near or around the residence of the chief minister and these need to be prohibited. A SDM in Delhi is part of the city administration that falls directly under the Delhi government. By issuing this order, AAP has clearly put its past behind, when if there was one thing that the party and its chief were known for, it was protests.
Kejriwal had firmed up his place in public imagination as a fiesty protestor and that image had even entered popular culture. A popular radio show on a prominent radio channel in the city caricatures him as "Dharna Kumar". In fact, Kejriwal had attracted a lot of flak for spending nights on the streets in protest against the Central government, given that he was holding the constitutional office of the Chief Minister.
Even then, he stood steadfast and continued his protest, emphatically defending his right to protest. Isn't the ban imposed by his government on protests now taking away everybody else's right to protest? The opposition BJP has condemned this ban and called Kejriwal an autocrat. This is not the the first time that the AAP chief has attracted that moniker. He and his party had vehemently defended their leader against that criticism. With this ban isn't he lending credence to the allegation that he wants to rule with absolute power?
Does AAP remember Santosh Koli, the protestor?
In their journey from activists to ministers, Kejriwal and many of his colleagues have braved many occasions when Section 144 was imposed in areas where they were about to protest. They defied it every time and embraced the prisons, slowly crafting their politics around that strategy. Never did their adversaries, the previous governments, impose Section 144 permanently for as long a duration as a month.
On 7 August every year, all of them remember with moist eyes a former colleague of theirs who died in a road accident in 2013. Santosh Koli was a firebrand activist who had survived many attacks on her life only because of her protests and demands for justice to those who were deprived of their due share in governance. Female cops of several police stations knew her by name and would curse their fate upon seeing her at protests, because she gave them a tough time in her pursuit of justice.
Many of her colleagues fondly remember her trademark protest-poem, "Gandhi tere desh me" that she would sing at every protest, filling her fellow protestors with energy. If Koli was alive today, would she approve of this ban and more importantly, this change of character of her former colleagues?
Also read: Punjab elections: will overconfidence be AAP's undoing?