KCR is ambitious alright. But will he realise his dreams?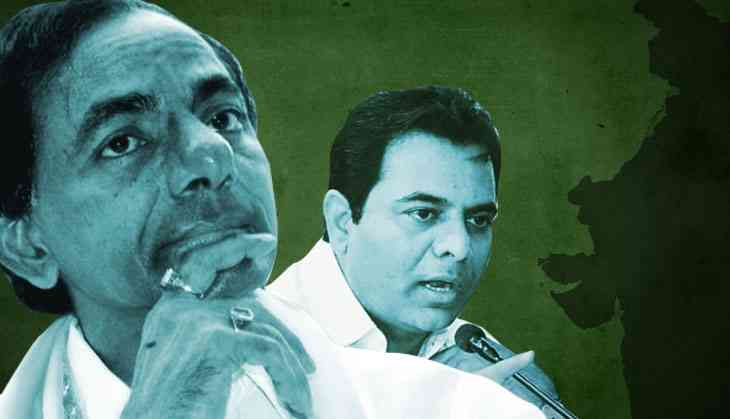 (Arya Sharma / Catch News)
Telangana Chief Minister K Chandrasekhar Rao is nursing two ambitions:
1) Playing an active role in the national political arena, and
2) Passing on the baton in the state to his son KT Rama Rao.
It's more than a week since he announced his intent to foray into national politics with a strong desire to bring about a "qualitative change" in the polity and people's lives.
Though KCR himself claimed that some national leaders have hailed his idea, support hasn't been pouring in as much, at least, overtly. It isn't known whether he is in touch with some leaders worth their salt, already.
But the Chief Minister's Office has informed the media two days after his announcement that he would undertake a tour of important cities including Delhi, Mumbai, Kolkata, and Bengaluru; hold parleys with social harbingers of social change and professionals and experts in various walks of life not only to enlist their support, but even to elicit their views on various issues impacting people's lives.
KCR, chief of the Telangana Rashtra Samithi (TRS), is a long-term player. He has a lot of political patience, thanks to Telangana agitation. A man who fought a protracted battle for 13 long years to realise his ambition of the formation of a separate Telangana State cannot be described as a man in a hurry.
So, he may take his time in embarking on his mission, 'Jai Bharat', a slogan that he concluded his address with on the second day of his announcement in front of a specially convened public meeting on the lawns of 'Pragathi Bhavan', the official residence of the Chief Minister.
One interesting quality KCR has is that he wouldn't hesitate to admit mistakes. But he must feel the compunction and it cannot be externally taunted. If he does, he has no qualms about retracting. Fueled by confidence – for now it appears to be just a bravado – that there is a scope for the emergence of an alternative political conglomerate to the Congress and the BJP-led coalitions at the national level, KCR began to make the first steps.
He actually is dreaming big and the haze around the seriousness of his objective to don the national mantle is slowly disappearing what with his repeated assertions. On Sunday, KCR chose the TRS legislature party meeting at the Telangana Bhavan, the party's headquarters, as the platform to announce that he "would be here (in Hyderabad) until 2019 only. After that, I will play an active role in national politics."
KCR has always maintained that he has no problem with the BJP and Prime Minister Narendra Modi. Though he did not wax eloquent on Modi, he stretched to the extent of saying: "Indian politics are now in need of the TRS. Modi has developed Gujarat and then went to Delhi. Since I developed Telangana, my aim is to raise the banner at the national level. The idea of a national alternative hasn't taken birth now."
What does he mean by this? Is it that just in case, his mission fails to achieve the desired result, would he be angling for a better negotiating power with Modi?
For the record, KCR asserted that the Congress and the Bharatiya Janata Party (BJP) could make no difference to India in decades of their rule. KCR's idea of a fast-track growth and his grandiose plans to take a cue from China and Singapore models of development and willingness to amend the Constitution, if it warrants, signal his intent in bringing about a paradigm shift in politics and administration.
While he scored a few brownie points by proclaiming the "first-mover advantage" to spearhead the national alternative, which he refuses to call a 'third front' but as the 'first front', would he be able to cobble the diverse political formations will become interesting to watch.
Another strong ambition he is nursing is to pass on the baton in the State to his son, KT Rama Rao. Whether the idea of playing a crucial role in national politics triggered the thought of creating a succession plan back home or is it the other way round is, however, not clear.
But KCR has almost anointed his son KTR to be his successor. He has dropped ample hints to this extent at the TRS Legislature Party meeting.
"Rajya Sabha elections are very crucial. I am entrusting the responsibility to KTR. He will have to coordinate with Deputy Chief Minister Kadiyam Srihari, Finance Minister Etela Rajender and Power Minister K Jagadeesh Reddy. And the most important matter of the Assembly session will be managed by Legislative Affairs Minister Harish Rao."
By hinting that he would take "efficient leaders" along with him to Delhi, KCR literally cleared decks for his son to don the mantle here. For, KCR's nephew and Irrigation Minister Harish Rao, a very senior leader in the TRS, is also a strong contender for the top job in Hyderabad.
In fact, grooming the son for the big role has begun two years ago. KTR was given the onerous task of leading the party in the Greater Hyderabad Municipal Elections (GHMC) in 2016. The TRS scored an overwhelming victory in those elections trouncing the Congress (two seats), the BJP (four) and the TDP (just one).
The TRS scored a whopping 99 out of 150, its ally All India Majlis-e-Ittehaadul Muslimeen won 44 in those elections.
KTR also led the TRS to a victory in a byelection to Paleru Assembly seat in Khammam district. KCR's heir apparent has systematically fortified his support base, independent of his father, by making use of the free hand given, across the state.
With 1.1 million twitter followers, KTR, who holds five important portfolios of Information Technology, Municipal Administration & Urban Development, Industries, Mines & Geology, Handlooms and Textiles, and NRI Affairs in KCR Government, is the most active politician on social media too.
He is smart and affable when it comes to demonstrating sophistication – he moderated a session with Ivanka Trump, Cherry Blaire and Chanda Kocchar at Global Entrepreneurship Summit held towards the end of 2017 with great elan.
He is tough and rustic in striking a nativity cord and connecting with people when he addresses public meetings, which are a bright indication to his future role.
He succeeded effortlessly in hogging the limelight when it comes to portraying himself as a leader with a humane heart. More often than not he demonstrates his humanitarian concerns to people by extending medical help or providing employment avenue or shelter to at least three cases that draw his attention through Twitter every day. He is highly active on the microblogging site and uses for taking political potshots, issuing administrative instructions etc.
Does KTR have a plan of action to combat the growing opposition and high-decibel anti-establishment campaign by the Congress and the outfit led by Joint Action Committee leader Kodandaram is, however, a million-dollar question.