Karnataka: Health Minister Sriramulu asks ex-CM HD Kumaraswamy to go to Pakistan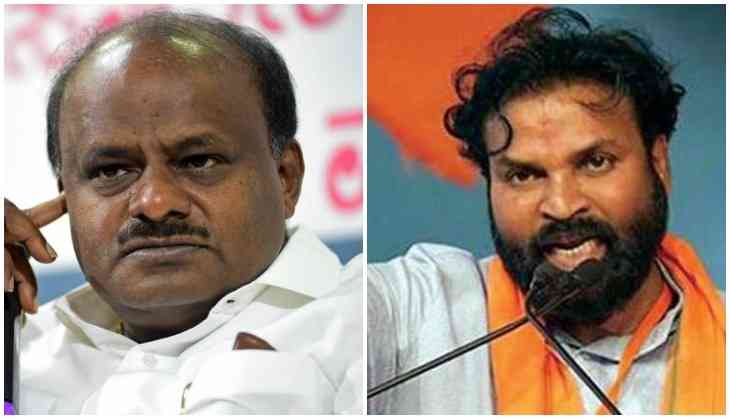 Karnataka Health Minister B Sriramulu on Friday launched a fresh attack on JD(S) leader and former Chief Minister HD Kumaraswamy, accusing the former CM of pursuing 'vote bank' politics and advised him to move to Pakistan.
The health minister said, his love for Pakistan has increased, if he wants, he can go and stay there. "It is better to move to Pakistan if he shows so much love towards Pakistan, why should he live in India? He should not do dual politics like this. He wants to be fair to Pakistan and also to India," Sriramulu asked.
Further Srimulu termed Kumaraswamy as 'double standards' and said, "From so many years, you have been doing vote bank politics. You have to understand one thing. You are the son of former Prime Minister and also a former CM. By giving these type of statements, I think it will hurt the citizens of India. If you want to do vote bank politics I must suggest that it is better to leave the country." Quoted ANI saying him.
Srimulu's statement comes after Kumaraswamy took a jibe at BJP over its 'obsession with Pakistan', while he was speaking to reporters at Bhovi Gurupeetha. Kumaraswamy had demanded a ban on Rashtriya Swayamsevak Sangh (RSS) and Bajrang Dal.
But Srinumulu refuting the former CM's statement said, "RSS and Bajrang Dal are nationalists institutions that are working for the betterment of the country."
He also reacted to former CM Siddaramaiah's statement that the Karnataka government was not yet being strong enough. Sriramulu said the Siddaramaiah was an 'unwanted person' in his party and it was better not to take his words seriously.

Also Read: Republic Day 2020: Twitter launches tricolour India Gate emoji to celebrate 26th January