Imitation the best form of flattery? BJP's 9-point manifesto for UP copies most of SP's schemes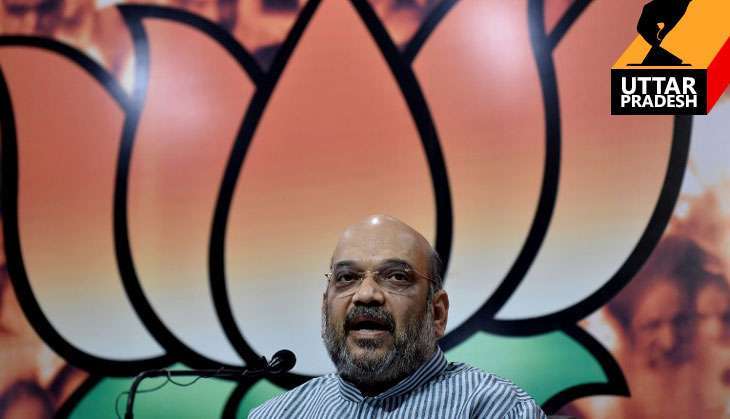 Amidst mounting protests over ticket distribution, the Bharatiya Janata Party(BJP) president Amit Shah released his party's nine-point Lok Kalyan Sankalp Patra (Resolution for People's Welfare). These nine resolutions include a promise to "upgrade" the Dial 108 and Dial 100, the two popular services started by the Akhilesh Yadav government and copying some of his other schemes.
Even the Samajwadi Party government's laptop scheme found a mention with Shah emphasising that they will be distributed along with a 1 GB data per month.
"The laptops were earlier given on the basis of caste and religion, while we will ensure that they are given to all students irrespective of their caste or religion," he said.
When Shah said that metro services would be provided in Lucknow, Noida and five other cities of the state, it was clear that Akhilesh Yadav had stolen the BJP's thunder.
Shah, who had to face the ire of protesters who lay in front of his car outside the airport, was unruffled and said, "Ticket ko lekar jhagda matlab achhe din aaane waale hain (fight for tickets mean good days are about to come).
Angry protesters had put locks on the gates of the party office as resentment ran high among the workers.
More promises
The manifesto promised interest-free loans to small and marginal farmers and promises to help the UP farmers who are "suffering" by waiving off all farmer loans. A fund of Rs 150 crore will be set up for agriculture development, besides funds for the development of Bundelkhand and Poorvanchal.
According to the manifesto, post-dated cheques will be given to sugarcane growers at the time of weighing. Shah also assured paddy growers that if voted to power, the BJP government would buy 100% of their produce.
Rs 150 crore has been earmarked for dairy development on the lines of Amul.
Like in the Samajwadi Party manifesto, youth and women have been given their due importance. The BJP has promised free education to all girls till BA. For boys, education would be free till class XII. The party promised a monthy pension of Rs 1,000 to widows and said the age bar for entitlement will be scrapped.
The manifesto promises that every district will have three police stations manned by women. To meet the requirement of women police, three battalions named after Dalit icons - Avantibai, Jhalkari devi and Uda Devi - will also be raised.
For every girl child born in poor families, the party promised to give Rs 5,000 if it comes to power.
The section on 'Na Goondaraj, Na Bhrashtachar (no goondaism, no corruption)' promises a task force to punish the corrupt and put an end to illegal mining.
Citing recruitment as the biggest source of corruption, Shah said that interviews for class three and four posts will be done away with.
An anti-land grabbing task force will also be created as land grabbing had become a menace under the SP rule, Shah said.
For the youth, the manifesto stressed on skill development and has promised a Rs 1,000 crore venture capital fund for start-ups.
Vote-bank targets
A scholarship for the poor, Dalits and OBCs has been mooted with a Rs 500 crore fund in the name of Baba Saheb Ambedkar to target Mayawati's vote bank. The naming of police battalions after Dalit women icons was also aimed at Mayawati.
In terms of populism, while the SP promised free pressure cookers and free smart phones, the BJP manifesto promised free LPG cylinders to poor households, a Gareeb Kalyan Card which would guarantee free health care and Rs 2 lakh insurance cover to those working in the unorganised sector.
Criticising the Akhilesh government for its failure in the power sector, Shah said his party's government would ensure 24x7 power supply in every home as was the case in Gujarat and other BJP-ruled states.
The first 100 units of electricity consumed would be charged at Rs 3 per unit, he said.
When asked from where funds will be raised for all these promises, Shah said that a proper budget will be prepared soon.
Key contentions
Shah did not forget three contentious issues: Migration of Hindus from Kairana, Uniform Civil Code (UCC) and Ram Janmbhoomi.
While blaming the poor law and order for migration of Hindus from Kairana, he described the "changing demographic profile" in the region as "worrisome".
He said that 1.5 lakh policemen would be recruited to fill the existing vacancies to help deal with law and order problem like the one in Kairana.
On the UCC issue, Shah said that the BJP would be seeking the opinion of Muslim women and forward their views to the Supreme Court.
Speaking about the Ram temple in Ayodhya, Shah said that would be built through constitutional means.
The manifesto, Shah claimed, had been formulated after seeking the views of about 30 lakh people.
Edited by Jhinuk Sen