Forget Modi's Gandhi love. Shah's 'chatur baniya' comment exposes RSS's real view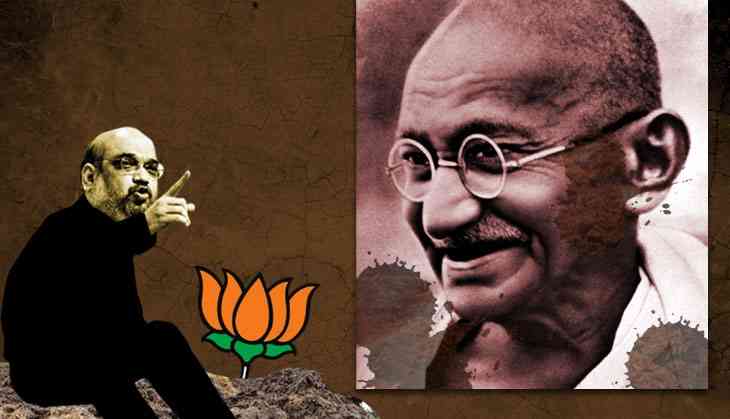 Amit Shah is an honest man.
Nobody else in the BJP confessed that the black money promise was a 'jumla'.
Again, it was Shah who had the courage to admit that it was not possible to provide jobs for everybody.
So who should you turn to when you want to know what the Sangh Parivar thinks about Mahatma Gandhi? Why, Shah, of course.
While Gandhi might be popularly remembered as the Father of the Nation, Shah feels that the only man whose portrait permanently graces every government office as the guide of the morality of the Indian State was in fact a mere 'baniya' (a casteist reference to the trading class). A clever one, to be precise.
Background to Shah's comments
The BJP chief's unprecedented reference to Gandhi came at a public event in Chhattisgarh on 9 June.
Shah was essentially holding forth on why the Congress was not a party, and only an SPV or a "special purpose vehicle" for obtaining independence from British rule. Gandhi knew this, Shah said, which is why he called for disbanding the Congress after Independence. This made him a "bahut chatur baniya", according to Shah.
The stable that Shah comes from has long carried particularly vicious hatred for Gandhi. Even though no recognised RSS leader was ever convicted for conspiring to kill the Mahatma, Nathuram Godse's link with the RSS and the Hindu Mahasabha is undeniable. There is direct evidence of even MS Golwalkar, the RSS's second chief, threatening to kill Gandhi in 1947.
Also read- Exclusive: RSS chief Golwalkar threatened to kill Gandhi - 1947 CID report
The Hindu radicals' grudge with Gandhi was that he 'pandered' to the Muslims, and therefore, was an obstruction on the road to the establishment of a Hindu Rashtra. The RSS and the Hindu Mahasabha are also believed to have been pro-British, and no major evidence of their participation in the Congress-led freedom movement exists. This also explains their dislike for Gandhi as well as Jawaharlal Nehru, India's first Prime Minister and Gandhi's favourite follower.
These organisations couldn't achieve enough political capital in the formative years of independent India to be able to reverse the narrative around Gandhi. The BJP, however, could come to power in the 1990s only by bringing to fore a moderate face from the Sangh Parivar, Atal Bihari Vajpayee, who was not known to have looked at Gandhi through the glasses of radical Hindutva ideology.
Modi's love for Gandhi
Gandhi firmly found a place in the BJP's narrative only after the rise of Narendra Modi as the party's first stable Chief Minister of Gandhi's home state, Gujarat. Many feel his attempts to appropriate the Mahatma's legacy, more as a fellow Gujarati than anything else, were part of a strategy to counter the negative image building around Modi after the post-Godhra riots of 2002.
He brought his avowed love for Gandhi from Ahmedabad to Delhi when he became Prime Minister.
After 2014, Modi dedicated some of the biggest programmes of his government in the Mahatma's name, including Pravasi Bharatiya Divas and Swachh Bharat. His government is also celebrating the centenary of Gandhi's first political movement in India after his return, the Champaran Satyagraha, with much pomp.
However, Shah's casteist reduction of the personality of the Mahatma has exposed all these efforts as mere facade and propaganda.
His comments show what the Sangh Parivar really thinks about the man their government pretends to be following. Gandhi was definitely a master political strategist, but to remember him at the diminutive level of his caste shows the Parivar's priorities.
Coming from Shah, a baniya himself, it amounts to a celebration of his own caste which, in itself, flies in the face of the Parivar's hypocritical fight against the caste system.
These are not good times for Gandhi. Followers of an ideology that is anathema to Gandhian maxims is in power, and they are shredding his legacy to pieces.
How far is the day when he is removed from the status of the nation's guiding light and replaced by a figure that services this ideology? VD Savarkar, maybe? After all, he was a 'chatur' Brahmin, not a baniya.