End of an era: 'Kalaignar' Karunanidhi dies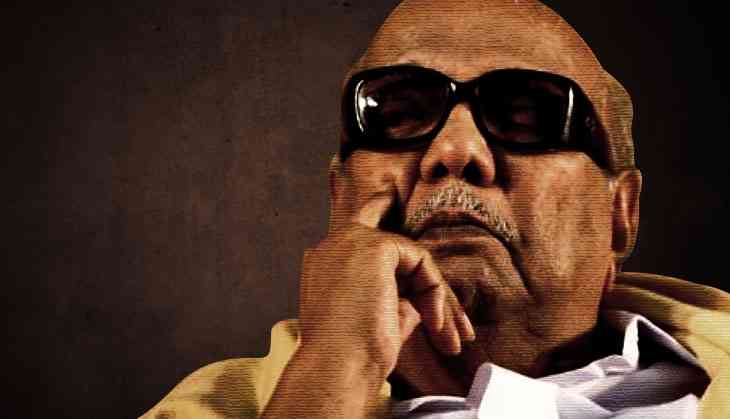 (Arya Sharma / Catch News)
Muthuvel Karunanidhi died Tuesday evening, drawing to close an era in Indian politics. He was 94.
Popularly known as 'Kalaignar' – the artist – Karunanidhi was one of the tallest leaders in Indian politics, one of the stewards of the Dravidian self-respect movement, and at the same time, an important contributor to Tamil popular culture.
Thousands hit the streets in Chennai after Kauvery Hospital, where the veteran leader was being treated, announced that he died at 6:10 pm.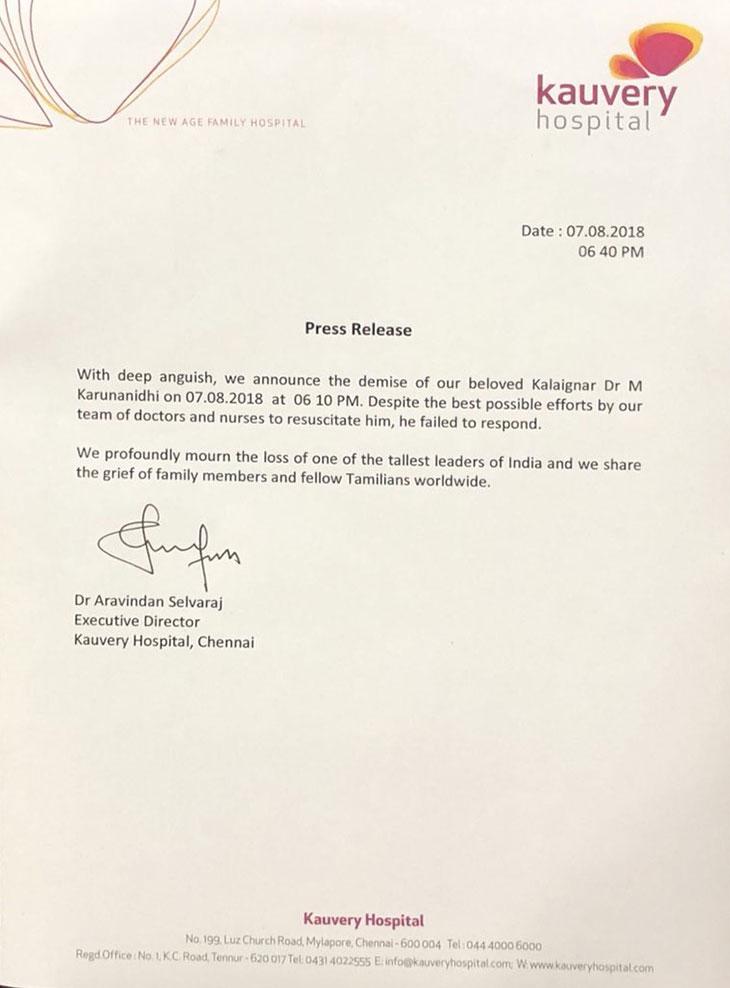 Web
Politicians from across the spectrum paid their respect to the leader, who served as Tamil Nadu's five separate terms and never lost an election. Leading them was Prime Minister Narendra Modi.
Deeply saddened by the passing away of Kalaignar Karunanidhi. He was one of the senior most leaders of India.

We have lost a deep-rooted mass leader, prolific thinker, accomplished writer and a stalwart whose life was devoted to the welfare of the poor and the marginalised. pic.twitter.com/jOZ3BOIZMj

— Narendra Modi (@narendramodi) August 7, 2018
Kalaignar Karunanidhi stood for regional aspirations as well as national progress. He was steadfastly committed to the welfare of Tamils and ensured that Tamil Nadu's voice was effectively heard. pic.twitter.com/l7ypa1HJNC

— Narendra Modi (@narendramodi) August 7, 2018
I have had the opportunity of interacting with Karunanidhi Ji on several occasions. His understanding of policy and emphasis on social welfare stood out. Firmly committed to democratic ideals, his strong opposition to the Emergency will always be remembered. pic.twitter.com/cbMiMPRy7l

— Narendra Modi (@narendramodi) August 7, 2018
My thoughts are with the family and the countless supporters of Karunanidhi Ji in this hour of grief. India and particularly Tamil Nadu will miss him immensely. May his soul rest in peace. pic.twitter.com/7ZZQi9VEkm

— Narendra Modi (@narendramodi) August 7, 2018
Our heartfelt condolences on the passing of one of India's most dynamic leaders, M. Karunanidhi. He was a true representative of our democracy and worked tirelessly for the people of Tamil Nadu. His contributions to the nation shall never be forgotten. pic.twitter.com/gCunM2wr1D

— Congress (@INCIndia) August 7, 2018
Feel v sad to hear about the demise of this great leader. May his soul rest in peace. Its a great loss to the nation. https://t.co/fymujgcmMI

— Arvind Kejriwal (@ArvindKejriwal) August 7, 2018
Saddened by the news of death of Shri Karunanidhi. In his death not just Tamil Nadu and his DMk party but the nation has lost a veteran politician. My condolences to his family. May his soul rest in peace.

— Capt.Amarinder Singh (@capt_amarinder) August 7, 2018
Anguished to learn about the demise of veteran politician, M Karunanidhi ji. He had an impressive life journey, starting as a screen writer in Tamil film industry to being five term Chief Minister of Tamil Nadu. No one can forget his struggle during Emergency, imposed in 1975.

— Amit Shah (@AmitShah) August 7, 2018
Extremely sad to learn of the passing of Thiru M. Karunanidhi. A doyen of our public life, as a contributor to the development of Tamil Nadu and of India he has few peers. Our country is poorer today. My condolences to his family and millions of well-wishers #PresidentKovind

— President of India (@rashtrapatibhvn) August 7, 2018
Loved by the Tamilian people, Kalaignar strode the stage of Tamil politics, like a colossus, for over 6 decades. In his passing, India has lost a great son. My condolences to his family as also to the millions of Indians who grieve for their beloved leader tonight.#Karunanidhi

— Rahul Gandhi (@RahulGandhi) August 7, 2018
Today India lost one of its greatest sons. And Tamil Nadu lost its father figure. Farewell @Kalaignar89. My deepest condolences to the people of Tamil Nadu, @arivalayam, @mkstalin, @KanimozhiDMK and family. India mourns your loss

— Mamata Banerjee (@MamataOfficial) August 7, 2018
The script writer who wrote Tamil Nadu's destiny
As a script writer he would have lived a life of obscurity in the shadows of film stars who enjoy cult status in Tamil Nadu.
But sharp-tongued, quick-witted M Karunanidhi had other plans. He outshone many a celebrity, as he presided over the destiny of the Dravidian state along with his tinsel town co-travellers and arch rivals in politics -- MG Ramachandran and his protegee J Jayalalithaa -- for decades.
That art and politics blended seamlessly in Karunanidhi was manifest from the sobriquets of 'Thalaivar' (The Leader) and 'Kalaignar' (The Artist) he earned from ardent followers.
A masterful practitioner of modern-day politics, he wielded considerable influence beyond his own state, in the corridors of power in New Delhi, for a long time, sewing up alliances with both the Congress and the BJP, often drawing criticism from his rivals, who called him an opportunist.
Muthuvel Karunanidhi, who became the chief minister five times, cut his teeth in politics as a 14-year-old when he participated in the anti-Hindi agitation in 1938 at his native Tiruvarur.
Hugely influenced by the rationalist and egalitarian ideology of EV Ramasamy 'Periyar' and DMK founder and the state's first chief minister CN Annadurai, Karunanidhi became one of the most enduring mascots of the Dravidian Movement, which aimed at seeking equal rights for the depressed sections and women, and was against Brahminism.
Elected to the Legislative Assembly 13 times, Karunanidhi, a political artiste, outmanoeuvred VR Nedunchezhian to become the chief minister for the first time following the death of Annadurai in February 1969.
MG Ramachandran, his junior and one of the most charismatic actors of his time, supported Karunanidhi in his endeavour to edge past Nedunchezhian, who was the number two in the Annadurai cabinet.
Years later, the two were to part ways, with MGR, as Ramachandran was popularly called, forming the AIADMK, the party which was to become a perennial thorn in Karunanidhi's side.
Karunanidhi was a legislator for six decades since 1957, when he won for the first time from Kulithalai constituency, till 2016, when he emerged victorious from Tiruvarur as a 92-year-old, barring the period between 1986 and 1989.
In 1984, he was elected to the Legislative Council, which was abolished by the MGR government in 1986. He had resigned as MLA in 1983 over the Srilankan Tamils issue.
After assuming the reins of the government, Karunanidhi became the DMK chief in July 1969, a post that he held till death.
He again became the chief minister in 1971, 1989, 1996 and 2006. When he lost power to friend-turned-foe MGR's protegee Jayalalithaa in 2011, he famously quipped "people have given me some rest".
Addressed as Mu Ka, Tamil abbreviation of his name, by his peers, Karunanidhi's letters to DMK cadres in party mouthpiece Murasoli and his autobiography-cum-commentary on contemporary politics Nenjukku Needhi, are the favourite reading material for his supporters.
Karunanidhi's famous line "En uyirinum melana kazhaga udanpirappugaley (my dear brothers in party who are are above my life)," in his unmistakable baritone, used to send DMK workers into raptures
Alongside Annadurai, who also had film and theatre background, Karunanidhi used the medium for furthering his political ideology
Incidentally, the screenplay and dialogue for MGR's debut movie as hero 'Rajakumari' was written by him. He also wrote the dialogues for 'Parasakthi', the debut film of another tinsel town icon Sivaji Ganesan. The movie propagated the socialist and rationalist ideals of the Dravidian Movement.
While MGR rose to become one of the most popular public figures in Tamil Nadu's history, Ganesan dabbled in politics but faded from the scene quickly.
Karunanidhi penned screenplays and dialogues for over 50 movies. He also wrote the stories of some of them like Marudanattu Ilavarasi (1950) Mandiri Kumari (1950), Tirumbipar (1953), Arasilangkumari (1961).
A big political jolt for Karunanidhi came when MGR rebelled against him in 1972, accusing him of corruption and demanding details of the party's finances. MGR was expelled from the party the same year, and he floated the AIADMK, an event that marked the advent of bipolar politics in Tamil Nadu.
MGR led AIADMK to victory in the party's debut Assembly polls in 1977, and in 1980 and 1985. He was the chief minister till his death in 1987, forcing Karunanidhi to cool his heels in the opposition as long as he helmed the state.
Karunanidhi was back in power in 1989, only to lose to J Jayalalithaa, MGR's protegee, in 1991. He led DMK to victory in 1996, but AIADMK under Jayalalithaa trumped his party once again in 2001.
The Thalaivar struck back, wresting power from her in 2006, but the DMK lost successive Assembly polls in 2011 and 2015 to the AIADMK under a charismatic Jayalalithaa.
Proving true the adage that there are no permanent friends or foes in politics, Karunanidhi, who denounced the Emergency imposed by Indira Gandhi in 1975, formed alliances with the Congress several times, and the UPA government had several ministers from the DMK. The DMK was also a constituent of the BJP-led NDA and had ministers in the Atal Bihari Vajpayee Cabinet.
The DMK had walked out of the UPA 2 in 2013 over its "soft stand" on the atrocities on Sri Lankan Tamils in the United Nations.
The Dravidian party wanted a strongly worded resolution to be passed at the United Nations Human Rights Council, with inclusion of expressions like "genocide" and "war crimes", while seeking an international probe against Sri Lanka over persecution of Tamils in that country.
The UPA government, however, survived with the outside support of the Samajwadi Party and Mayawati's BSP.
Karunanidhi suffered a personal jolt when his MP daughter Kanimozhi got embroiled in the 2G spectrum scam along with union minister and DMK leader A Raja.
In 1980, when he joined hands with the Congress, he exuded warmth for Indira Gandhi with his remark, "Nehruvin Magale Varuga, Nilayana atchi tharuga (welcome, the daughter of Nehru, give us good governance)."
The comment encapsulated the intrinsic resilience of the master political craftsman who saw opportunity in every adversity.
- From PTI