Do only Hindus suffer? Bengal intellectuals slam RSS's Hindu victimhood narrative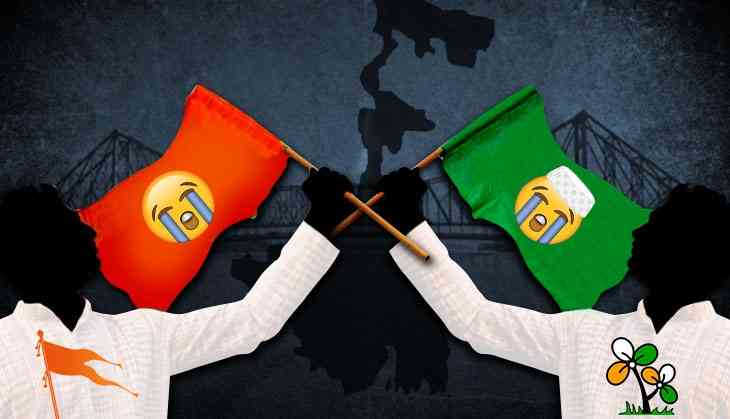 Of late, West Bengal is witnessing increasing polarisation along religious lines. And while some observers have blamed the Trinamool Congress government's 'appeasement' of the Muslim community for this, many others have blamed the Rashtriya Swayamsevak Sangh (RSS) and its sister organisations for destroying the social fabric of the state.
Various Sangh outfits had organised Ram Navami rallies across the state, where scores of children were seen carrying sharp-edged weapons. In response, the state government has decided not to give permission to religious rallies if unlicenced arms are carried during processions.
The Birbhum district administration refused to give permission to the Vishva Hindu Parishad (VHP) for holding a religious programme at Suri for celebrating Hanuman Jayanti on Tuesday.
Subrata Mukherjee, state panchayat minister, said: "We won't allow anybody to break the social fabric of West Bengal. It is not possible to create religious polarisation in Bengal, like in Uttar Pradesh."
Earlier, CM Mamata Banerjee had also condemned the religious polarisation, and said that steps would be taken if the Sangh Parivar tried to stoke communal tensions in the state.
VHP undeterred
The VHP has scheduled almost 100 programmes on the occasion of Hanuman Jayanti, with its joint secretary, Surendra Jain, scheduled to give a speech in Kolkata.
Sachindranath Singh, zonal organising secretary of VHP, said the organisation was undeterred by the refusal of permission in Birbhum. "We will continue our celebration of Bir Hanuman Jayanti in other parts of our state, and at Rani Rashmoni Avenue, we have also organised a meeting where we are going to condemn the Trinamool Congress's efforts to stoke communal tension in various parts of the state."
Jishnu Bose, RSS general secretary in West Bengal, added: "We have found that Hindus are being tortured by the Trinamool Congress government, and so we have highlighted the pain of the Hindus. If Muslims are being subjected to torture, we will highlight the pains of the Muslims too."
Dangerous signs
According to intellectuals and members of the civil society, they neither support the Trinamool's appeasement of Muslims, nor the RSS's attempts to consolidate Hindus through religious polarisation. They've called these 'dangerous signs' for Bengal's society.
Renowned poet Sankha Ghosh said: "Both Hindus and Muslims are being tortured, but why is the RSS trying to portray that only Hindus are the victims? The RSS can try to create religious polarisation, but it is not possible to create such polarisation in Bengal. In Bengal, the secular fabric is very strong."
Nilanjana Gupta, professor at Jadavpur University, said: "We are witnessing that in the name of an 'apolitical' organisation (RSS), speakers are trying to create religious polarisation and trying to stoke communal tensions. This needs to be stopped. Politics is different; they cannot equate politics to religion."
Well-known author Shirshendu Mukhopadhyay added: "The trend that we are noticing now is dangerous, and the state government should take action against such moves carried out by the RSS."