Despite an economy in shambles, BJP congratulates itself for a job well done at national executive
Anurag Dey
| Updated on: 25 September 2017, 21:30 IST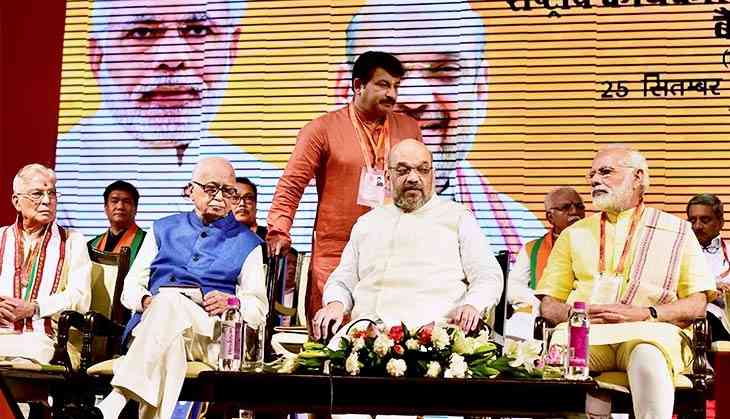 Amid intense criticism over the economic slowdown, the BJP patted its back for efforts in improving India's diplomatic ties and hailed Prime Minister Narendra Modi's endeavours in giving primacy to terrorism as a global issue.
Attended by over 2,000 functionaries, including over 60 Union ministers, 13 chief ministers, 334 MPs and over 1,500 MLAs/MLCs, the BJP at its national executive meeting unanimously passed a resolution haling the development work of the Modi government in the last three-and-a-half years and recognising demonetisation, roll out of Goods and Services Tax (GST), resolving the Doklam standoff and making terrorism a global issue as major successes of the Prime Minister.
Prime Minister Modi also asserted that his fight against corruption is uncompromising and exhorted the BJP rank-and-file to take the party beyond elections through mass participation.
In a closed door address to the BJP national executive meeting at the national capital, Modi also came down hard at the Opposition saying it was yet to fathom how to behave like an Opposition.
On the state of the economy
With the ruling party still facing a severe backlash over the adverse effects of demonetisation and GST, as well as the rising agrarian crisis, the party was forced to admit there are issues concerning the implementation of GST and that the agriculture sector is not in good shape.
"One of the important issues discussed was the GST, the biggest economic reform in post independent India. When such big reforms are undertaken, there will be teething problems initially but then there are immense benefits that are already reaching out to the public," Union Minister for Road Transport, Highways and Shipping Nitin Gadkari said to the media.
"The GST council is meeting regularly to identify the problems and solve them. The government is working at a war footing to ensure that all the issues are resolved at the earliest," he added.
While the Opposition and many experts have held Modi's ambitious demonetisation plan responsible for the slump in GDP growth, the party still pointed to the benefits.
"Demonetisation has resulted in the demise of the parallel economy, black money generation has gone down, though I will not claim that it has completely stopped. Tax compliance has greatly improved. There are some problems but they will be sorted out. We are heading towards double digit growth," claimed Gadkari.
While admitting economy's most important sector agriculture was "not in good condition", the party exuded confidence in the Modi government's efforts to double farmers' incomes by 2022.
Modi's battle against corruption
While BJP members have themselves been complaining about the growing dissent among the masses over the stalling economy, Modi made it clear that the party has to hard sell demonetisation as a major success of the BJP.
Modi in his address said: "My battle against corruption is uncompromised and whoever caught will not be spared. To emphasise his commitment, he said "I have no relatives".
Modi said that the Congress was resorting to criticising demonetisation because it is at the receiving end of the battle against corruption.
"Congress did not take a single step against black money and corruption, eliminating corruption and black money was never on UPA's political and economic agenda. It is obvious that any step against corruption will never be supported by them," Jaitley said.
"On the contrary, our government has taken a series of steps against corruption and those who are in the receiving end of these anti corruption measures will be uneasy. We don't expect them to support this battle against corruption," said Jaitley.
The party also unanimously passed a resolution endorsing Modi mission of a "New India by 2022" and focused on the government's foreign policy and diplomatic successes, big ticket reforms like GST and other economic issues.
The resolution has six point agenda — a clean India, an India free of poverty, terrorism and separatism, casteism, communalism and corruption.
Economy doing better
Contrary to the Opposition and many experts' claims, Jaitley claimed the economy has been doing well since the BJP came to power.
"If you look broadly at macro economic data, it has been sounder than ever before except in the last quarter where there has been a little dip in GDP. Even then the services sector actually improved but it was manufacturing which brought it down. It (slump in GDP) is attributable to facts like investment in private sector and since GST was announced to be implemented from July 1, de-stocking took place that resulted in higher sales so the services went up there was not more manufacturing because you wait for new the rates," he said asserting the government will be taking all remedial measures.
Summarising Modi's address, Jaitley said the emphasis was taking BJP beyond elections.
"Contesting and winning elections is part of all political parties but Modi harped on the need for taking BJP as a political organisation beyond elections. The focal point of his address was making BJP an instrument of mass participation to improve quality of life of people. He said that for the successful and effective implementation of all government schemes, party activists becoming part of mass participation was imperative," said Jaitley.
The Women's Reservation Bill
The party also said Modi will look into Congress President Sonia Gandhi's letter requesting passing of the Women's Reservation Bill.
"We wonder that why the Congress government did not pass the bill when it had the majority. They did not pass it when they could have and now they have requested Modi. He will look into the mater," said Gadkari.
He also described the baton charging at female students in Benares Hindu University was unfortunate and said Shah and Modi both had a talk with Uttar Pradesh CM on the matter. He said the UP government will look into the issue.
Dealing with the Opposition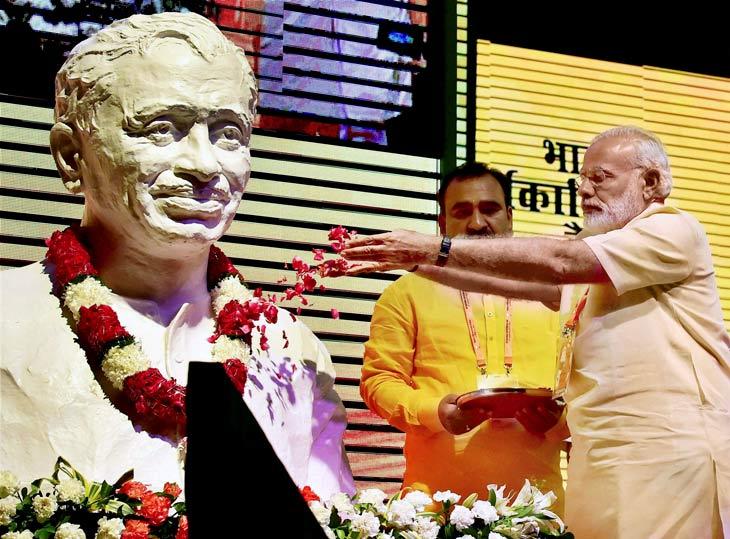 PTI/Kamal Kishore
During the inaugural address, party chief Amit Shah focused on attacking Congress vice president Rahul Gandhi over his recent remarks against Modi and his policies.
Perhaps an indication of BJP's growing discomfort, Modi expressed deep anguish over how the Opposition has resorted to harsh words to criticise the Centre's policies.
"When they were in government, for them power was a means of enjoyment. So they do not understand how to be in the Opposition. He (Modi) gave special emphasis on the harsh words used by the opposition," Finance Minister Arun Jaitley said to the media.
"Harsh words can't be a substitute for (absence) of substantive charge against the government," said Jaitley, quoting Modi.
Incidentally, it was said that Modi's address would be open to the public and media but in the end it was a closed door affair with Jaitley summarising his speech for the media.
Doklam resolution
"The previous government never had any concrete policies to tackle terrorism. On the other hand, our government has taken the balance approach of ushering in development but also establishing zero tolerance against terrorism," Gadkari said.
Speaking of how India has had a big impact on terror, he said, "In Kashmir, where Pakistan has been exporting terrorists, we have been successfully able to tackle that through development. Along with reaching out to the youth through development, we have shown our zero tolerance towards terrorism."
"The government has acted very strongly against terrorism and the most important aspect of this is the way the Prime Minister and External Affairs minister Sushma Swaraj have been successful in giving primacy to terrorism as a global issue. Because of Modi's efforts today terrorism is the main agenda on most international summits. His efforts have not just helped in globally highlighting terrorism as the major issue but also exposed Pakistan in the process leading to its isolation, he added.
"It is a big diplomatic win for India. Resolving the Doklam standoff is an unprecedented success of Modi. Resolving the Doklam issue through diplomacy, has highlighted this government's policies are based on solid foundations," said Gadkari.
Friendly ties with Pakistan
Thanking Modi's efforts again, Gadkari said that India has become a force to be reckoned with globally. More so, he added, India's relationships with other countries has also been improving.
"We also want friendly ties with Pakistan. Like us they too face similar problems but their problems are too many. They have been exporting terror to India but we feel its time for it to mend its ways. We feel our ties will improve," said Gadkari.
At the meeting, the party leaders also discussed political violence in Left-ruled Kerala and West Bengal, which is led by Mamata Banerjee's All India Trinamool Congress.
Accusing the CPI-M led government in Kerala for unleashing violence on RSS-BJP activists, the party has said that it will be taking out marches in Kerala from 3-17 October.
Vistarak Yojana
With the goal of keeping BJP in power even when the 2019 elections are done and dusted, the party is planning to reach out to the masses about the Modi government;s social security schemes under the Vistarak Yojana. With an eye on the prize, it aims to reach out to nearly 8 lakh of nine lakh polling booths in the country.
So far, nearly 4 lakh of party activists have endorsed the schemes in over 6 lakh booths.