Dear PM, doesn't the generosity of your foreign policy apply at home?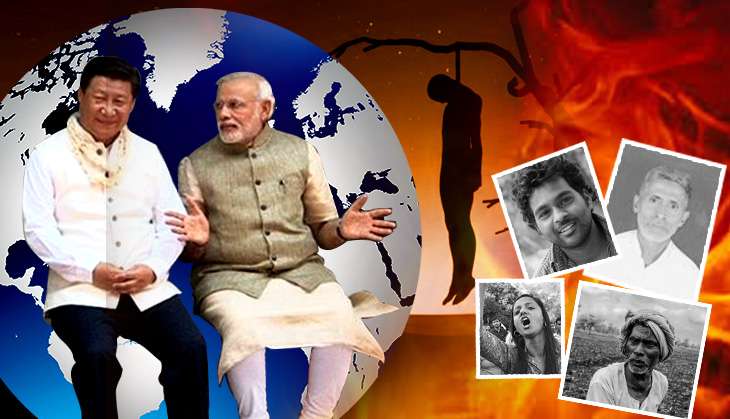 If anything stood out in Prime Minister Narendra Modi's interview to Arnab Goswami it was the benevolence and generosity with which he spoke about the motives propelling his active foreign policy. "Respect", "understanding", making others feel "secure", the need for constant "conversations" and "dialogue" with countries holding "divergent viewpoints", we were told, were the hallmarks of his principled thinking.
Perhaps, if we belonged to any of the Pacific Islands rather than India, our prime minister would empathise with and understand our concerns of rural distress, student unrest and minority fear better.
Also read - Nation wants to know: why did Arnab lose his voice in front of Modi?
Here, Catch takes portions of what Modi said in the interview and finds out what people have to say about it on the prime minister's home turf.
Respect for the insignificant
"Today we are building relations with countries across the world. The amount of respect with which I engage Saudi Arabia, I engage Iran with the same amount of respect. The amount of respect with which I speak to America, I speak to Russia with the same amount of respect... We also need to understand that we shouldn't consider smaller countries insignificant. I abide by this principle. The small countries of the world are as important as the big nations."
"You must have seen that I made a forum for the Pacific Island nations. These are small countries with a population of 10 lakh or 20 lakh. But these small island nations are most affected by global warming. When India took up the international solar mission and 122 nations joined it, the island nations benefited the most from it. They are 50 in number now. A group of 50 nations feels secure with this vision of India."
Ensuring people feel secure about the vision of India is a rather altruistic goal. How does that apply back home? How secure, for instance, does the population of Dalits feel with Modi's vision of India?
The University of Hyderabad is a fortress. Scores of police personnel are keeping watch on students, who have been protesting for over six months after the suicide of Dalit scholar Rohith Vemula. The protests had become a flashpoint across India, with thousands demanding justice for Rohith and an end to discrimination against the Dalits.
Catch spoke to Rohith's brother Raja Vemula about how secure he felt in Modi's India. "Before my brother's death, nobody questioned our identity. After he died, this government wants to do everything it can to ensure we aren't identified as Dalit. My brother lived like a Dalit and he was suspended like a Dalit. Now even after his death, they are trying to prove that we aren't Dalit," says Raja, who claims to have received no compensation and no justice till date.
Rohith's family and the Joint Action Committee, which is leading the protests on the university's campus and demanding Vice Chancellor Appa Rao's arrest under the SC/ST Atrocities Act. "If not a Rohith Act, we at least need an act to safeguard students from discrimination," says Raja.
Appetite to debate with divergent viewpoints
"In foreign policy, it's not necessary to have similar views to have a conversation. Even when the views are contradictory, talks are the only way forward and problems should be resolved through dialogue... See the foreign policy is not about changing mindsets. Foreign policy is about finding the common meeting points. Where do our interests converge and how much? We have to sit and talk. We no longer live in a bipolar world. The world is interconnected and interdependent. You will have to connect with everybody at the same time. Even if there are two opposing countries, they will have to be friends. Now the times have changed."
Catch spoke to Prof Kancha Ilaiah Shephard about the prime minister's own bipolar world.
Ilaiah has a deeper analysis for why Modi is keen on visiting Muslim nations - Saudi Arabia, Afghanistan, Iran, Pakistan, Iraq - and giving great speeches of brotherhood and equality while ignoring the demands of his own nation's minorities.
On the foreign policy front, Ilaiah feels Modi has shown different thinking than PV Narasimha Rao or even Atal Bihari Vajpayee. "There is no deeper Hindu in Modi. He can't become a priest. He can become a prime minister. But he's not his own man. He has to operate as Mohan Bhagwat dictates. And Bhagwat, being a Hindu Brahmin, has a historic enmity with other religions which give equality to people."
According to Ilaiah, Modi, as an OBC operating under a Hindu right-wing regime makes for an excellent "foreign policy ambassador when he's outside and Brahminical Kautilyan prime minister within his own shores. Therefore, he is less effective here, more effective there."
Modi has presented the Saudi Arabian king the mask of Cheraman Perumal, an OBC who gave up his kingdom and converted to Islam in 629 AD. "Modi appreciated that. He presented that mask to the king because that's where our links are," explains Ilaiah.
"The Brahmins in the RSS control Hindu religion and will pull him down if they don't get to dictate their terms through them. Narendra Modi either has to risk his job or maneuver like this by acting through foreign policy," adds Ilaiah.
Messiah of free speech and democracy
"The big thing is, the parliament is for discussion. Parliament is to show dissent. Parliament is to give an argument to one's opposition, to present an argument which they support. To uphold this basic spirit of the parliament is the responsibility of every person who values democracy."
Catch spoke to Yogendra Yadav to decode the values Modi preaches abroad and how much of it he practices while addressing domestic concerns such as farm, water and rural distress. "The prime minister believes, and rightly so, that engaging everyone, small or big, powerful or powerless, mainstream or marginalised, is necessary for India emerging as a voice on the global stage. I really wish he were to apply his own insights to the domestic situation," says Yadav.
"Listening to everyone is essential to his emerging as the kind of leader he's so desperate to be remembered as. Unfortunately, he has chosen a political strategy for himself which is that of polarisation. His supreme belief is that issues of unemployment or farm distress or rural distress can be turned into non-issues when it comes to the next election."
Yadav points out that the key question to ask is why the prime minister felt it necessary to answer the set of questions that Goswami asked. The answer, he says, has to do with with the fear of the market. "With Rajan gone, Swamy going like a loose cannon and the recent NSG disaster, there was a serious fear of the market tanking. There was a need to restore confidence," he says.
Prof Kanti Bajpai, a foreign policy expert who teaches at the National University of Singapore, analyses it thus: "Being foreign minister is easier than being prime minister. It is still the case in India that the opposition will be relatively non-partisan on foreign policy while they are unsparing on domestic policy. Also, foreign policy is focused on a few key relationships and heavily loaded with protocol which makes it easier to conduct; Indian domestic politics, in a federal system, with so many states and political parties, is extremely complex and there are few protocol niceties left."
"Modi is finding out, in dealing with Pakistan and China, that success in foreign policy is not easy to come by. His strategy of a tougher bilateral policy with both plus the construction of an international coalition against them has yielded very little in two years even after a massive foreign policy outreach programme which has seen him travel to more countries than any other Indian prime minister and which has seen him commit all his charm and energy."
Amid soaring TRPs and drowning applause by Modi's bhakts, a voiceless, disempowered India waits with waning confidence for the Modi sarkar to lend a listening ear.
More in Catch -Modi talks about development, foreign policy, and publicity with Arnab Goswami