Conditions apply: Has Sidhu made 3 demands to AAP for joining the party?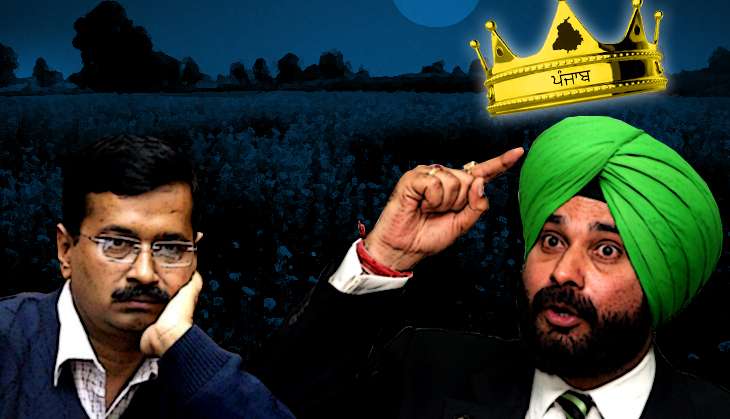 Navjot Singh Sidhu's resignation from the Rajya Sabha has fuelled speculation that he could join the Aam Aadmi Party and be declared as the party's chief ministerial candidate in Punjab. Catch has learnt that the cricketer-turned-entertainer-turned-politician is indeed in negotiations with AAP, but he is asking for a heavy price which the party is not ready to pay, just yet.
Rumours that Sidhu will quit BJP and join AAP had been around for months now. In April, the BJP nominated him to the Rajya Sabha, in a bid to prevent him from quitting the party. However, something seems to have gone terribly wrong in the interregnum, which made him suddenly quit the Upper House. A BJP source told Catch that not a soul in the BJP had any inkling that Sidhu was going to quit.
Interestingly, top BJP leaders immediately went into a huddle inside Parliament to discuss whether an attempt should be made to ask Sidhu to reconsider. This indicated that indeed the former cricketer's decision had taken everyone in his party by surprise
Sidhu is often cited as the only Sikh face that the BJP has been able to cultivate in Punjab, where the party has long existed in the shadow of its bigger alliance partner, the Shiromani Akali Dal. In the run-up to the Assembly elections in the state in 2017, the BJP wanted to bring him back from hibernation and make him campaign for the party.
Sidhu's demands
For agreeing, Sidhu was said to have put forward two demands to the party - One, break the alliance with SAD and contest the elections solo and two, project him as the CM-candidate. Obviously, this proved to be too much to ask for and the compromise deal that Sidhu and BJP struck has now crashed. However, true to his style, Sidhu has reportedly presented a list of demands to AAP as well. These include:
1. CM face - A source told Catch that Sidhu wants AAP to project him as its chief ministerial candidate for 2017. AAP chief Arvind Kejriwal has denied having granted Sidhu's wish, saying nothing has been decided yet.
Also read- BJP terms Sidhu 'selfish'; AAP denies projecting him as Punjab's CM face
AAP wants to benefit from Sidhu's oratory and wants him to be its star-campaigner, but not the CM-face.
2. Free hand in campaigning - Sidhu has reportedly also demanded that AAP high-command in Delhi will not dictate the line that he will take for his speeches during campaigning. He wants the freedom to say whatever he wants to and should he feel the need to criticise anybody during such speeches, he should not be pulled up for it later. AAP is learnt to be uncomfortable with this proposition as well.
3. Guaranteed benefits - Sidhu also seems to have figured AAP's defeat in the assembly polls in his calculations. He is said to have also asked for a guarantee from AAP that if the latter fails to come to power in Punjab but bags enough seats for sending representatives to the Rajya Sabha, it will ensure he is sent to the Upper House.
With such a tall order, it is understandable that the deal between him and AAP is taking a long time to be finalised. Sidhu has gone on silent mode and AAP is only saluting his resignation from RS. However, the prospect of his even joining AAP is attracting a lot of derision. Sample this -
Will Navjot Sidhu be an acceptable face as chief minister candidate of the Aam Aadmi Party in the Punjab elections?

— churumuri (@churumuri) July 18, 2016
Make Sidhu the Chief Minister???? Punjab is on drugs or wha... Oh.

— Sitter of Fences (@sidin) July 18, 2016
If Sidhu is projected as AAP'S CM face in Punjab, don't know how well this will go with AAP's promise of change: Arati Jerath, #AAPKaSidhu

— NDTV (@ndtv) July 18, 2016
If Navjot Siddhu is AAP's candidate for CM in Punjab then I am really worried. Politics is not a comedy show!

— nikhil wagle (@waglenikhil) July 19, 2016
July 18, 2016
Edited by Aditya Menon
More in Catch
Navjot Singh Sidhu resigns from Rajya Sabha
Punjab's interest is paramount, says Navjot Singh Sidhu post resignation
Navjot Sidhu in Rajya Sabha: BJP's damage-control exercise
Nobody could have stopped Navjot Singh Sidhu from joining AAP, says wife