#Bypolls: BJP & allies biggest winners, take 7 of 12 assembly seats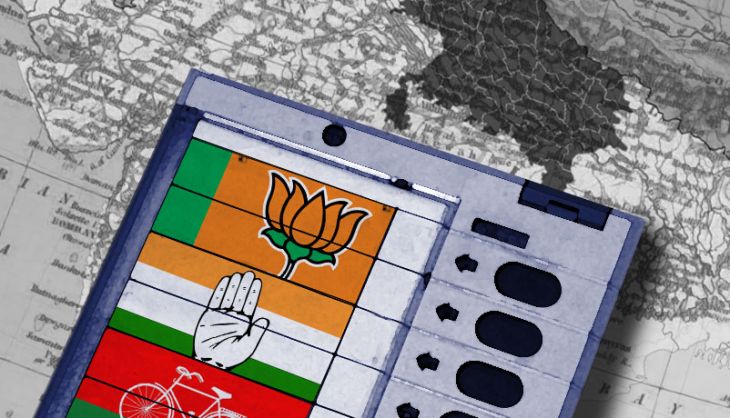 For a while now, the BJP has had a dreadful time at polls. On 16 February though it had cause for celebration. The party and its allies emerged as the biggest gainers when results were declared for 12 assembly by-elections across eight states held on 13 February.
The BJP held only one of these seats, Hebbal in Karnataka but has won three more now, in Uttar Pradesh and Madhya Pradesh. Its allies have won three.
The Congress, on the other hand, has lost half of the four seats it held, while the Samajwadi Party, too, has lost two of its three seats.
The wins and losses, though, must be seen in their proper context. Being assembly bypolls, they were largely influenced by the politics of specific states. They barely reflect on the national politics, if at all.
Here's a state-wise look at the results:
Uttar Pradesh
The seats of Muzaffarnagar, Deoband and Bikapur went to bypolls.

All three were held by the ruling SP.

The SP has managed to retain only Bikapur, which is close to Ayodhya.

The BJP has won Muzaffarnagar, convulsed by by communal riots in 2013.

The Congress has won Deoband, home to the influential Islamic seminary, Dar-ul-Uloom, after over two decades.
The result shows a fractured electorate, not long before the assembly polls in 2017. A sign of things to come?
Karnataka
In the Congress-ruled state, three seats went to the bypolls - Devdurga, Bidar and Hebbal.

Devdurga was held by the Congress, Bidar by the Karnataka Janata Paksha, which has now merged with the BJP, and Hebbal by the BJP.

The BJP has retained Hebbal, and also won Devdurga.

The Congress has taken Bidar.
In Hebbal, a part of the capital Bengaluru, the BJP candidate defeated the grandson of former union minister CK Jaffer Sharief.
Madhya Pradesh
The solitary seat of Maihar went to polls in the BJP-ruled state.

Narayan Tripathi has won the seat for the BJP.

Tripathi had won the seat the last time around too, but then he was in the Congress.

He had resigned his seat after joining the BJP.
Punjab
The ruling Shiromani Akali Dal, a BJP ally, has won Khadoor Sahib.

The seat was earlier held by the Congress.

The Congress MLA had resigned in protest against the "desecration" of Sikh holy books in the state.

The Congress, as well the AAP, had boycotted the bypoll.
Tripura
The CPI(M) has retained Amarpur, the only seat that went to the bypoll.

The BJP, which doesn't have any MLA in the state, came second.

The Congress stood fourth.
Telangana
The ruling Telangana Rashtra Samiti wrested the Narayankhed seat from the Congress.
Bihar
The Rashtriya Lok Samata Party, a BJP ally, has retained the Harlakhee seat.
Maharashtra
Here too, the BJP ally Shiv Sena has retained the Palghar seat.