BRS cadres protest against YSRTP chief Sharmila for 'derogatory remarks' against MLA Shankar Naik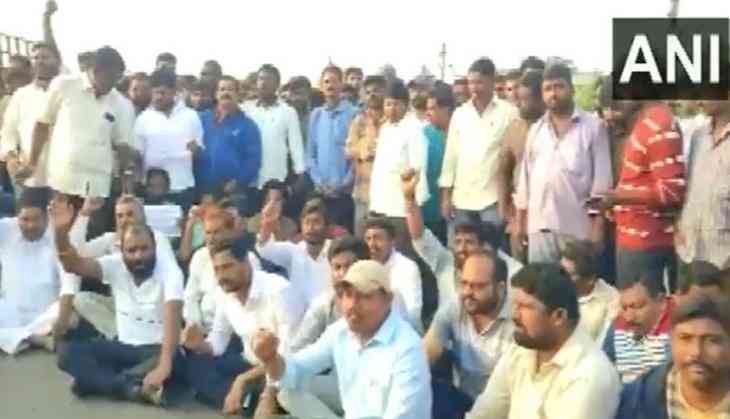 BRS cadres protest against YSRTP chief Sharmila.
Following the alleged inappropriate comments by YSRTP chief YS Sharmila on Mahabubabad MLA Shankar Naik, Bharat Rashtra Samithi (BRS) followers have staged a protest in the Mahabubabad district.
A case has been registered against YSRTP chief YS Sharmila in the Mahabubabad Town Police Station area for allegedly making inappropriate comments against Mahabubabad MLA Shankar Naik.
She was moved to Hyderabad to avoid law and order problems in Mahabubabad. A case has been registered u/s 504 IPC, 3(1)r SC ST POA Act.
Speaking during her Praja Prasthanam Padayatra on Saturday, she said, "This shameless MLA has the nerve to use the most derogatory and filthy language against us for questioning his misdeeds and his failure to ensure the good governance to the people of this constituency."
Hitting out at the Mahabubabad MLA for making 'derogatory' remarks against her and her party members "I wonder how these corrupt leaders should be addressed. What should we call them for failing in every aspect and not fulfilling any promise, and for resorting to corruption and land grabbing," she added.
"I warn all of you not to call anyone settlers or migrants. Your wife is from Nellore and I dare you to separate from her, if you love Telangana," she stated.
"MLA Shankar Naik is a briber. He lost his job, became an MLA, and grabbed all the land. He is a liquor mafia, gutka mafia, sand mafia, jaggery mafia," she further stated.
(ANI)
Also Read: Excise policy case: Manish Sisodia links CBI summons to BJP setback in SC over mayoral polls