Black money in politics: Only 16% of parties' income comes from known sources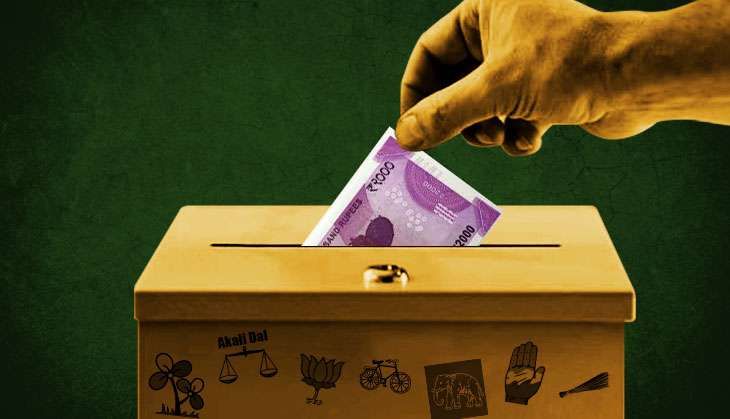 The Election Commission of India (EC) is seeking to ban anonymous donations over Rs 2,000 to political parties. However, a study by a social organisation has revealed that more than two-thirds of donations received by national and regional political parties between 2004-05 to 2014-15 are from unknown sources.
This means that of the Rs 11,367.34 crore received by political parties, Rs 7,832.98 crore were accumulated from unidentified sources.
Presently, political parties are not required to reveal names of individuals or organisations donating less than Rs 20,000, which many believe is being used to turn black money into white.
In the light of recent events, after Prime Minister Narendra Modi decided to ban higher currency notes to weed out black money, this study serves as a reminder as to how political parties remain unaccountable when it comes to declaring the sources of their income.
Unimaginable scale
From the details of donors available through the contribution reports submitted by parties to the EC, the analysis revealed that the total income of national and regional parties in these 11 years stood at Rs 11,367.34 crore, of which only Rs 1,835.63 crore (16%) came from known sources.
According to data collected from Income Tax returns by the Association of Democratic Rights (ADR), during these 11 years, 83% (Rs 3,323.39 crore) of the total income of Congress came from unknown sources, as did 65% (Rs 2,125.91 crore) of the BJP's total income.
Six national parties - Congress, BJP, BSP, NCP, CPI, CPI(M) - and 51 regional parties were considered for the analysis, including the Trinamool Congress, which was given national party status in 2016.
Among regional parties, 94% of the Samajwadi Party's income and 86% of the Shiromani Akali Dal's income (SAD) also came from unspecified sources.
Amongst all these national and regional parties, the Bahujan Samaj Party is the only one which has not received any donations above Rs 20,000 in all these years. However, its income from unknown sources has witnessed a phenomenal spike of 2057%. Donations to the party stood at Rs 5.19 crore in 2004-05, but by 2014-15, they had increased to Rs 111.96 crore.
Interestingly, the donations from unknown sources to national parties shot up by 331%, while those to regional parties shot up by a whopping 652% in these 11 years.
Further, 12 of the 51 regional parties have never filed their contribution reports since 2004-05, while at least 45 of them have not submitted their donations statements to the EC for at least one year.
"The unknown sources are income declared in the IT returns, but without giving source of income for donations below Rs 20,000. Such unknown sources include 'sale of coupons', 'Aajiwan Sahayog Nidhi', 'relief fund', 'miscellaneous income', 'voluntary contributions', 'contribution from meetings/ morchas' etc. The details of donors of such voluntary contributions are not available in the public domain," read the report released by ADR and the National Election Watch.
Other known sources of income include sale of moveable & immoveable assets, old newspapers, membership fees, delegate fee, bank interest, sale of publications and levy, whose details would be available in the books of accounts maintained by political parties.
Recommendations based on these revelations
In the wake of these revelations, ADR has recommended that since a very large percentage of the income of political parties cannot be traced to the original donors, full details of all donors should be made available for public scrutiny under the RTI.
"Some countries where this is done include Bhutan, Nepal, Germany, France, Italy, Brazil, Bulgaria, the US and Japan. In none of these countries is it possible for almost 75% of the source of funds to be unknown, but at present it is so in India," read the report.
Moreover, ADR has put forth a demand that any organisation receiving foreign funding should not be allowed to support or campaign for any candidate or political party. Backing the EC for its strong stand to enforce reforms in funding, ADR claimed that tax exemption should be awarded only to those political parties which contest and win seats in Lok Sabha/Assembly elections.
It also backed the EC's recommendation that details of all donors who donate above Rs 2,000 should be made available in public domain. "ADR supports ECI for its strong stand to enforce reforms in funding of political parties and hopes that these reforms are proactively taken up by the government for implementation," it stated.
Further, it sought yearly scrutiny of financial documents submitted by political parties, by any body approved by either the Comptroller and Auditor-General or the EC itself, to ensure transparency and accountability.
Rooting for political parties to come under the ambit of RTI to provide all information, ADR claimed that such a move would strengthen democracy.
Edited by Shreyas Sharma
More in Catch
Congress & SAD candidates have great personal wealth. AAP's have next to nothing