'BJP demolished Babri Masjid on Dec 6 to insult Ambedkar': Mayawati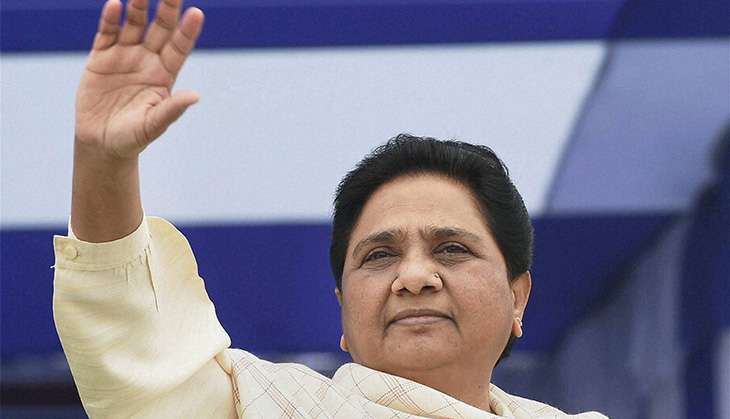 In one of the most scathing attacks on the Bharatiya Janata Party, Mayawati said that the party and its fringe groups demolished the Babri Masjid deliberately on 6 December to send the message that they neither believed in Babasaheb Ambedkar nor the secular Constitution drafted by him.
"It is a reflection of their petty, anti-secular mindset," the Bahujan Samaj Party president said while making full use of Ambedkar's 61st death anniversary to launch an all-out attack on her political opponents. Her attempt is to convince the Dalits, the Other Backward Castes and the minorities that only the Bahujan Samaj Party (BSP) holds the key to their empowerment.
Addressing a huge gathering of party workers in Lucknow on Tuesday, the former chief minister said that the BJP cannot digest the fact that Babasaheb had written a Constitution that provides for equal opportunity to all castes and communities.
The BJP, on the other hand, paid tributes to Ambedkar at a function at the party office where the party's national secretary Mahendra Singh said that Babasaheb was for "ek rashtra, ek vidhan aur ek nishaan (one nation, uniform law and one flag)".
'Beware of Modi'
Mayawati greets a Buddhist monk at the rally in Lucknow on 6 December. (PTI photo)
Asking OBCs to be wary of Prime Minister Narendra Modi's "jaatiwaadi shadyantra" (casteist conspiracy), she repeated her earlier charge that Modi belonged to Vaishya community, an upper caste, but got it included as a backward caste to reap political benefits. "He changed his garb in Gujarat, don't get hoodwinked," she warned the OBCs.
Some of her trusted OBC leaders like Swami Prasad Maurya have switched loyalties in the recent past to join hands with the Bharatiya Janata Party.
"Both Congress and the BJP are anti-secularism, anti-communal harmony, anti-tribal, anti-minorities, anti-Dalits and OBCs", she said and cautioned that howsoever high an office they were offered, they would remain a bonded labour in both the parties. "Don't get lured by the promise of high positions," she said.
The BJP, she claimed, was passing on government work to the private sector to deny jobs opportunities to Dalits. "The party is opposed to reservation in the private sector and was passing on government work to private companies to curtail your chances of employment," she said.
Taking on the Congress, Mayawati said that she would like to tell Dalits, tribals and OBCs that the Congress did not implement the Mandal Commission report but chose to sit over it despite being in power for years.
The Congress, she said, was as anti-Ambedkar as the BJP as it did not confer Bharat Ratna, country's highest civilian honour, on Ambedkar.
Akhilesh a 'babua'
She reminded Mulayam Singh Yadav and Uttar Pradesh chief minister Akhilesh Yadav that but for BR Ambedkar, they would have still been serving others. "It is because of Babasaheb that they have been able to carve a place for themselves in social, political and economic spheres but they have turned ungrateful," she charged.
Taking a dig at Akhilesh Yadav for his sarcastic comments on the elephant statues installed in memorials built by her government, she said that he was indeed a "Babua" (an immature person. "By repeatedly saying that BSP's elephants have been standing for the past nine years and are not moving, Babua is helping my party get free publicity before the elections," she said, adding that it appeared the CM was being tormented by her party's symbol even in his dreams.
The former chief minister retorted by asking Akhilesh if the statues installed by the Samajwadi Party government in Lucknow's Lohia Park and Janeshwar Mishra Parks have ever changed their positions. The parks have the statues of Ram Manohar Lohia and Janeshwar Mishra. Unlike those statues, the elephants were in a welcoming position, the BSP supremo pointed out.
Mayawati, whom Akhilesh sarcastically calls "bua" (aunt), said that a person who keeps on repeating such childish comments can only be a babua and not a mature person.
Chiding the chief minister for first cancelling the 6 December holiday which was announced by her, Mayawati said that he first cancelled the holiday and then revoked it. "This goes to prove that he is a 100% babua. And with the low mindset that he has, he will also criticise the installation of Sardar Patel's statue and other icons," Mayawati said.
To avoid being overshadowed by developments in Tamil Nadu on account of Jayalalitha's passing away, the Bahujan Samaj Party had tied up with some TV channels for live telecast of her hour-long, hard-hitting speech. It was a first for the party.
Elsewhere in some parts of the state black flags on mosques marked the demolition of Babri mosque.