Battleground North Karnataka: Political drama for the upcoming Assembly polls will unfold here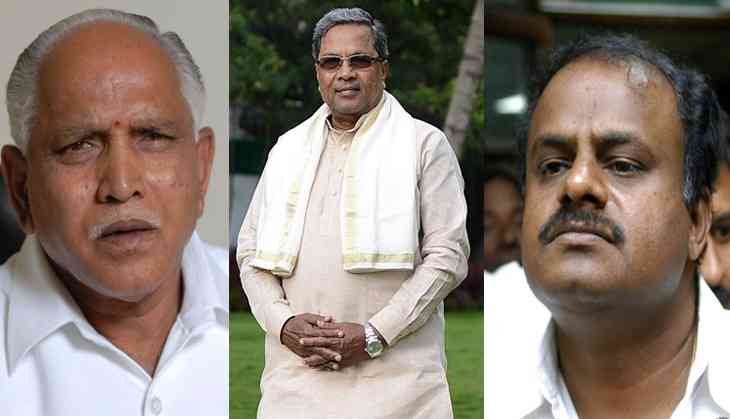 Goaded by astrology, political strategy and individual compulsion, the three chief ministerial aspirants of Karnataka appear to be heading towards North Karnataka in search of new constituencies in the coming Assembly elections.
Chief Minister Siddaramaiah, state BJP President BS Yeddyurappa and Janata Dal (Secular) [JD(S)] President HD Kumaraswamy are all rooted in the south, but circumstances may force them to seek newer pastures for the Karnataka Assembly elections, scheduled next April.
In 2013, Siddaramaiah was elected from Varuna in Mysuru district and he has been grooming his eldest son Rakesh to take over the constituency. After Rakesh's untimely death last year – in Belgium, where he was holidaying with friends – Siddaramaiah persuaded his other son, Dr Yatheendra to leave his medical profession and join politics. Over the last few months, Yatheendra has been tending to Varuna.
Soon after becoming CM, Siddaramaiah had spoken of not contesting elections again, but he was persuaded by colleagues and the party high command to quickly change his stand as they felt that having a 'reluctant CM' would send a wrong message to the people.
Now, nearing completion of his five-year term – which no Karnataka chief minister had achieved in the last two decades – Siddaramaiah is rearing to lead Congress to another victory and enjoy a second term. It would be another record if he does so, as no former chief minister has had two uninterrupted terms.
Two-time BJP CM Yeddyurappa, (the first one was only for seven days, as JD(S) withdrew support), faces a dilemma similar to Siddaramaiah's when it comes to choosing a constituency.
Yeddyurappa has been elected from Shikaripura in Shivamogga district five times, but in 2014, he vacated it for his son, BY Raghavendra and got elected to the Lok Sabha to boost BJP's tally. Back in state politics, as eclipsing his son's political career is not an option for most politicians, Yeddyurappa will have to find a new constituency for himself.
Since Yeddyurappa is an undisputed leader of the Veershiva-Lingayat community – who reside in large numbers in north Karnataka – the central leaders of the BJP have mooted the idea of fielding him from the region and consolidating the community votes.
Divide and rule
The BJP had been unnerved by a strong move by a section of Lingayat leaders belonging to the Congress to seek a separate 'religion' status – with the blessings of Siddaramaiah. Huge rallies were held in favour of the demand, as the leaders foresaw the new religion tag leading to minority status and greater benefits, especially to those running educational institutions.
By supporting their demand, Siddaramaiah calculated that it would help him to split the BJP's vote bank and cut into Yeddyurappa's core strength.
In 2013, Yeddyurappa walking out of the BJP and forming his own political outfit, the Karnataka Janata Paksha (KJP) (which garnered 10% of the votes) had worked perfectly well for the Congress. With Yeddyurappa's return to the BJP and consolidation of Lingayat votes, the Congress looked for a new strategy.
But, some Lingayat leaders within the Congress opposed the move, even as five powerful mutts quietly made it known that they were against splitting the community. Minister MB Patil's desperate attempt to claim the support of revered centenarian Shivakumar Swamiji of Siddaganga Mutt boomeranged on him as the mutt issued a statement that Swamiji considered the Veerashivas and Lingayats as one and the same and he was not in favour of a new religion.
With the threat of a split receding, the BJP wants Yeddyurappa to contest from Therdal in Bagalkot district as it adjoins the Vijayapura and Belgaum districts and could galvanise the BJP cadre in the entire north Karnataka.
Doing the math
The 13 districts of north Karnataka account for 96 Assembly seats and in 2013, the BJP had won only 22 seats as against 57 by the Congress, as the KJP polled around 17% votes in the region, though winning only four seats. With the BJP continuing to be weak in south Karnataka, except in Bengaluru, it needs to win a substantial chunk in the north.
On the other hand, Siddaramaiah has tried to woo the Lingayats by ordering all government offices and educational institutions to put up the portraits of 12th century reformer Basavanna and renaming the women's university after sadhvi-poetess Akka Mahadevi. But, the 'Ahinda' groups (an acronym for scheduled castes, backward classes and minorities) constitute his real support base, which is reasonably intact.
Sections of scheduled castes are up in arms after the Supreme Court recently nullified the state government's special promotion policy for the SCs and the chief minister is making an all-out effort to reverse it. Governor Vajubhai Vala has declined to issue a proposed ordinance and the government is planning to take the legislative route to appease the community.
On the electoral front, Siddaramaiah has the option of contesting from Chamundeshwari, which is adjacent to the Varuna constituency and the one he has represented earlier, but he will have to take the risk of any adverse voter reaction to 'dynastic politics' in areas which virtually overlap each other.
The chief minister's colleagues, BR Thimmapura and Ramesh Jarkhiholi have invited him to contest from Badami and Atheni respectively. Badami in Bagalkot district seems to be a good bet as it has a sizeable Kuruba population to which Siddaramaiah belongs and to whom, he is an idol. It seems no coincidence that Thimmapura was included in the recent cabinet expansion and he could play a key role should Siddaramaiah choose to contest from Badami.
JDS supremo HD Deve Gowda, at 84, is campaigning hard to see his son Kumaraswamy as chief minister again. The best scenario for JDS is for the party to win about 50-60 seats and the voters delivering a hung verdict.
JDS can hope for about 25-30 seats in the Vokkaliga belt of south Karnataka, but to make up the required number, it has to do well in parts of north Karnataka as well. Therefore, there is a strong possibility of Kumaraswamy contesting from Ramanagara as well as one more constituency in north Karnataka to enthuse his party workers.
Thus, north Karnataka is all set to become the key battleground in the 2018 Assembly elections.
Edited by Jhinuk Sen