Ae Dil Hai Mushkil controversy: the State has failed Karan Johar & cinema
Ashutosh
| Updated on: 10 February 2017, 1:46 IST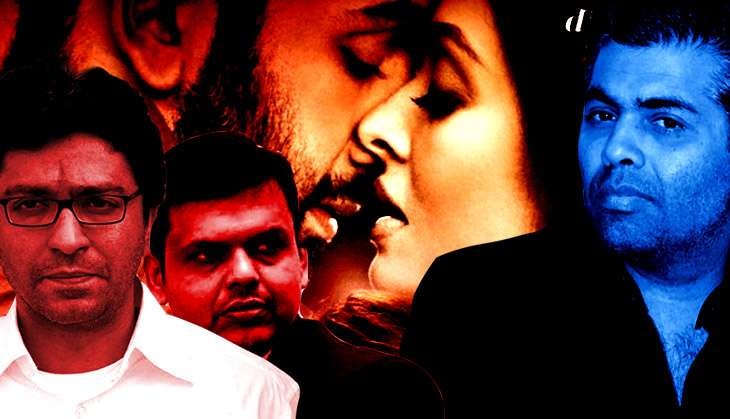 (Ashutosh is an official spokesperson for the Aam Aadmi Party. He explains the politics behind the Ae Dil Hai Mushkil controversy)
His name is Raj Thackeray and he is the 'don' of Indian politics. And he has proved it yet again.
He has one MLAs in the Maharashtra Legislative Assembly. One. But he seems to be more powerful than the BJP-Shiv Sena government. The government is scared of him, the world-famous Mumbai film industry has bowed before him, and the lumpenisation of politics has received a huge boost.
Raj Thackeray and his men threatened Karan Johar of dire consequences if he released his film Ae Dil Hai Mushkil (ADHM), which features Pakistani actor Fawad Khan.
Cinema hall owners in four states refused to screen the movie. Johar was branded 'anti-national' and his patriotism was questioned. Vandalism in cinema halls was a real possibility, and Johar meekly surrendered.
As a compromise package, he came out with a video saying he is, first and foremost, an Indian.
Representatives from the film industry even met Union Home Minister Rajnath Singh, who assured protection and security, but even then, Maharashtra CM Devendra Fadnavis had to broker a peace formula which is utter nonsense - it is nothing but a surrender of the State to an extra-constitutional authority.
Now, Johar has to come out with a pledge - before the start of the movie, there will be a salute to the Indian Army, Rs 5 crore will be given as 'penance' money to the army, and he has to promise that he won't ever cast a Pakistani actor in the future.
State complicit in extortion
This, in plain words, is extortion in the name of the army. The deal has been made openly, and the State is complicit.
It is the responsibility of the State to maintain the law and order, and punish those who break the law and provide security to law-abiding citizens.
Should Johar sign a Pakistan actor when the hostility between India and Pakistan is at its peak, and Pakistan-sponsored terrorism is creating havoc on Indian territory? That's a different question.
But the truth is, he has not broken any law of the land. In fact, for no fault of his, he was openly threatened and the State, instead of coming to his rescue and providing security, acted as a broker and abdicated its role as a Constitutionally-mandated authority vested with enormous power.
It is sad. It is surrender. It is a constitutional breakdown. A government which can't ensure the security of its citizens has no business to govern.
Sena's brand of politics
The Shiv Sena and the MNS have a history of violence, and of taking the law into their own hands, and threatening law-abiding citizens. Since the late 1960s, Balasaheb Thackeray had been a law unto himself. His name was synonymous with terror. Violence and vandalism were the hallmarks of his brand of politics. Nobody in the film industry or otherwise dared defy his diktats.
People like Sunil Dutt went to him for help when faced with a crisis, when Sanjay Dutt was implicated in unlawful activities .
Every government in Maharashtra tried to keep Thackeray in good humour, but this is the first time when the state government has so meekly surrendered to his brand of politics.
Many a time, state governments used the Sena(s) for political gains, while sometimes, they stood as mute spectators. But whenever the governments asserted their authority, these paper tigers would keep quiet.
In the late 1990s Balasaheb Thackeray was arrested, and Mumbai did not burn. A few years back, even Raj Thackeray was arrested, and the earth did not shake. So, it is puzzling as to why the state government did not wield an iron hand this time.
Johar himself had been introduced to the Sena's ire in the past, when his film My Name is Khan was to be released. He was let off the hook after visiting the Shiv Sena supremo. But that was outside the purview of the State.
Part of a larger trend across the country
In the last two years, there has been an attempt to muzzle the voices of liberalism. The voice of dissent is not tolerated, only rightist ideology is promoted, while Left-liberal-democratic thinking is deliberately suppressed.
The film industry has never followed, adhered to or propagated the communal and divisive ideology of the right. Johar, despite all his candy-floss romance movies, is a secular-modern-democratic-progressive filmmaker.
But the presence of a Pakistani artist in his film came as a golden opportunity for the adherents of the right-wing ideology to send a very strong message to the film industry, and to all liberal-minded people: 'fall in line'.
This is the reflection of a larger game plan to subdue liberal voices, which have dominated the discourse since independence. In this battle, Raj Thackeray has been used very effectively.
Unfortunately, the film industry has also meekly surrendered. In order to save a few crores, it has mortgaged its right to creative freedom.
The bigwigs of the film industry, who roar about revolutions in movies, have kept mum and let Johar suffer. Some of them are out to please the political class of today to further their careers, but they have forgotten that one day, they will also face the brunt. Their careers were made when cinema had freedom, and they were allowed to disagree and revolt.
This will have far reaching consequences. Art will never flourish if it has to live under the shadow of fear. A wrong precedence has been set. This will lead to the shrinking of creative space. Only a particular kind of films will be promoted, and alternative cinema will be crushed. It will be the death of cinema as an art form.
These are sad days. Let's wait for 'Achhe Din'. Maybe, just maybe, they will come.
Edited by Shreyas Sharma
More in Catch
Go ahead, ban Raees, Ae Dil Hai Mushkil. But who will reimburse Shah Rukh Khan & Karan Johar?
Karan Johar breaks silence over ADHM row, says will not work with Pakistani artistes
Ae Dil Hai Mushkil will enjoy a safe release: Rajnath Singh tells filmmakers