2 years of Amit Shah: 7 things Shah's BJP will be remembered for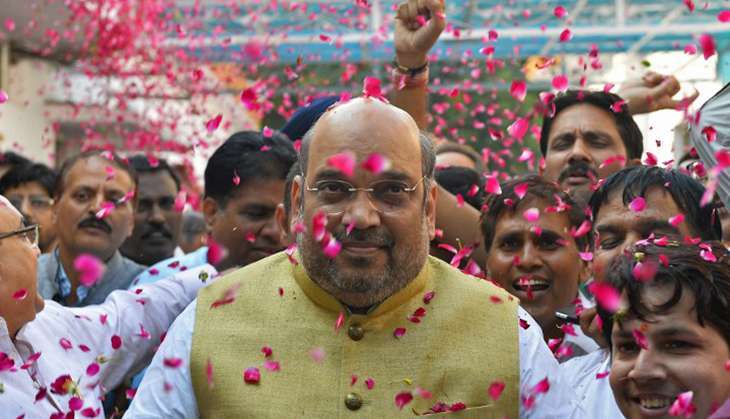 Much has changed in the Bharatiya Janata Party (BJP) ever since Amit Shah became its thirteenth president on 9 July, 2014.
The party is celebrating two years of his presidency today, on 9 August, because it was on this day in 2014 that the national council officially recognised his 'election'.
In these two years, the MLA from Naranpura in Gujarat has radically transformed his party, leading it to an unprecedented following but also bringing about a debatable change in its basic character.
To be sure, Shah's contributions have been complemented by Prime Minister Narendra Modi, who is currently recognised as the party's mascot.
Shah's rise in BJP has been coterminous with Modi's and he is widely perceived to be both the Chanakya behind the party's strategies and Modi's Man-Friday.
Currently, Shah is essentially in his second term as BJP chief since 2014. That year he merely stepped into the term that Rajnath Singh vacated, upon being made the Union Home Minister.
Shah is a unique figure in Indian political history and his legacy will always be tied to him being a controversial character as well as with some of the most clever political strategies.
Here are seven things his tenure, so far, that he is likely to be most remembered for:
1) Massive electoral wins -
Under Shah's watch, the BJP won assembly elections and formed the government in as many as five states, although in alliances.
These states include Haryana, Maharashtra, Jharkhand, Assam and, incredibly, Jammu and Kashmir.
In three out of these five states, the BJP came to power for the first time ever - Haryana, Assam and J&K.
2) Equally, massive losses -
The running celebrations of BJP's sweeping victories were interrupted by heavy electoral loss in three other assembly polls - in Delhi, Bihar and West Bengal.
Out of these, Delhi and Bihar were critical for the party as it had registered astounding performances there in the Lok Sabha polls in 2014.
Those who eventually defeated BJP and became the chief ministers there - AAP Chief Arvind Kejriwal and JD(U) Chief Nitish Kumar - have become two of the most vocal critics of Modi and BJP now.
3) Little movement south of the Vindhyas -
Shah presided over the party's campaign for assembly elections in Tamil Nadu as well as Kerala. Though BJP did succeed in opening its account for the first time ever in the Kerala Assembly, it had to be content with just one seat there.
In Tamil Nadu, the party faded into oblivion, winning none of the 168 seats it contested.
4) Slipping on home ground -
While Shah brought new territories under his party's fast expanding reach, Modi and Shah's home ground, Gujarat, appears to have slipped from the party's grasp.
At least two massive protests have rocked the state in the last two years, eventually culminating in the resignation of CM Anandiben Patel, who was hand-picked by Modi.
Shah is said to have personally made life difficult for Patel in his bid to bring the state singularly under his control.
However, his calculations went awry and many say, that if polls were to be held in Gujarat right now, the BJP is unlikely to do well.
5) Party numbers swelled -
Shah unleashed a meticulously executed membership drive, thanks to which the party now claims to be the world's largest political party, with over 11 crore members.
The party's popularity did see a surge immediately before and after the 2014 Lok Sabha polls and the clear evidence of that was the number of seats it won in the LS and the three assembly polls it won on the trot in Maharashtra, Haryana and Jharkhand.
But the membership numbers are also alleged to be fraudulent, chiefly by the opposition Congress party.
6) But the party also became centralised -
Most BJP observers are of the opinion that today the decision-making in the party has become absolutely centralised.
All key decisions are said to be taken only by the Modi-Shah duo and all other leaders, irrespective of stature in the party or government, are often in the dark till the time the decision is announced.
The seating arrangements of the party's Parliamentary Board present a telling picture in this context, with Modi and Shah sitting at the head, and more senior leaders like Sushma Swaraj, Rajnath Singh and Venkaiah Naidu sitting in rows on their sides.
7) Party has also become confrontational -
Today's BJP, as a unit, appears much more confrontational than ever before. It is certainly a picture much in contrast with its earlier avatar when it came to power at the Centre for the first time under former Prime Minister Atal Bihari Vajpayee.
Party workers, leaders, even ministers are abrasive in their interactions with those they consider adversaries.
This is evident not just in stand-offs with opposition leaders in Parliament but also in interactions with journalists at press conferences.
Interestingly, Shah recently confirmed this to be a deliberate strategy when he told a prominent newspaper that his agenda was to change '67 years of things' in India's political culture and he will not engage with it.
Edited by Jhinuk Sen
Also Read:8 reasons why Amit Shah will stay as BJP chief, despite Bihar defeat
Also Read: UP polls: Is Amit Shah repeating the mistakes his party made in Bihar?
Also Read: Modi & Amit Shah prepare for major reshuffle in govt & party. Heads may roll